Report: Pilot error cause of deadly military plane crash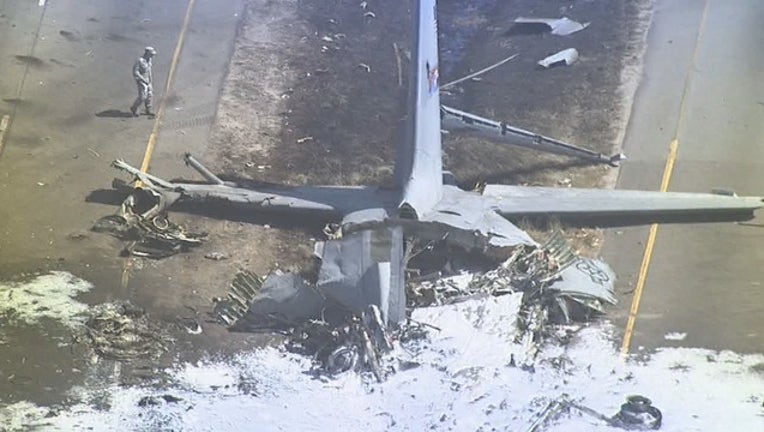 article
PORT WENTWORTH, Ga. - The cause of a military plane crash that left nine people dead outside Savannah, Georgia, was pilot error, according to a report by the U.S. Air Force Accident Investigation Board.
Nine airmen from the Puerto Rico National Guard died May 2 when the plane plunged onto Georgia Highway 21 shortly after takeoff from the Savannah airport.
RELATED: Pilot of military plane that crashed in GA identified as father of two
"The purpose of the investigation was to identify the cause and contributing factors that led to this tragic and unfortunate incident," said Accident Investigation Board team leader Brig. Gen. John C. Millard. "By conducting a thorough review and investigation, we hope to provide answers to the families of brave Airmen that lost their lives and prevent future occurrences and tragedies."
Millard's team spent close to a month reviewing an array of evidence including interviews, logs, video, briefing materials, and inspection of aircraft wreckage before assembling a detailed sequence of events surrounding the crash.
According to the report, the left outermost engine experienced problems and investigators found that the crew's mismanagement of the malfunction deviated from standard procedures. Failure to follow those procedures made further action by the pilot result in loss of control of the aircraft, causing it to crash.
RELATED: Puerto Rico mourns loss of 9 airmen killed in Savannah crash
The plane was assigned to a crew from the 156th Airlift Wing in Muniz Air Base from Puerto Rico. Their mission was to deliver the C-130 plane from Savannah to an Air Force base in Arizona commonly referred to as the "Boneyard", where it would be decommissioned.
The pilot of the plane was previously identified as Maj. Jose R. Roman Rosado, of Manati, Puerto Rico.
All nine crew members had helped with hurricane recovery efforts as part of the 198th Fighter Squadron, nicknamed the Bucaneros, which flies out of Base Muniz in the northern coastal city of Carolina, said Adjutant Gen. Isabelo Rivera, commander of the Puerto Rico National Guard. The squadron used the plane to rescue Americans from the British Virgin Islands after Hurricane Irma, and later supplied food and water to Puerto Ricans desperate for help after Hurricane Maria.
MORE: 9 Puerto Ricans on C-130 that crashed on retirement flight