'Racist' flyers thrown in driveways across Hampton subdivision
HAMPTON, Ga. - Neighbors were shocked to find sandwich bags filled with corn kernels and what appeared to be racially motivated flyers.
One of the neighbors who lives in the Legacy Lake subdivision located in Hampton posted a picture of a bag she found on her lawn. Inside was a sign that says "Secure A White Future."
 "As I'm backing out of the driveway, I actually see it," said Curtinia, the resident, told FOX 5. She believes it is someone's attempt at promoting white supremacy. She asked not to reveal her last name out of fear of whoever did this.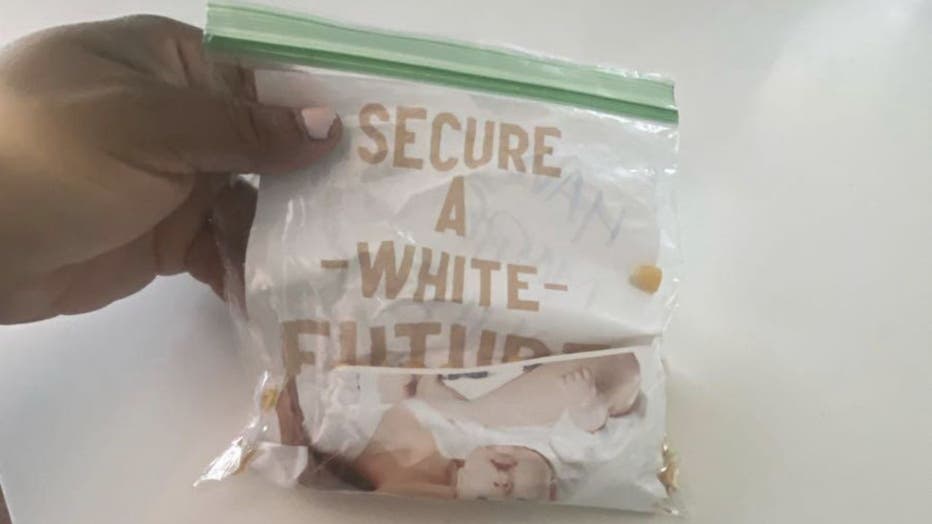 A neighbor in the Legacy Lake subdivision says someone scattered racist flyers like this one in driveways throughout the neighborhood.
"We've been here ten years and have never encountered this, but to see it happen right now is just very surprising," the neighbor who asked not to be named said. "It just makes you want to keep an eye on your surroundings." 
A Hampton city official confirmed the incident was not isolated with FOX 5.
"We are aware of the flyers left in driveways early Sunday morning. We are disgusted by the action of the person who did this," Alex Cohilas, Hampton City Manager, said. "The views in the flyer does not represent the views and values of the city or its citizens. The flyer was disgusting and has no place in our society."
Neighbors said they found these hateful message promoting white supremacy on their driveways inside their Hampton, Georgia subdivision.
Cohilas says police have multiple significant leads in the case.
Another resident, Shirley, says her mother received one of the bags.
"It's really sad," she said. "I feel sorry for them, because you don't want to take the time to do this, and you want to bother people. You want to hate on people. Why don't you try love?"
Despite the bad taste the notes have put in neighbors' mouths, they all tell FOX 5 they know none of it is reflective of the Hampton community they know and call home.
"We all love each other, and we all know each other," Shirley said. "We are not about that."
Cohilas says it is too early to determine what charges a potential suspect, or suspects, could face.
The mayor's office released the following statement regarding the situation to FOX 5:
"The City of Hampton is disgusted by and condemns the actions of those responsible for the distribution of these hateful leaflets throughout our city. They are in no way representative of our city, our citizens, or our values."
While the city reached out to the FBI to investigate, a spokesperson for the organization told FOX 5 on July 27 that they are not opening an investigation as "the flyers are not threats and First Amendment free speech."
This story is developing. Check back for details. If you have additional information, pictures, or video email newstipsatlanta@fox.com.