Prince celebrated with all-night dance party at First Avenue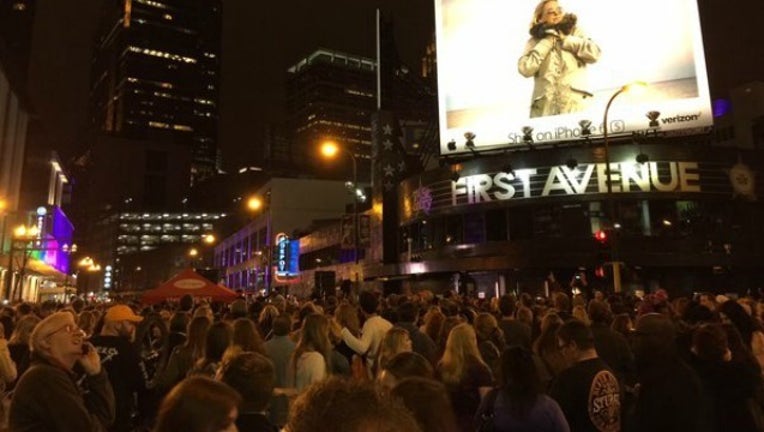 article
MINNEAPOLIS (KMSP) - First Avenue in downtown Minneapolis opened its doors for a free, all-night dance party to honor the legacy of Prince, who passed away Thursday at his Paisley Park estate in Chanhassen, Minn. He was 57.
App users: watch video here
The First Avenue dance party is ages 18 and up. The dance party starts at 11 p.m. Thursday and goes until 7 a.m. Friday. Prior to the First Avenue event, 89.3 The Current hosted a Prince Memorial Street Party, taking over 7th Street from 8 p.m. to 10 p.m. with performances by Lizzo, Chastity Brown, P.O.S., Sarah White, Tiny Deaths, Pavielle and  DJ Shannon Blowtorch.
Get more details on the event page at http://first-avenue.com/event/2016/04/042116.
"Our hearts are broken," First Avenue said in a statement. "Prince was the Patron Saint of First Avenue. He grew up on this stage, and then commanded it, and he united our city. It is difficult to put into words the impact his death will have on the entire music community, and the world. As the tragic news sinks in, our thoughts are with Prince's family, friends, and fans. We deeply mourn the loss of our friend, a true star. Rest in peace and power Prince."
Prince fans quickly gathered at Paisley Park and at the iconic First Avenue in downtown Minneapolis to share memories of the pop star after learning of his passing.
"It is with profound sadness that I am confirming that the legendary, iconic performer, Prince Rogers Nelson, has died at his Paisley Park residence this morning at the age of 57," publicist Yvette Noel-Schure said in a statement. "There are no further details as to the cause of death at this time."