Police: Teens facing dozens of charges after series of Dunwoody car break-ins
DUNWOODY, Ga. - Five teens arrested for a series of car break-ins in Dunwoody are each facing more than 20 felony charges.
Dunwoody police tell FOX 5 the boys, whose ages range from 15 to 17, were arrested after a police chase and search in the early morning hours of Thursday, Jan. 26.
According to officials, officers were called to the Sterling Apartments on Peachford Circle after someone reported a group breaking into cars.
Responding officers then found the teens allegedly active trying to get into cars in the nearby parking lot of Peachford Hospital.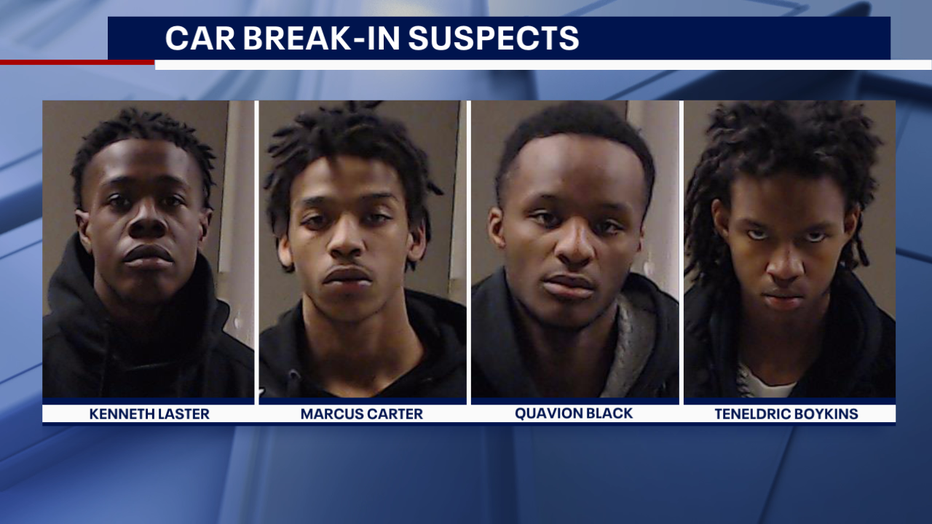 When the group saw the officers, investigators say they drove off in a stolen car, leading police on a chase down Peachford Road.
Officers found all five suspects hiding around a storage center nearby.
In total, investigators say 16 vehicles were broken into at the apartment complex and hospital. Police say they also found two stolen guns on the teenaged suspects. 
The suspects have been identified as 17-year-old Kenneth Lester, 17-year-old Teneldric Boykins, 17-year-old Quavion Black, 17-year-old Marcus Carter, and one unnamed 15-year-old.
Each teen is now charged with 23 counts of entering auto as well as various other charges including theft by receiving, possession of a firearm, VGCSA - marijuana, obstruction, and more.