5 teens caught breaking into cars at Dunwoody apartments, hospital, police say
DUNWOODY, Ga. - Five suspects are in custody following a police chase and search in Dunwoody early Thursday morning.
Dunwoody police tell FOX 5 the incident began shortly before 112:30 a.m. Thursday after police got a call about a group trying to break into cars at the Sterling Apartments on Peachford Circle.
At the scene, officials say responding officers found the group actively breaking into cars nearby in the parking lot of Peachford Hospital.
When the suspects noticed the officers, police say fled in a car and later on foot.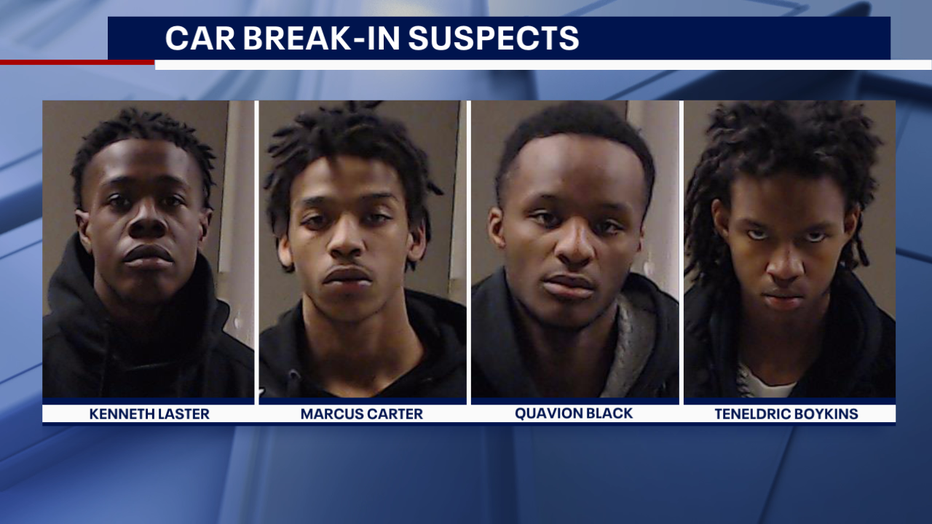 After setting up a perimeter, police arrested and a K-9 team found all five suspects hiding around a storage center near the intersection of North Shallowford Road and Peachford Road.
One suspect was treated for minor injuries caused when he was apprehended by a K-9 officer. 
Investigators say in total, 16 vehicles were broken into at the apartment complex and hospital. Police say the suspects' car was stolen and officers found two stolen guns on the suspects.
The suspects have been identified as 17-year-old Kenneth Lester, 17-year-old Teneldric Boykins, 17-year-old Quavion Black, 17-year-old Marcus Carter, and one unnamed 15-year-old.
The four 17-year-olds were transported to the DeKalb County Jail.