Pickens County Sheriff's Office shares powerful lip sync challenge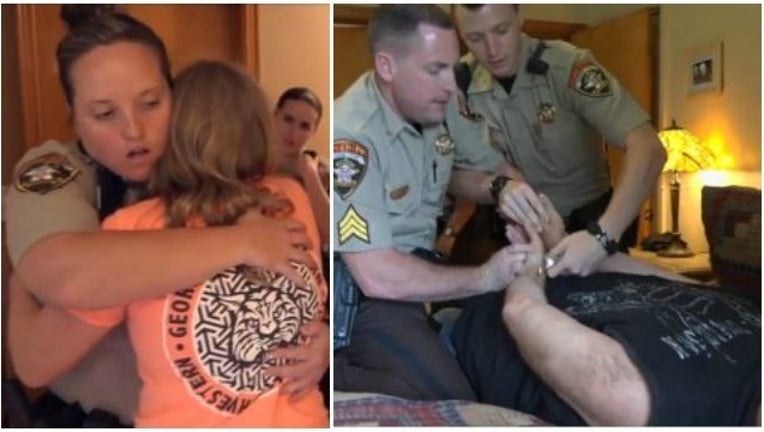 PICKENS COUNTY, Ga. - The Pickens County Sheriff's Office is using the viral lip sync challenge to spread awareness about domestic violence. 
Thursday afternoon, the PSO shared a video on Facebook, which started off on a light-hearted note but quickly turned into a dramatic portrayal of a domestic violence situation. It showed a husband and wife in a violent argument, with authorities responding to the home after their daughter called for help. 
"As we thought about this challenge and its purpose, we also wanted to show you that side. Every day we try to serve, protect, and provide compassion. This job is not always easy, but each day we choose to give it our all and we do it for you, our community. We are extremely proud of this video and hope it shows you just that," the sheriff's office said on Facebook. 
In less than 24 hours, the video had already garnered more than 1.5 million views, 28,000 likes, 55,000 shares, and 5,000 comments. 
"Please watch with caution," the PSO warned its followers on Facebook. 
"The Law Enforcement Lip Sync Challenge was created to show our communities and nation the humanity behind the badge. It was light-hearted fun that did an excellent job of showing the humor and joy law enforcement individuals have. We, of course, wanted to have our own fun. As many of you have seen, the challenge was extremely successful and hopefully provided each of you with a lot of laughs. However, there is also a different side to law enforcement we want to draw your attention to." 
The video ends with a member of the Pickens County Sheriff's Office challenging community members to help bring an end to domestic violence. He said according to the most recent statistics, law enforcement officers in Georgia responded to more than 65,487 family violence incidents in one year and within the past year, about 15.5 million children have witnessed acts of domestic violence nationwide. 
A 24-hour hotline is available for a confidential place to get help and find resources. Nationwide, that number is 1-800-799-SAFE. Georgia residents can call 1-800-33-HAVEN.