Part of ceiling at Atlanta's airport collapses
ATLANTA - Part of the ceiling at Atlanta's airport collapsed Thursday morning.
It happened at Cat Cora's Kitchen located in Terminal A at Hartsfield-Jackson International Airport. A traveler at the airport, Courtney Timm, shared a photo with us after a portion of the ceiling collapsed while she was inside the restaurant.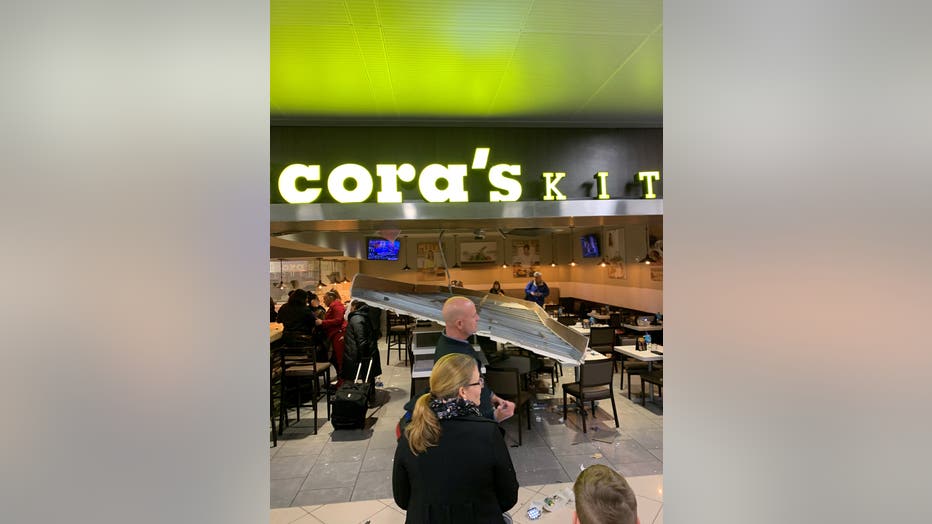 Photo courtesy of Courtney Timm
"As I approached the chair to sit down, we were blasted with gut-wrenching screaming, crashing, and shattering from above," Timm told FOX 5 News.
The airport released a statement on Twitter after the ceiling collapsed. 
Two people dining at the restaurant were hurt. One person requested to be taken to the hospital and the other person was treated at the scene then continued to travel. 
Airport officials said the "floating ceiling" should have been attached to the underside of the roof deck, but was for some reason attached to some adjacent ceiling grid, which isn't designed to hold the weight of a floating ceiling. The collapsed portion weighed about 700-800 pounds.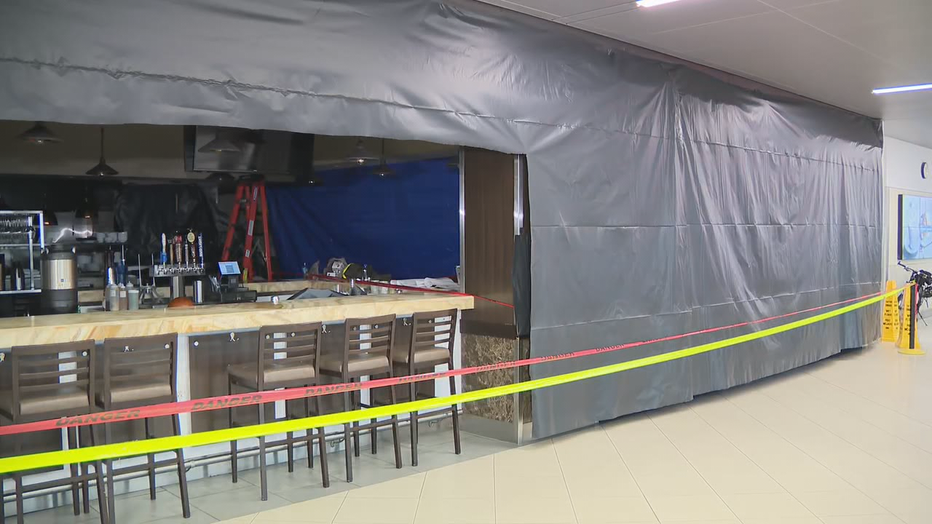 Paradies Lagardère's Dining Division President, Regynald Washington sent FOX 5 the following statement in regards to the incident:
"This morning at the Cat Cora's Kitchen restaurant, which is operated by Paradies Lagardère at Hartsfield-Jackson Atlanta International Airport in Concourse A near Gate 25, there was an incident involving a portion of the ceiling collapsing right before 8:00 a.m. EST.
 
"First and foremost, we appreciate the swift response by airport personnel and our own teams in assisting with the situation. The safety of our guests and employees is deeply important to us. We are currently working with the airport and other partners to fully evaluate the situation, including any potential injuries and/or facility damage. We will share the results of our investigation as we receive them."
The collapse happened as strong storms rolled through metro Atlanta Thursday morning, but officials said it wasn't weather-related.
An investigation is underway.