Man fatally shot by Newnan officer during hostage situation, GBI says
NEWNAN, Ga. - The Georgia Bureau of Investigation said one man died and no officers were injured during a shooting at a home in Newnan on Sunday evening.
Newnan police went to a home on 2nd Avenue in response to a domestic dispute. The GBI said it was around 5:27 p.m. when officers went to 25 2nd Avenue and unsuccessfully attempted to talk to people inside. 
Officers looked up the license plate of a car parked in the driveway to identify the woman who lived at the home. Officers called the woman but there was no answer, the GBI said. 
The Newnan Police Department SWAT team and hostage negotiators went to the home and secured the perimeter around the home.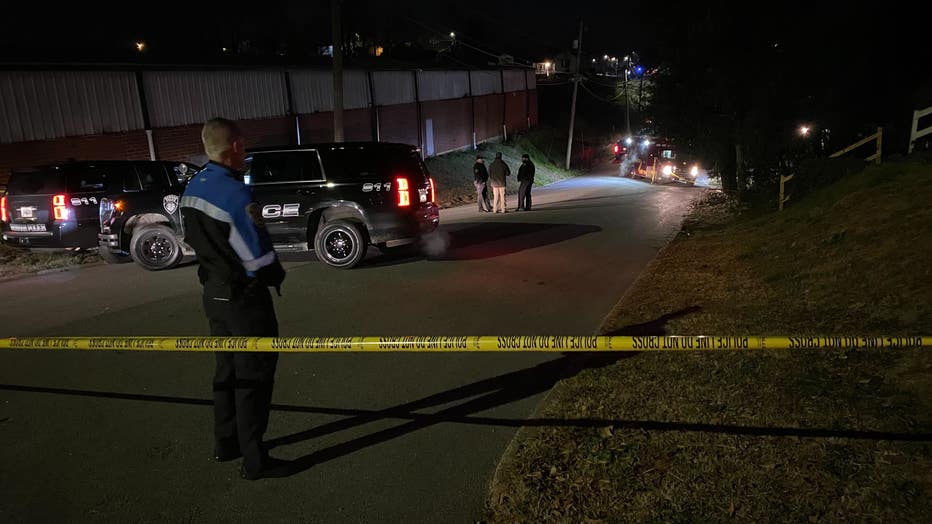 The GBI was called to investigate a shooting involving an officer during possible domestic dispute in Newnan on January 23, 2022. (FOX 5 Atlanta)
The SWAT team approached the front door of the home at around 7 p.m. 
The GBI reported a Newnan police officer saw the suspect, 37-year-old Sean Michael Kinney, through a window with a knife in his hand and a door open behind the suspect with the woman sitting on the ground. 
The Kinney allegedly turned and started walking toward the woman with the knife in his hand, and the officer fired through the window several times, killing Kinney. The woman was found safe, the GBI said.  
Several neighbors told FOX 5's Rob DiRienzo that they heard the gunshots in the area around 8 p.m.
"I was bathing my youngest who is two and a half, and I heard some gunshots and we just kind of stayed in the house," one neighbor said.
This story is developing. Check back for details. If you have additional information, pictures, or video email newstipsatlanta@fox.com.
____
WATCH: FOX 5 NEWS LIVE COVERAGE