New Image Shows Billy the Kid Playing Croquet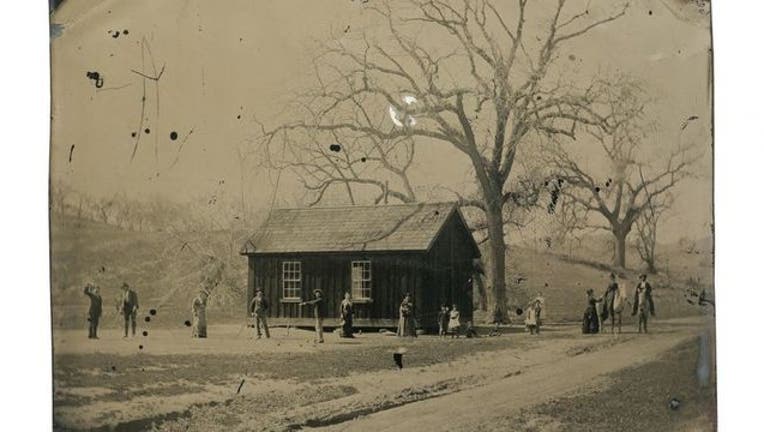 article
A rare coin dealer in California has concluded that a grainy image of legendary gunman Billy the Kid playing croquet is the real thing and could be worth as much as $5 million.
That is not bad for a photo purchased by Randy Guijarro of Freemont, Calif. for $2 as a part of a miscellaneous lot at a Fresno junk shop in 2010, according to Kagin's. The company is negotiating a private sale of the photo.
"We have a couple of people who are interested right now," Kagin's senior numismatist David McCarthy told FoxNews.com said.
Related: Rare photo shows Jesse James with his killer, says forensic artist
The 4x5-inch tintype – which depicts Billy the Kid and several members of his gang, The Regulators, relaxing in the summer of 1878 - will be the subject of a two-hour documentary airing Sunday on the National Geographic Channel.
Taken just one month after the tumultuous Lincoln County War came to an end, it offers a rare window into the lives of these gunmen. Rather than a threatening outlaw, Billy the Kid seems to be enjoying some downtime following what Kagin's said was a wedding.
The only other known photograph of Billy the Kid is a portrait of the outlaw taken in Fort Sumner, NM in 1880. It sold for $2.3 million to Palm Beach, Fla., businessman William Koch in 2011 at Brian Lebel's Annual Old West Show and Auction in Denver. In that photo, Billy is packing a Colt revolver and trademark 1873 Winchester carbine rifle.
When they first got hold of the latest image, McCarthy said they weren't sure it was authentic adding that "if you do an Internet search, there will be 20 people who have a photo of some guy that looks like Billy the Kid." 
"When we first saw the photograph, we were understandably skeptical - an original Billy the Kid photo is the Holy Grail of Western Americana," Kagin's senior numismatist David McCarthy said, in a press release.