New FOX 5 poll: Statistical dead heat in Florida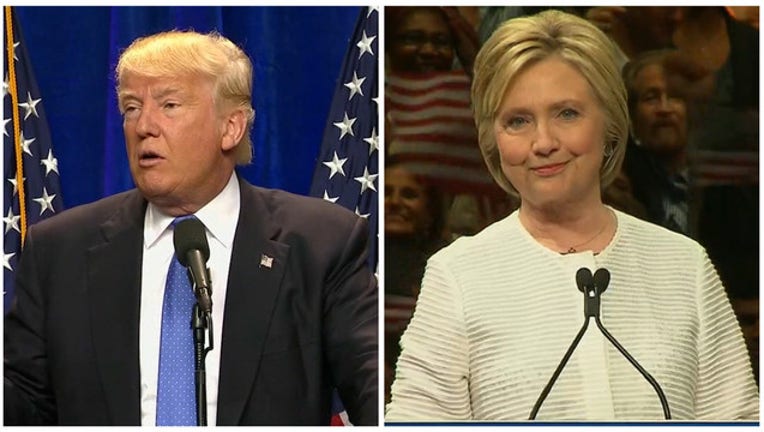 A new poll conducted for FOX 5 Atlanta and FOX sister stations in Florida shows a statistical dead heat between Democrat Hillary Clinton and Republican Donald Trump in the southern battleground state of Florida.
The Opinion Savvy Poll of likely Florida voters conducted on August 9th and 10th shows Clinton at 45%, slightly leading Trump at 44%.
Libertarian Gary Johnson has 6% and Green Party nominee Jill Stein has 1%.
Four percent of the 622 voters polled are undecided.
The poll conducted for FOX 5 Atlanta, FOX 13 Tampa and FOX 35 Orlando has a margin-of-error of 4%.
FOX 5 political analyst and InsiderAdvantage founder Matt Towery said, "Clinton has a slight lead over Trump in Florida mainly because she has a higher percentage of Democrats who indicate they will vote for her than Republicans who support Trump. Independent voters lean significantly towards Trump. Clinton leads among both Hispanics and African-Americans.
Towery said the results show the damage that names such as Jeb Bush, Mitt Romney and Ted Cruz among many other prominent Republicans have done to the Trump effort. He points out a reasonable number of Republicans say they will vote for Libertarian Gary Johnson.
Towery doesn't see recent controversies involving the Republican nominee as hurting his campaign.
"But one thing that is also becoming clear is that Trump is not suffering from the barrage of media stories that have seemingly hurt his effort", Towery said. "If anything, Trump appears to be trending up even as these stories break at a fast pace. "
Towery believes the upcoming debates between Clinton and Trump will decide the election.
Towery said, "In the end, the debates will likely decide how Florida votes, with one caveat. Clinton and supporting groups have filled the airwaves in Florida, while Trump's presence is barely existent. If Trump's campaign believes they can wait until the last minute to air commercials, they are wrong. This is not a primary election and the Clinton ads are far more professional and effective than the ads Trump faced in Florida last March. This can be found in the age group of voters 30-44 in the poll. Clinton is crushing Trump among this age group, a demographic with which local affiliate political ads are very effective."