Morehouse College says 2 students killed in crash on Monday
ATLANTA - Morehouse College is mourning the loss of two of its students.
The college says they were killed in a crash on Church Street at Linwood Avenue just after 5 p.m. on Labor Day.
Georgia State Police says the vehicle left the roadway, struck a utility police, rotated then struck a second utility pole, then overturned.
Their peers at the Atlanta University Center were heartbroken.
"The soul is interconnected among all of us. We are not individuals, we are a family," Morehouse College student Calvin Bell said.
Students from Morehouse College, Spelman College and Clark Atlanta University gathered for a prayer service at King Chapel to talk about the sudden loss of friends and roommates Hugh Douglas, Jr., son of NFL great and current Philadelphia radio host Hugh Douglas, and Christion Files Jr.
Douglas and Files were both set to graduate in 2025.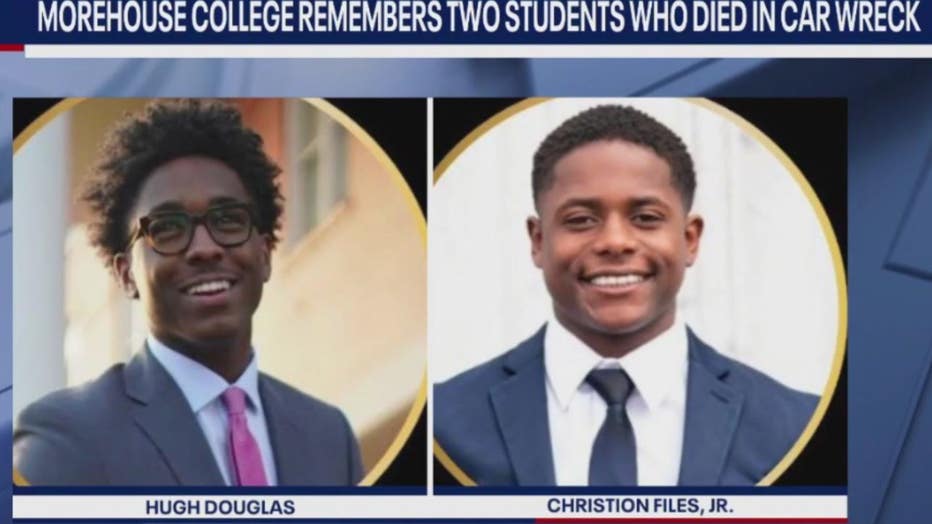 The pair were friends and roommates.
They were both studying business administration. Douglas was concentrating on finance, and Files chose marketing.
They were both members of the Morehouse Business Association. Douglas was the treasurer and CFO for the association.
Files was co-captain of Morehouse Track & Field and Douglas was a AltFinance Fellow and Goldman Sachs Fellow. Douglas interned at Area Management Corporation in Los Angeles over the summer. 
Files was also known for his photography and ideography skills, which he used to create high-quality content for the school and students.
"A loss like this ripples through the community. There is truly a brotherhood and a sisterhood at Spelman that brings us all together, as well as a community at Clark. So to have any loss in the AUC is detrimental to everyone," senior Bell told FOX 5.
That loss could be seen on the faces of so many students.
"I didn't believe it at first. I'm waiting a bit to hear what really happened. To know that this happened it broke my heart," senior Camryn Banks said.
The school says they leave behind a legacy of excellence, passion and dedication that will continue to inspire.
Classes were suspended on Morehouse campus Tuesday because of the tragedy.  The hope was to give students an opportunity to work on their mental health.