Missing 3-week-old baby believed to be in danger; mother wanted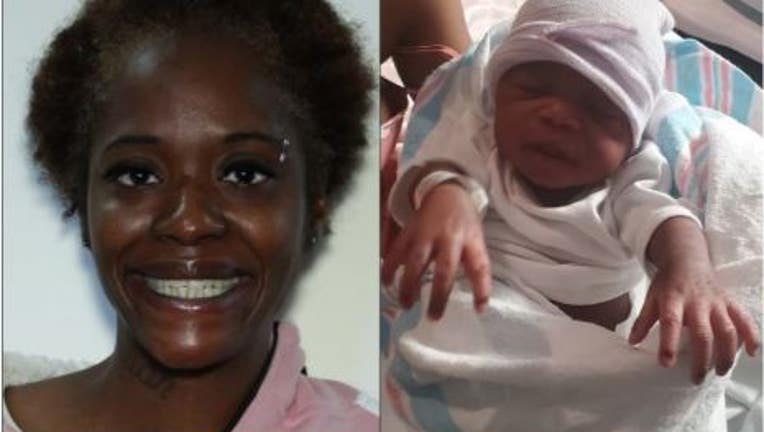 article
SOUTH FULTON, Ga. - New details in the case of a missing 3-week-old baby girl in South Fulton who is with her mother, but police said is in danger.
In a press release sent to FOX 5 News on Friday morning, the South Fulton Police Department said Angela Y. White took off with her 3-week-old daughter, Israel White, from the Department of Family and Children Services (DFCS). Officials said the child is a ward of the State of Georgia.
However, FOX 5's Aungelique Proctor spoke to the lead investigator Friday afternoon on the case who said the infant has been missing for nearly a week. She was with her mother at a rooming house along Kimberly Mill Road off Flatshoals Parkway, FOX 5 learned. 
Sign up for FOX 5 email alerts
Two DFCS workers came by the home with a court order signed by a judge compelling White to turn over her child. The investigator said White was breastfeeding the child and had recently tested positive for drug use. White struck one of the DFCS workers and then took off, the investigator said.
"Heard her asking why they were taking her baby. And that she was doing everything she was doing so she didn't understand why," a resident at the house who was home at the time said.
The suspect has failed to comply with directives, legal directives that were issued to the suspect regarding the welfare of the child," Lt. Jubal Rogers with the South Fulton Police Department told FOX 5's Aungelique Proctor by phone late Friday afternoon. "DFCS has reasonable and probable cause to believe the infant is in danger."
Residents at the rooming house also shared their concerns about the child's safety.
"This a small baby, it doesn't weigh but 5 pounds and a couple ounces, so, it's really small. So, I'm concerned," one resident who did not wish to be named told Proctor.
White does not own a car, so they are not sure how she is getting around. Police confirmed she has relatives in Toombs County, near Vidalia, Georgia.
Download the FOX 5 Atlanta app for breaking news and weather alerts.
White has active warrants for her arrest through South Fulton Police Department. 
Anyone who sees the infant or mother should call 911 or the South Fulton Police Department.