Mark Meadows files appeal after request rejected to move GA election interference case to federal court
ATLANTA - Former White House Chief of Staff Mark Meadows has filed an appeal in response to a judge denying his request to move his Georgia election interference case to federal court.
He has also asked the district court to stay the effect of its order remanding his case to state court pending the appeal to the 11th circuit. 
The ruling was made on Sept. 8 by U.S. District Judge Steve Jones in Atlanta. Jones wrote in the 49-page ruling that Meadows did not meet the "quite low" threshold to move the case to federal court.
"The evidence adduced at the hearing establishes that the actions at the heart of the State's charges against Meadows were taken on behalf of the Trump campaign with an ultimate goal of affecting state election activities and procedures," Jones wrote. "Meadows himself testified that working for the Trump campaign would be outside the scope of a White House Chief of Staff."
The ruling was a big early win for Fulton County District Attorney Fani Willis, who spent 2 1/2 years investigating and building the case against former President Donald Trump, Meadows and 17 others before obtaining the sweeping indictment under Georgia's anti-racketeering law. She has said she wants to try all the defendants together.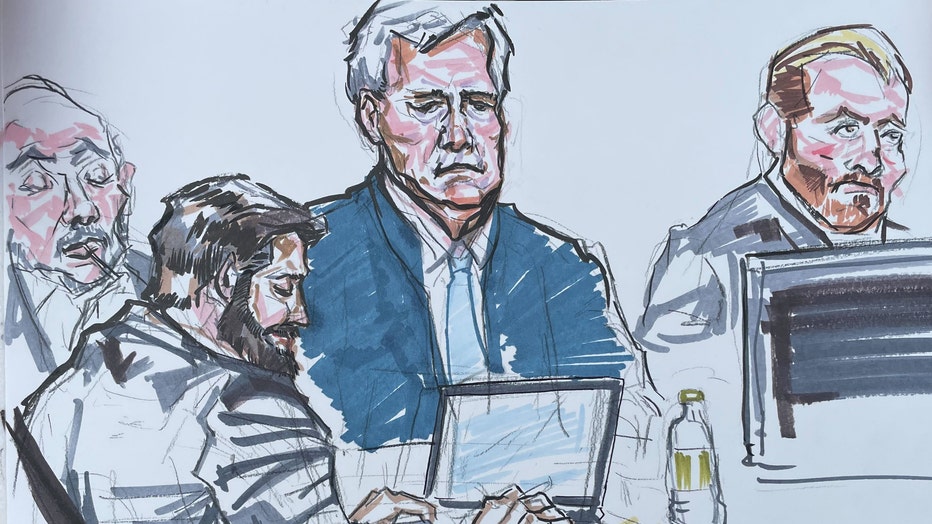 Former chief of staff Mark Meadows sits with his attorneys on Aug. 28, 2023. (Stephen Eidson)
Meadows said his actions were taken as part of his role as chief of staff to the Republican president. He and his lawyers also argued that, since he was a federal official at the time, the charges against him should be heard in federal court and, ultimately, dismissed for lack of merit.
Several other defendants have asked for their trials to be moved to federal court, including former President Donald Trump.
Meadows' appeal was filed late Friday night.
On Monday, his attorneys filed an emergency motion to stay the pending appeal in the 11th U.S. District Circuit Court.
OTHER RECENT STORIES
Georgia election interference special grand jury report released
Trump trial: Fulton County DA seeks to protect jurors in Georgia election interference case
Georgia judge rules that Sidney Powell and Kenneth Chesebro can be tried together starting Oct. 23
Kemp names commission to look into state senator indicted in Georgia election interference case
Former President Donald Trump and his 18 co-defendants were indicted Aug. 14 for violating Georgia's RICO (Racketeer Influenced and Corrupt Organizations) Act and other charges related to the 2020 election results in Georgia. The grand jury indictment was issued following a 2-and-1/2-year investigation by Fulton County District Attorney Fani Willis and a recommendation for indictment by a special grand jury earlier in the year.
Offenses listed in the indictment include an alleged request from Trump to Georgia's Secretary of State, Brad Raffensperger, to alter votes. Other charges include making false statements and writings, impersonating a public officer, filing false documents, influencing witnesses, conspiracy to defraud the state, and perjury, among others.
Additional defendants in the case include Trump's former lawyer, Rudy Giuliani, and Meadows. All defendants were ordered to surrender to the Fulton County Jail by noon on Aug. 25. Initially, Willis requested a trial date in March 2024, but that request has since been amended to Oct. 23, 2023. Trump continues to assert that he won the election and claims that he is now facing persecution.