Marjorie Taylor Greene leads NYC rally protesting Trump indictment, after receiving warning from Mayor Adams
NEW YORK - Rep. Marjorie Taylor Greene, R-Ga., led a rally in New York City Tuesday to protest the indictment of former President Donald Trump, as he prepares for a court appearance.
Trump was indicted Thursday over claims he paid hush money to adult film star Stormy Daniels and former Playboy model Karen McDougal while campaigning for president in 2016, making him the first president in American history to face criminal charges. 
The former president and 2024 presidential candidate traveled to New York City Monday, prompting protests to break in support and against the looming arraignment.
Greene, a longtime supporter of Trump, journeyed from the Peach State to the Big Apple to rally outside the barricaded courthouse and protest the charges brought against the former president.
PROTESTERS GET PHYSICAL OUTSIDE NYC COURTHOUSE BEFORE TRUMP ARRAIGNMENT
"We are here to peacefully protest against the persecution of an innocent man. Not just any innocent man, this is the former President of the United States of America," Greene said, speaking to the crowd through a megaphone.
MOST AMERICANS SUPPORT TRUMP INDICTMENT, BUT THINK POLITICS PLAYED A ROLE IN BRAGG'S DECISION: POLL
On Monday, New York City Mayor Eric Adams called out Greene during a press conference, amid news the congresswoman was in town to join protests against the arraignment.
"People like Marjorie Taylor Greene, who is known to spread misinformation and hate speech, while you're in town, be on your best behavior," the Democratic mayor warned in his call for protesters to "control yourselves."
Greene hit back at the comment during Tuesday's rally. "Also, to the Mayor Adams, as you can see, I am here peacefully protesting. He called me out by name," Greene told the crowd.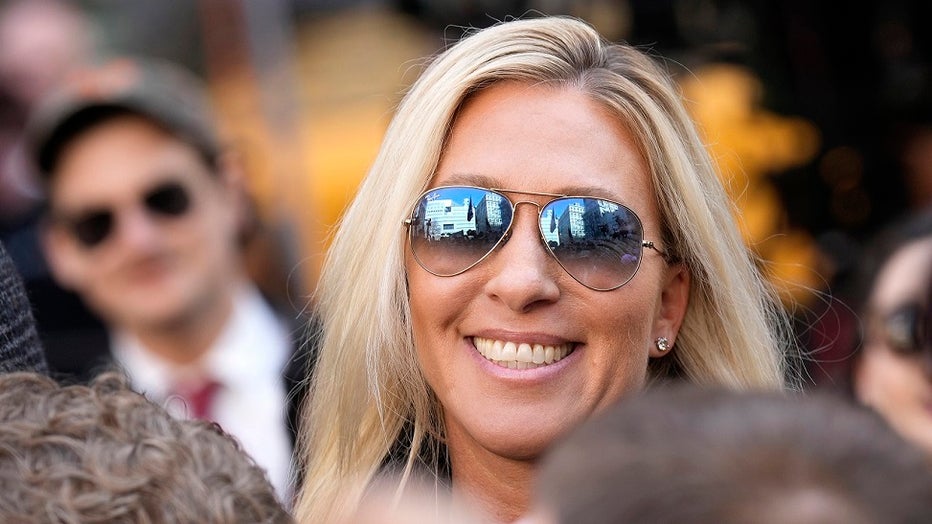 U.S. Rep. Marjorie Taylor Greene (R-GA) walks through the crowd gathered outside the courthouse where former U.S. President Donald Trump will arrive later in the day for his arraignment on April 4, 2023 in New York City. With his indictment, Trump wi
The GOP congresswoman was joined by Rep. George Santos. R-N.Y., who told reporters he wants to "support the president, because I think this is unprecedented, and it's a bad day for democracy."
The scene reportedly turned physical when a Trump supporter fell to the ground after running across an anti-Trump flag.
CLICK HERE TO GET THE FOX NEWS APP
"VERY UNFAIR VENUE, WITH SOME AREAS THAT VOTED 1% REPUBLICAN. THIS CASE SHOULD BE MOVED TO NEARBY STATEN ISLAND - WOULD BE A VERY FAIR AND SECURE LOCATION FOR THE TRIAL," Trump wrote on his Truth Social page amid the protests.
Fox News' Thomas Catennaci contributed to this report.