Father, woman charged in shooting of 3-year-old child in Lithia Springs
LITHIA SPRINGS, Ga. - The father of a 3-year-old boy shot in the head over the weekend at an extended stay hotel in Lithia Springs over the weekend is now facing charges along with another woman.
The mother of the little boy, who she identifies as Amir, says he is fighting to stay alive after a gunshot wound to the head.
"I never thought I would be in this situation. I don't wish this pain on nobody," Amir's mother said.
On the morning of Jan. 21, emergency personnel were called out to an Intown Suites hotel on West Market Circle to a report of an injured child. Upon arrival, EMS involved law enforcement and transported the little boy to a hospital.
Amir's mother says her son was with his father at the time and another woman. According to a GoFundMe to help with medical expenses, the young boy was able to get ahold of a gun inside the room and accidentally shot himself in the head.
Devante Porter, 23, and Jermecia Martin, 29, were charged with aggravated assault, cruelty to children to the second degree, reckless conduct, making false statements and tampering with evidence.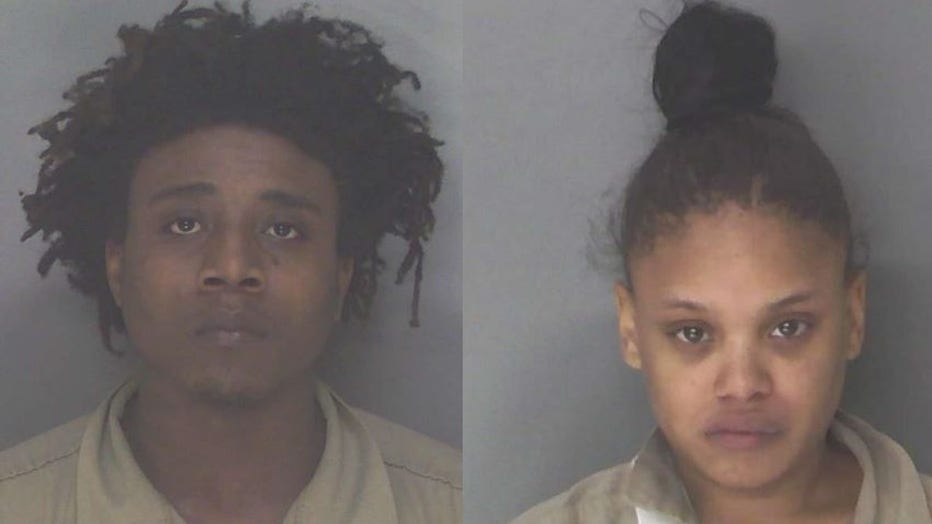 Devante Porter and Jermecia Martin (Douglasville Police Department)
"I'm thinking of memories of my baby. I'm looking at videos of him being happy, and I try to remember him as that," the mom said.
"She was just doing what any mother would do and wanted to make sure her baby knew who his father was," the Pastor of the Church said. "This baby comes from a loving, loving family. Single mother works hard and is gainfully employed."
Family and friends say this mom would do whatever for Amir who they say loves to dance, play and is a fighter.  
"I love my baby to death. I don't wish this pain on no mother no father, aunties, uncles, nobody," The Mother said.
"Put the guns away. Lock them up if you have guns in the home," The Pastor said.
FOX 5 was told investigators were still looking into the details of the shooting. The Douglasville Police Department is handling the investigation.