LeBron James breaks silence after son Bronny's cardiac arrest: 'We feel your love'
LOS ANGELES - LeBron James spoke out for the first time on social media since his oldest son, Bronny, suffered cardiac arrest during a morning practice at the Galen Center on the University of Southern California campus earlier this week. 
UPDATE: Bronny James, son of LeBron James, released from hospital days after cardiac arrest
"I want to thank the countless people sending my family love and prayers. We feel you and I'm so grateful," LeBron James wrote on social media Thursday.
He continued to say, "Everyone [is] doing great. We have our family together, safe and healthy, and we feel your love. Will have more to say when we're ready but I wanted to tell everyone how much your support has meant to us all #JamesGang." 
Law enforcement sources told TMZ the 911 call was made at 9:26 a.m. Monday after the USC freshman collapsed. Bronny James was reportedly unconscious when he was rushed to the hospital.
"Yesterday while practicing Bronny James suffered a cardiac arrest. Medical staff was able to treat Bronny and take him to the hospital. He is now in stable condition and no longer in ICU. We ask for respect and privacy for the James family and we will update media when there was more information," a family statement provided to The Athletic read.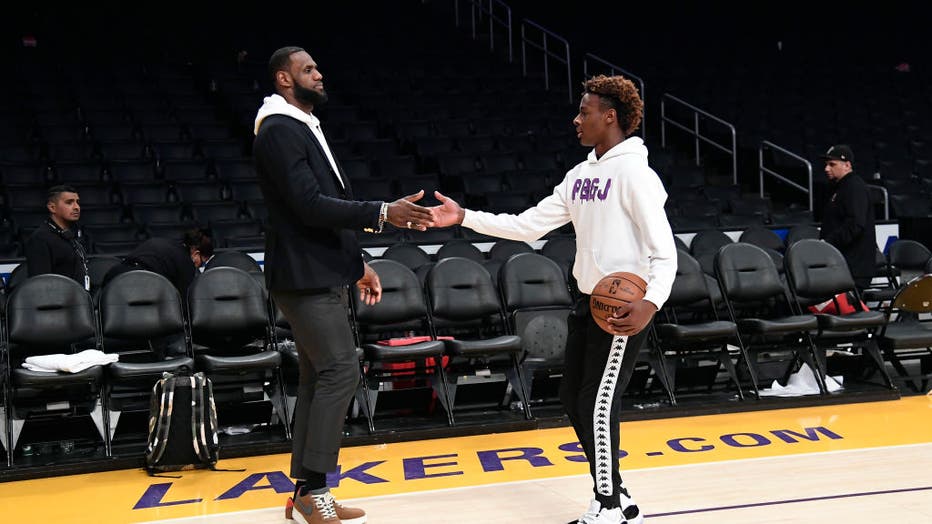 The statement continued to say, "LeBron and Savannah wish to publicly send their deepest thanks and appreciation to the USC medical and athletic staff for their incredible work and dedication to the safety of their athletes." 
PREVIOUS COVERAGE: Bronny James, son of LeBron James, rushed to the hospital after suffering cardiac arrest at USC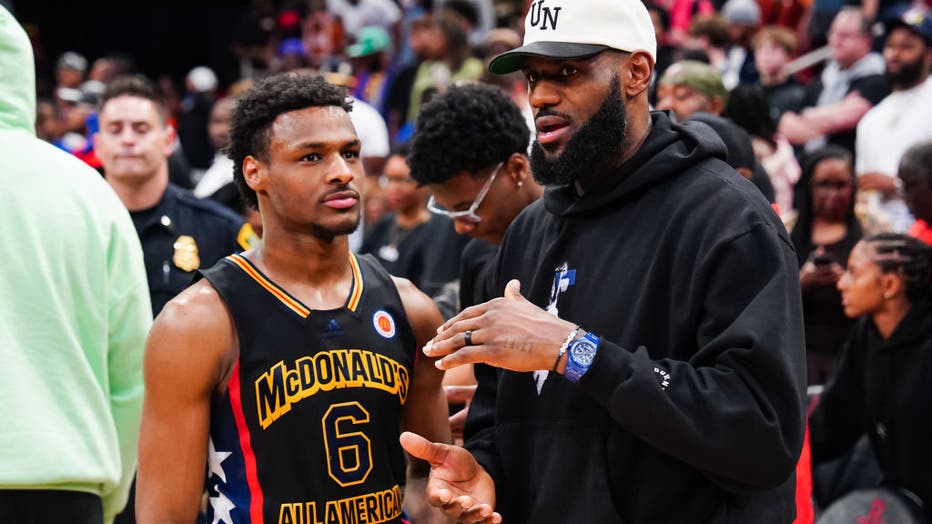 Bronny James #6 of the West team talks to Lebron James of the Los Angeles Lakers after the 2023 McDonald's High School Boys All-American Game at Toyota Center on March 28, 2023 in Houston, Texas. (Photo by Alex Bierens de Haan/Getty Images)
The 18-year-old guard spent four seasons as a standout on the basketball team at Chatsworth's Sierra Canyon. In May, the McDonald's All-American and highly sought-after recruit announced his commitment to USC in an Instagram post.