Kennedy Center Honors pay tribute to Pres. Bush, as Hamilton creators, Reba McEntire, Cher awarded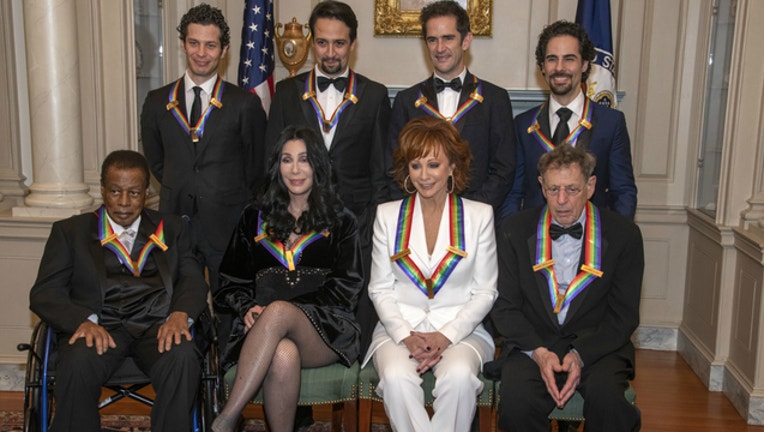 article
WASHINGTON (AP) - The Kennedy Center Honors program celebrating cultural achievement opened Sunday with a standing ovation for the late President George H.W. Bush as host Gloria Estefan recounted his attendance at the arts event in previous years.
"Before we begin with a tribute to our first honoree," Estefan said, "I think it's appropriate to recognize the passing of a wonderful man who dedicated his life to service and who graciously attended this event many times during his administration, laughing, applauding, singing along and even shedding a tear from right up there in the presidential box."
For the second straight year, President Donald Trump and first lady Melania Trump declined an invitation to the awards. He returned to Washington before dawn Sunday from the Group of 20 summit in Argentina.
This year's honorees for lifetime achievements in the arts are Cher, composer Philip Glass, country music legend Reba McEntire and jazz icon Wayne Shorter. The co-creators of "Hamilton" — writer and actor Lin-Manuel Miranda, director Thomas Kail, choreographer Andy Blankenbuehler and music director Alex Lacamoire — are set to receive a unique award honoring them as "trailblazing creators of a transformative work that defies category."
The first recipient, McEntire, was introduced by music star Kelly Clarkson, who performed McEntire's hit song "Fancy."
"Sometimes when we meet our heroes, it doesn't always pan out," Clarkson told McEntire, "but my friendship with you became one of the highlights of my life."
Shorter was hailed by the Kennedy Center for a six-decade career that included collaborations with Art Blakey, Miles Davis, Carlos Santana and Joni Mitchell.
Jason Moran, the Kennedy Center's artistic director for jazz, described Shorter's music in celestial terms.
"His sound holds a special place in the galaxy," Moran said. "I can safely say that somewhere in the galaxy right now, a band is playing one of his pieces."
Glass received his tribute from a fellow Kennedy Center Honors recipient: singer-songwriter Paul Simon.
"He can rightfully be described as one of our greatest modern composers," Simon said.
Simon praised Glass for his eclectic body of work, "never settling into one particular style, always developing and exploring."
On the red carpet before the event, Cher said she has always tried to focus on the music and her fans over any career honors. She said she was genuinely surprised to receive the award.
"I never thought I was the right person for this because I'm a little bit out there," the 72-year-old pop music icon said.
After intermission, David Rubenstein, the chairman of the board for the Kennedy Center, said he often thinks about the values that Bush, who died Friday at age 94, brought to public service.
"I never met a more decent man, a more philanthropic person, a more genuine person," Rubenstein said.
Bush attended the Kennedy Center Honors for most years during his presidency — and even afterward, during his son's presidency — but like other presidents, he was pulled away by major issues that demanded his time. Bush didn't attend in 1989 because he was at a summit in Malta. Jimmy Carter missed the 1979 awards because of the Iran hostage crisis. Bill Clinton was on his way to a conference during the 1994 Kentucky Center awards.
Trump, however, is the first president to miss them twice.
Had he gone to the Kennedy Center, it's unlikely he would have been warmly welcomed by at least some of the honorees, including Cher and Miranda.
Trump and his administration have put unprecedented distance between themselves and the arts and science communities. No arts or humanities medals have been announced or handed out since September 2016, when Barack Obama was president — the longest gap by months since the awards were established in the mid-1980s.