House Minority Whip Katherine Clark's daughter arrested in Boston during 'Stop Cop City' protest
BOSTON - The daughter of the House Democratic Whip was arrested during a protest Saturday night in Boston over the planned Atlanta police training facility.
In a statement on its website, the Boston Police Department says 23-year-old Riley Dowell was found defacing the Parkman Bandstand Monument with the tags "NO COP CITY" and "ACAB" while a group of activists protested in Boston Common.
Dowell was later charged with assault after a police officer was injured while arresting them.
Clark, the House Democratic whip, said in a tweet that her daughter had been arrested. 
DOWNTOWN ATLANTA RIOT: POLICE RELEASE NAMES, PHOTOS, CHARGES OF SIX ARRESTED 
"I love Riley, and this is a very difficult time in the cycle of joy and pain in parenting," Clark wrote. "This will be evaluated by the legal system, and I am confident in that process."
Clark has spoken publicly about the fears of her own non-binary child amid bigotry targeting transgender people.
Dowell was charged with assault by means of a dangerous weapon, destruction or injury to public property, and damage to property by graffiti.
A second protestor, identified as 27-year-old Andrea Colletti of Brighton, Massachusetts, was also arrested about an hour later and charged with damage to property by graffiti, destruction or injury of personal property, and resisting arrests.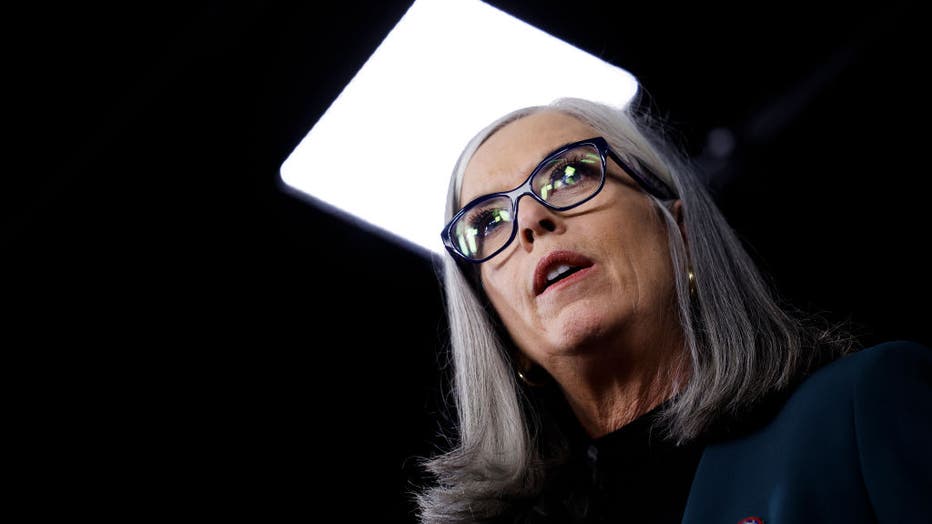 Rep. Katherine Clark speaks during a press conference at the U.S. Capitol Building on December 06, 2022 in Washington, DC. (Photo by Anna Moneymaker/Getty Images)
TIMELINE: HOW 'STOP COP CITY' MOVEMENT LED TO VIOLENT DOWNTOWN PROTEST AGAINST ATLANTA POLICE
Both arrests in Boston come on the same night as a riot in downtown Atlanta over the death of a 26-year-old Manuel Esteban Paez Teran, who was shot and killed by law enforcement officers trying to clear the site of a planned Atlanta-area public safety training center opponents have dubbed "Cop City."
In Atlanta, police arrested six suspects Saturday evening. Only one of the suspects was a Georgia resident. 
The Associated Press contributed to this report.