Indiana Jones fan; Wisconsin man treasures 'Raiders' memorabilia
SHEBOYGAN, Wis. - It's a familiar scene to so many fans. The sights, the sounds and the smells of a Milwaukee Brewers tailgate. But all that is the start of a new adventure for Mike Miller.
"I'm going to my first Brewers game," Mike said as he walked up to American Family Field.
Mike and his wife Martha are here for one thing. And it's not baseball.
"As soon as it's associated with Indiana Jones," Mike said. "I'm there."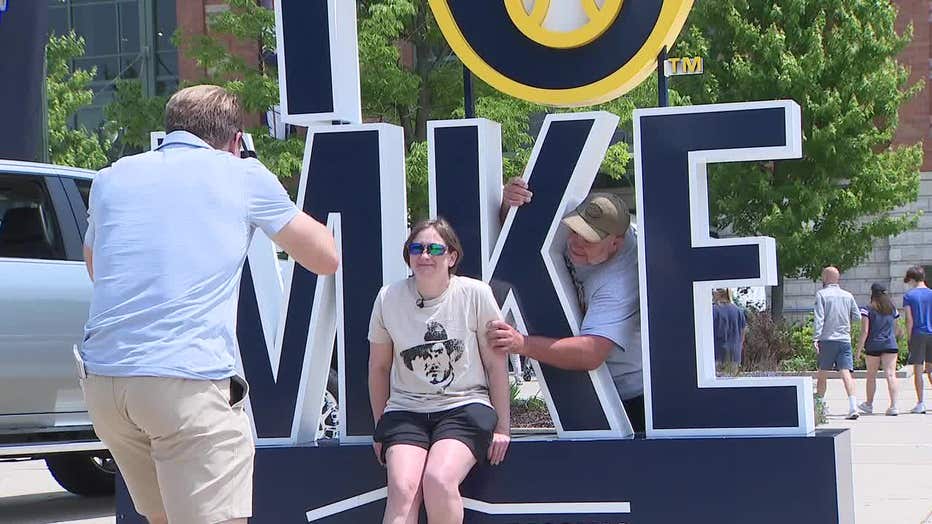 "He wants his bobblehead," Martha adds.
The Brewers faithful bleed blue and yellow. Mike sports his allegiances in ink, with a pair of tattoos on each calf.
SIGN UP TODAY: Get daily headlines, breaking news emails from FOX6 News
"You've got a serious collector here," said Martha, as they walk up to the Theme Night giveaway table. "He wants the best one."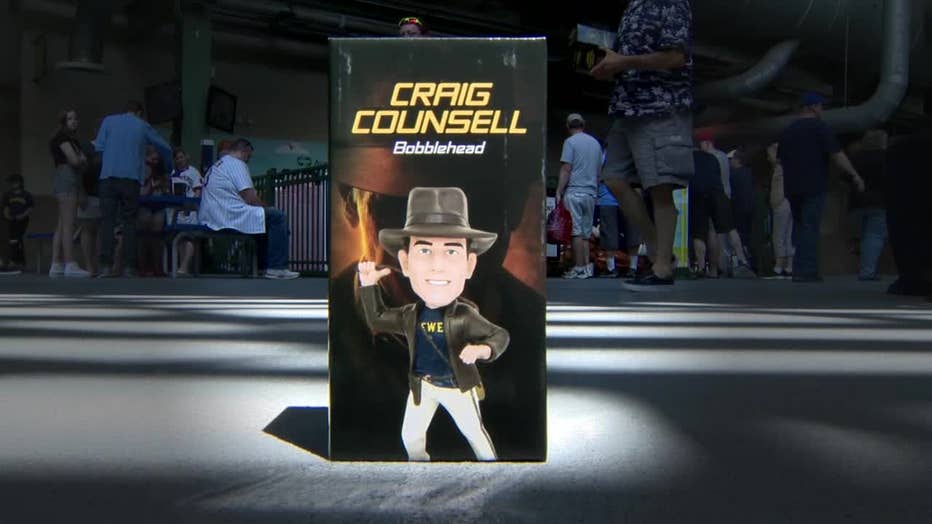 As he sets his eyes on the Craig Counsell bobblehead, adorned with the hat, jacket and whip made famous by Harrison Ford, Mike's day is made even before the first pitch.
"It's beautiful, it's fantastic," Mike said. "Part of me wants to rip it open and look at the actual item."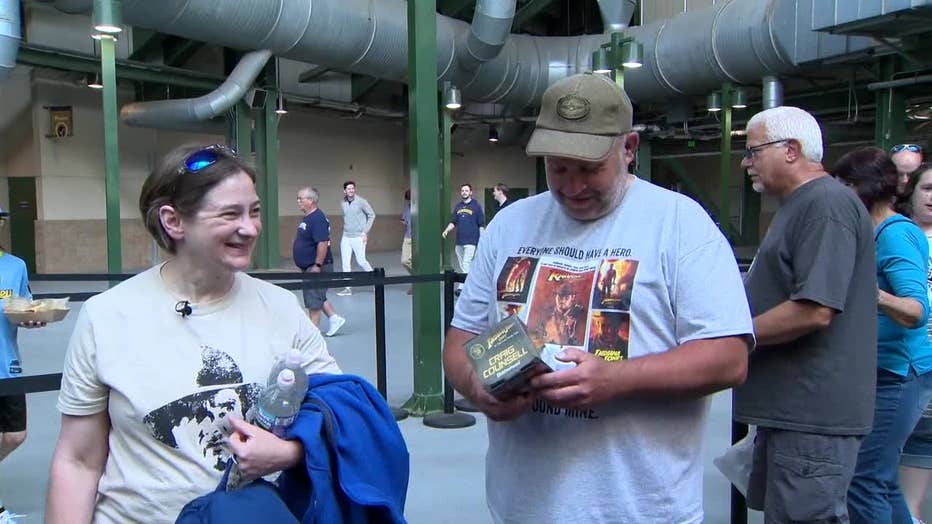 It's no lost Ark or Holy Grail, but to Mike anything Indiana Jones is a prized possession. And he has the perfect place for it. Tucked away like some hidden temple in Sheboygan County is a room you have to see to believe. It has 20-foot ceilings, custom-built walls and is climate-controlled. All that to – barely – contain Mike's treasure trove of memorabilia.
"Careful," said Mike as he weaved through the piles and signs and cabinets. "Don't touch anything or a trap's going to go off."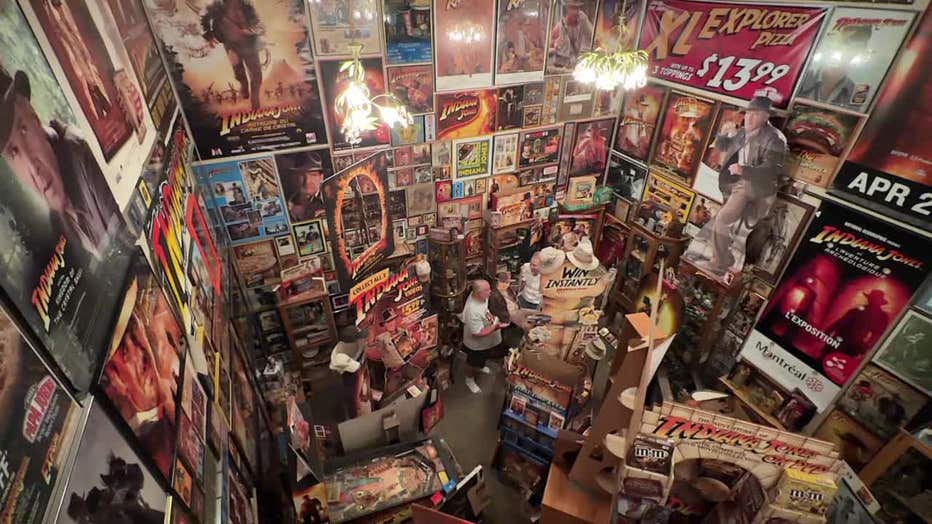 It's easy to lose yourself in 40 years of pop culture relics.
"Is it light out? Is it dark out?" Mike asks. "I have no idea, there's no windows in here."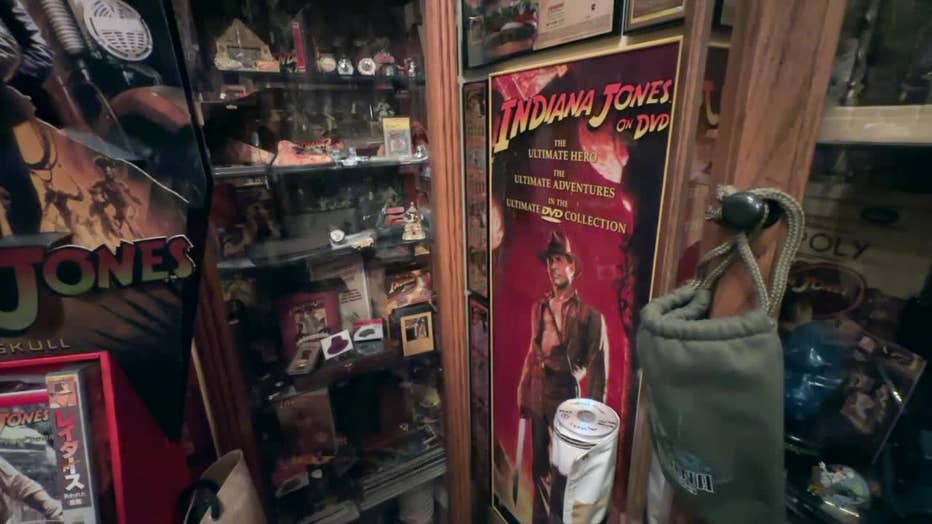 The story starts in the 1980s, with a father and his son.
"My dad laughed in a way I'd never heard him laugh before," Mike remembered. "He was watching the scene in Raiders where the swordsman, and all of a sudden [Indy] pulls out the gun. That is my first recollection with Indiana Jones, watching my dad laugh at that scene."
Mike saw 1989's Last Crusade more than 40 times in a theater, when he thought that closing sunset shot was Indy's final ride.
"That's where a lot of the collecting really started coming into play. Where it's like, no, I'm not done with this guy.," Mike explained. "These movies, they gave me my path. I'm a much more outgoing person. I take a lot more risks."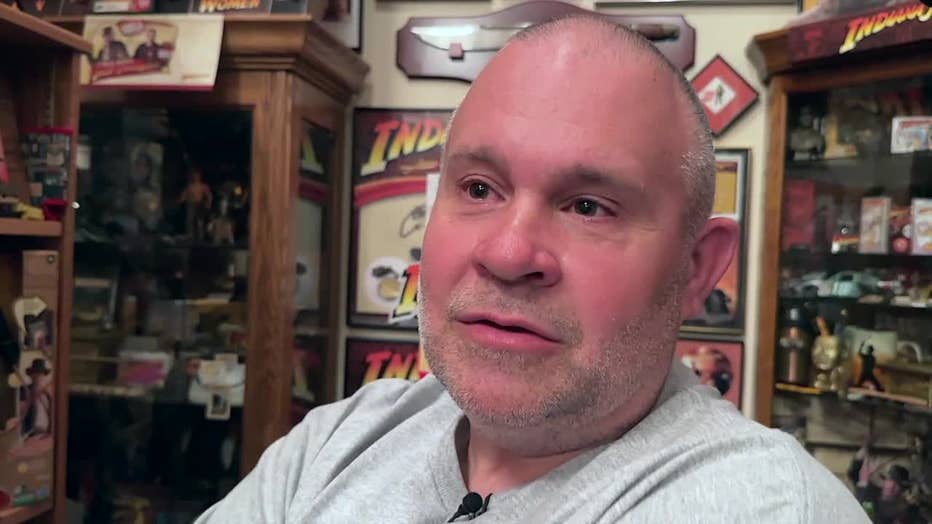 Like eventually asking out his friend at work, Martha.
FREE DOWNLOAD: Get breaking news alerts in the FOX6 News app for iOS or Android
"There goes that theme in the back of your head," Mike said of John Williams' famous score. "Oh no, what's that? I had the courage to ask her to marry me one day."
Martha was along for the ride – and all that came with it.
"One of those things," Martha explained. "When you care about somebody – when they're happy, you're happy."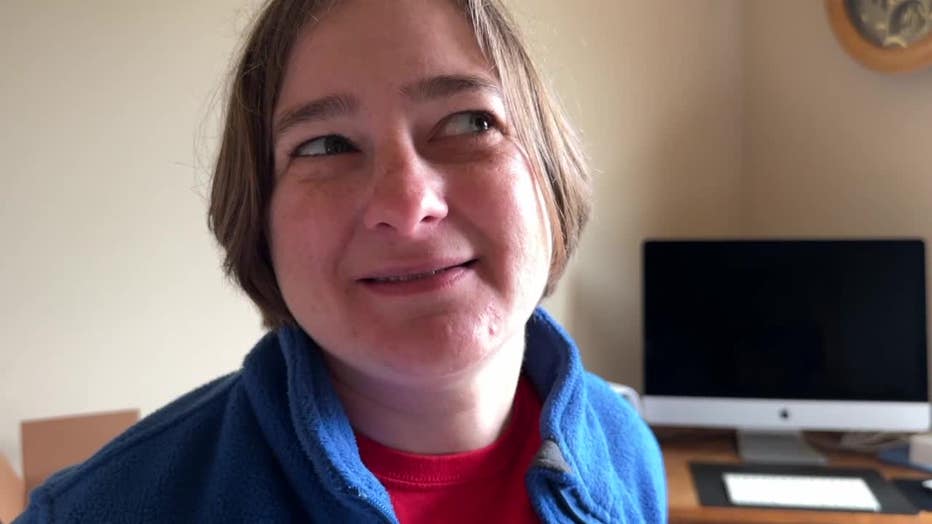 To paraphrase the Grail knight at the end of Last Crusade, Mike chose… wisely.
Over the decades, the collection outgrew their old house. It was time for some more space.
"Here's some shots of the room, as the house was being built," Mike said, flipping through photos from the construction. "Here's a guy sitting in the balcony dreaming what could be."
A guy who knew exactly which poster to hang first. Because of a father and his son.
"My dad and I, before he passed away, we went and got that from a Burger King up in Manitowoc," Mike said, looking up at a giant poster on one wall. "I knew I was going to put that up first."
Mike won't put a dollar figure on his collection. To him, each memory is priceless. And there are more to be made.
"I gotta focus," Mike said. "There's a new movie coming out, I gotta stay on top of things."
With this year's fifth installment, Dial of Destiny, the deliveries are flying in.
"UPS just dropped off three more packages," Martha said from down the hall. "It's Christmas every day."
But unlike kids on Christmas, Mike opens his presents slowly, deliberately. It's like Indy sizing up the idol.
"It's absolutely incredible," Mike said, admiring the newest addition to his collection. "That is just beautiful."
It's an almost religious experience, mixed with melancholy.
"It's also kind of a little sad," Mike said. "Because that's one more close to being done with this ride."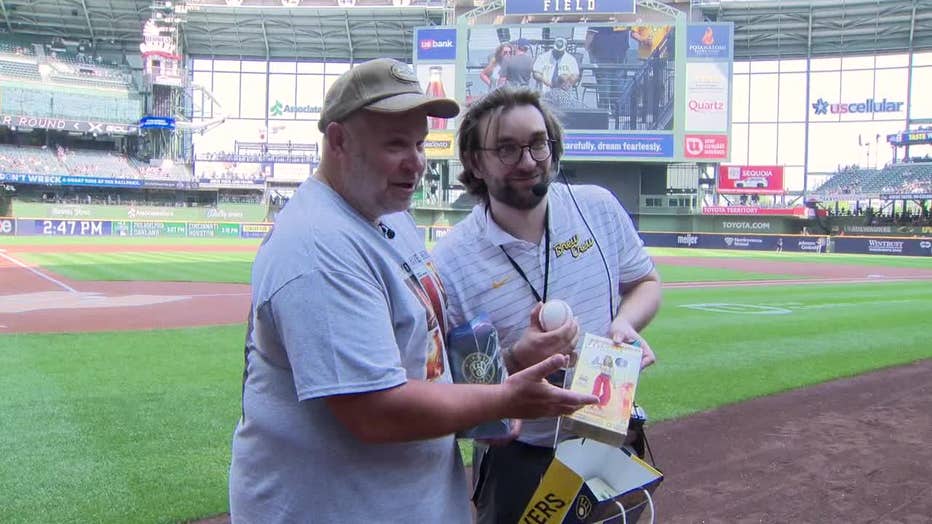 Not that the ride is over quite yet. When the Brewers heard about Mike's story, they gave him the Hollywood treatment. There were special gifts just for Mike, an autograph from manager Craig Counsell and the chance to throw out the first pitch on Indiana Jones Day.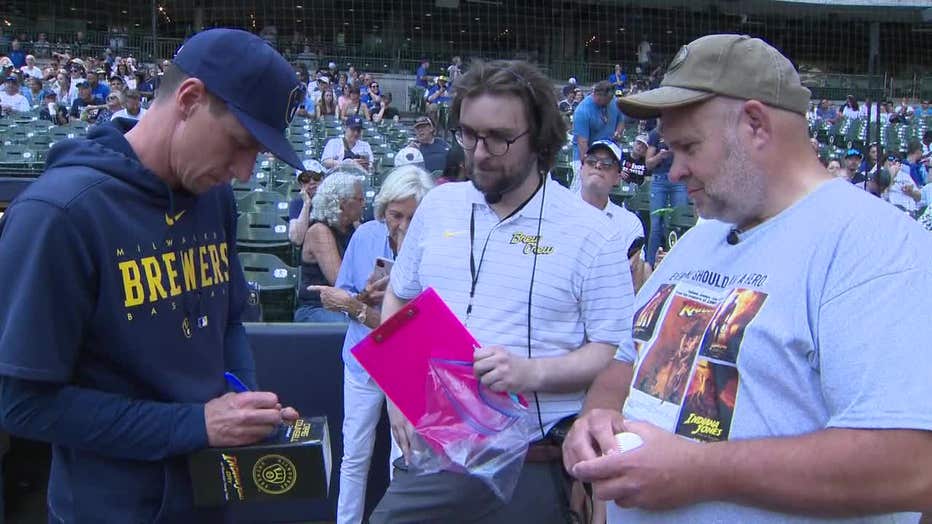 "There's a lot of things that I never would've done in my life that I'm so thankful that I have done," Mike said.
You never know where the adventure will lead.