Convicted teen shot up house of minors who didn't want to be part of crime, prosecutor says
WARNER ROBINS, Ga. - A 19-year-old from Bonaire has learned his sentence after being convicted for a crime he committed at 17.
Eric Chauncey Hardy, Jr. was tried in the Superior Court of Houston County where he was found guilty on three counts of aggravated assault after a five-day jury trial.
Prosecutors argued that Hardy and his co-defendant, Jordan Hamilton, went to a home in Warner Robins on May 3, 2022, to try and get multiple juvenile victims who lived there to join them in a robbery. When the minors rejected the invitation, prosecutors said Hardy and Hamilton entered the house with a loaded handgun and extended clip. One of the victim's pulled out his own handgun, and the two groups entered a shootout.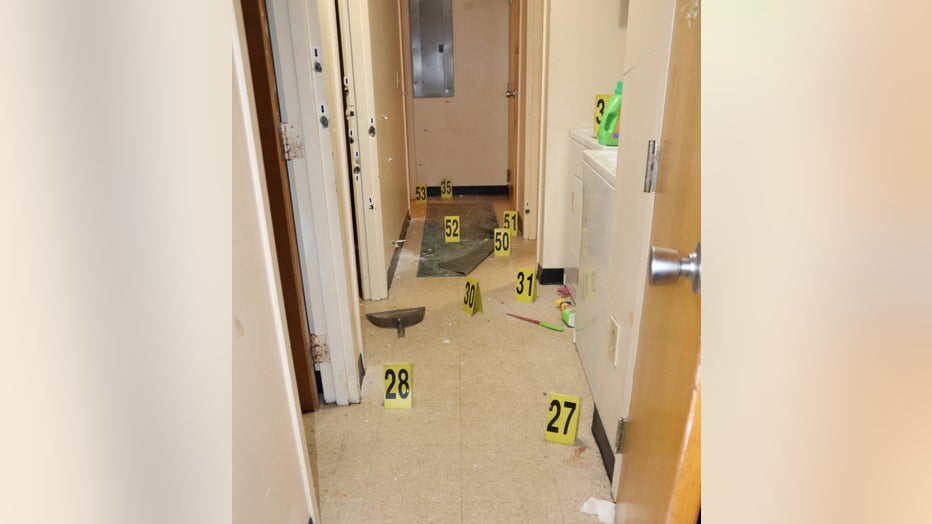 Police collected dozens of shell casings at the scene, 28 of which belonged to the gun Hardy and Hamilton used. (Credit: Houston County District Attorney William M. Kendall's Office)
Hardy was shot in the face. He was the only person injured in the shooting.
Warner Robins police say Hardy and Hamilton then fled the scene and were confronted by law enforcement at a nearby business. They said the two lied about their involvement in the shooting and claimed they were victims of a drive-by.
However, the juvenile victim who shot Hardy turned himself and his handgun in to the police and fully cooperated with the investigation. Hamilton also admitted he was involved, and pleaded guilty prior to the trial.
Hardy was sentenced to 40 years. The first 16 will be served in prison, and the remaining 24 will be served on probation.
"Simply put, there are consequences for actions," District Attorney William M. Kendall said. "Now the Defendant in this case will spend his 20s in prison calculating the cost of his actions."