Home Depot employees build mailbox for boy with autism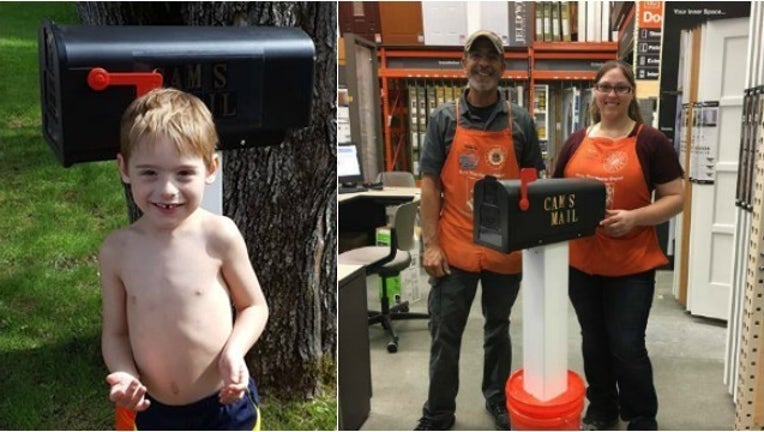 A Michigan woman's Facebook post about an act of kindness is going viral. 
Denise Haight said she was recently at the Home Depot in Gaylord when she was approached by two associates, Gary and Lorel. When they walked up to her, Haight was in deep thought, trying to come up with a birthday gift idea her 7-year-old grandson, Cameron, who has autism. 
Haight told the employees her grandson is fascinated with mailboxes and was thinking about putting one together for him.
"He loves to put things in, take them out, open the door, close the door, raise the flag, lower the flag over and over," she told them. 
Haight said they talked and brainstormed for a few minutes, then Gary told her to trust him. 
"I returned to the store Saturday morning, grabbed a cart and picked up a few things before meeting Gary at the service desk," Haight said. "He walked around the corner, pushing a handcart with the mailbox atop." 
Haight said she immediately teared up and told him it was perfect. The mailbox also included a Home Depot apron, a stuffed bear and some small toys inside. 
"We spoke for a few minutes as I placed my items on the handcart with the mailbox. I then asked him if there was a tag on the box so I could pay at the check-out and he said, ' There is no charge for the mailbox, tell that little boy Happy Birthday from the Home Depot,'" Haight recalled. "I must have looked like an idiot pushing the cart through the check out crying like a baby!" 
Haight shared several photos of the mailbox on Facebook, which have since gone viral. Now, people are sending Cameron mail: