Handmade weapons, meth seized from Georgia prisons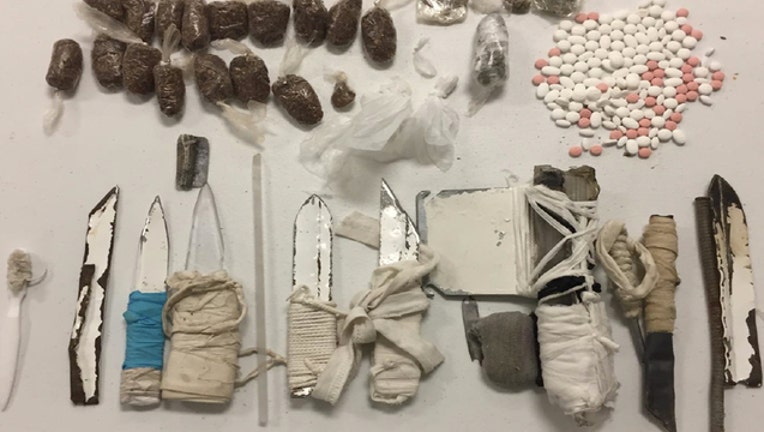 article
ATLANTA (FOX 5 Atlanta) - The Georgia Department of Corrections has released a list of items confiscated and found during shakedown seizures at the state's prisons, including thousands of handmade weapons, alcohol, and methamphetamine.
Officials seized a total of 7,763 contraband items between October and December of 2018. A shakedown operation in 14 of the state's 32 prisons also discovered 1,107 contraband items in that time.
Overall, officials say they found 1,648 contraband cell phones, 2,985 homemade weapons, 14,582.43 grams of marijuana (over 462 bags and balloons) and 2,022.2 grams of methamphetamine (more than 152 bags and balloons).
"Keeping contraband out of our facilities is a constant battle, but we remain vigiliant in our efforts to eradicate it's presence," said Timothy C. Ward, the interim commissioner of GDC, in a statement. " It is thanks to the tireless efforts of our staff that we are able to remain steadfast in our efforts."
In total, here are the number of items confiscated between October and December of 2018:
1,525 cell phones
771 cell phone chargers
2,440 handmade weapons
12,738.13 grams of marijuana (462 bags/balloons)
73,382.97 grams of tobacco (1,434 bags/balloons)
1,912.30 grams of methamphetamine (152 bags/balloons)
6,079 ounces of alcohol (87 bottles)
844 pills
34 syringes
14 SIM/SD cards
Items found in the GDC's fourth-quarter shakedown seizures included:
123 cell phones
545 handmade weapons
1844.3 grams of marijuana (29 occurences)
995.6 grams of tobacco (22 occurences)
109.9 grams of methamphetamine (9 occurences)
1715.2 ounces of homemade alcohol (5 occurences)
374 unidentified pills