Georgia Red Cross volunteers heading to Maui to help relief efforts
ATLANTA - Georgia and Hawaii may be thousands of miles away from each other, but that's not stopping a group of volunteers and staff from the American Red Cross of Georgia from jumping into action to help the wildfire relief efforts.
The organization is sending seven disaster-trained volunteers to Maui to help provide shelter and comfort to those affected by the terrible disaster. 
"In the past 48 hours, there have been so many images, and stories, coming out of Hawaii about how the wildfires have been impacting those on the island," said Evan Peterson, Regional Communications Manager for the American Red Cross of Georgia, who deployed to Hawaii on Friday. "The destruction has been difficult to see, but the stories of how people are helping each other overcome this tragedy is inspiring. With so many Red Cross volunteers and staff answering this call to service, I am proud to stand beside them – telling their stories and sharing the mission with everyone who wants to hear it."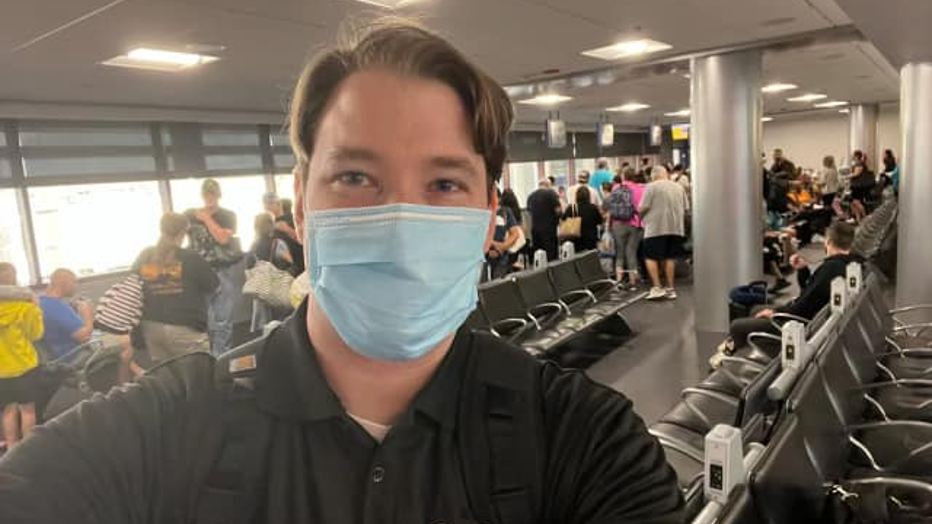 Evan Peterson, Regional Communications Manager for the American Red Cross of Georgia, departs for Hawaii. (American Red Cross of Georgia)
With the toll at 96, this is already the deadliest U.S. wildfire in more than a century. Two fires have not yet been completely contained, including the one that demolished the historic town of Lahaina, according to an update from Maui County late Sunday.
Even where the fire has retreated, authorities have warned that toxic byproducts may remain, including in drinking water, after the flames spewed poisonous fumes. And many people simply have no home to return to — so authorities plan to house them in hotels and vacation rentals
AERIAL FOOTAGE SHOWS THE SHEER DESTRUCTION OF THE DEADLY HAWAII FIRES
The blaze that swept into centuries-old Lahaina on Tuesday destroyed nearly every building in the town of 13,000, leaving a grid of gray rubble wedged between the blue ocean and lush green slopes. That fire has been 85% contained, according to the county, while the Upcountry fire has been 60% contained.
"There's very little left there," Gov. Josh Green said, holding up a map of the area titled "Buildings Damaged in Maui Wildfires Lahaina Area." He added that "an estimated value of $5.6 billion has gone away."
The cause of the wildfires is under investigation, and Green said authorities would also examine their response. One fire, for instance, was thought to be out but later flared again. Before a fire engulfed Lahaina, Maui County officials also failed to activate sirens that would have warned the entire population and instead relied on social media posts.
ATLANTA BRAVES PITCHER RAISING FUND FOR VICTIMS OF MAUI WILDFIRES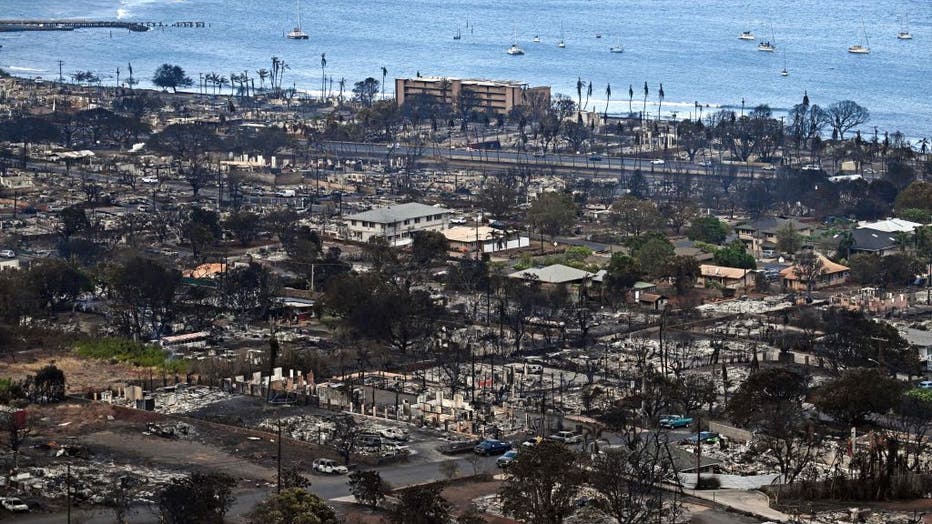 An aerial image taken on August 10, 2023 shows destroyed homes and buildings burned to the ground in Lahaina in the aftermath of wildfires in western Maui, Hawaii. At least 36 people have died after a fast-moving wildfire turned Lahaina to ashes, off
Fueled by a dry summer and strong winds from a passing hurricane, the flames on Maui raced through parched brush — one moving as fast as 1 mile every minute, according to Green.
"With those kinds of winds and 1,000-degree temperatures, ultimately all the pictures that you will see will be easy to understand," he said.
The fires are Hawaii's deadliest natural disaster in decades, surpassing a 1960 tsunami that killed 61 people. They also surpassed the 2018 Camp Fire in northern California that left 85 dead and destroyed the town of Paradise.
The American Red Cross says they are working across the clock to help those affected - opening shelters to provide evacuees a safe place to stay and support during this challenging time.
You can help support the group's efforts with a gift to Red Cross Disaster Relief at redcross.org.
The Associated Press contributed to this report.