Donations pour in for lightning-struck barn famous for Christmas lights show
FAYETTE COUNTY, Ga. - If you're looking for some good news, we have an update on a lightning fire at the Gaddy Farm in Fayette County that destroyed portions of a 35-year-old Christmas tradition. The owners told FOX 5 that since our story aired last week, they have been showered with donations of electrical materials. But will it be enough to have a show this year?
FOX 5 reporter Doug Evans found Mike Gaddy hard at work on the wiring needed for this year's light display at the family's farm, starting early because devastating fire put them way behind.
"I am going to have my nose to the grindstone, but I think we are going to make it by Thanksgiving," said Mike Gaddy.
Gaddy Farm barn burned down after being struck by lightning.
From: Supplied
FOX 5 first reported last week on the lightning strike that caught the Gaddy's barn on fire. Miles of electrical wiring that powered their drive-through display burned up, and so did some of the decorations.
Hundreds of people from the generations of families who have shared in this holiday tradition have since either donated, pledged to help rebuild or have sent messages of love and support.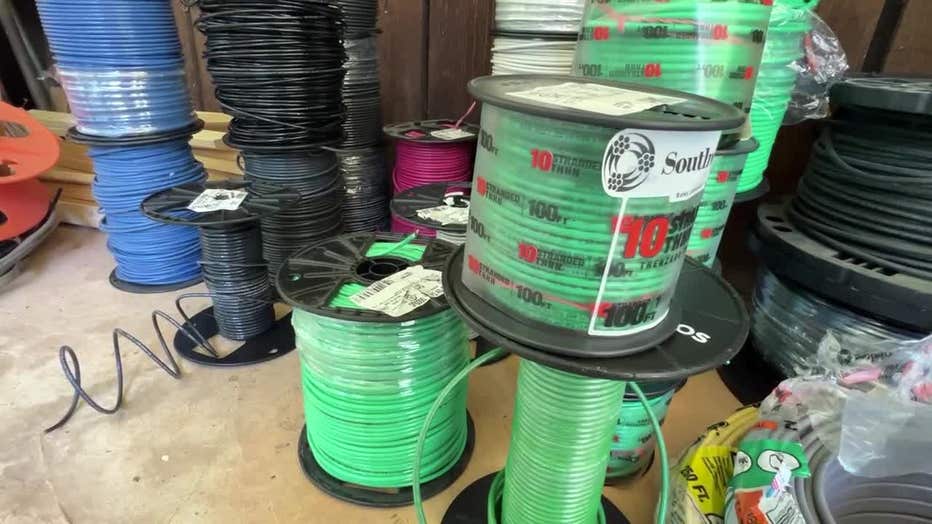 Donations of thousands of feet worth of wire have come in from avid fans of the Christmas lights show.
Donations of thousands of feet worth of electrical wire have been pouring it. At this rate, it's hard to tell how much more will be needed to light their farm this season for their Thanksgiving to New Year's Day drive-thru light display.
Mike and Gwen are so grateful for the love and support they've received since the fire at their farm destroyed all the wiring and some of the decorations that have been part of their holiday tradition for over three decades.
Gaddy Family Christmas Extravaganza
"The overwhelming show of love and compassion for what we lost and the appreciation for what we do every year, I don't think either one of us realized the magnitude," said Gwen Gaddy.
The Gaddy's light display is in its 35th year, and it is free of charge. They expect to be open this Thanksgiving night.
There is still a wish list of things that have been compiled by friends and supporters of the Gaddy family. You can find it on their Facebook page, Gaddy Family Christmas Extravaganza.