Fulton County commissioner takes stand in sexual harassment complaint against her
FULTON COUNTY, Ga. - A Fulton County commissioner pleaded the Fifth Amendment more than 100 times Wednesday when asked under oath if she planted tracking devices in her former chief of staff's cars.
Calvin Brock is suing Fulton County Commissioner Natalie Hall for sexual harassment, wrongful termination and back pay
District 4 Commissioner Natalie Hall told the court she hired Calvin Brock as her chief of staff just days after meeting him at a furniture store because her team thought he would be a great addition with his Army, Navy and police experience.
The commissioner testified several months later, the two started having a sexual relationship. She said Brock told her repeatedly that he loved her.
Court drawings show Fulton County Commissioner Natalie Hall taking the stand to answer questions about the EEOC complaint filed against her. (Lauren Lacy)
From: Supplied
Much of Wednesday's testimony centered around what happened once that love was gone. Brock claimed the commissioner planted three GPS tracking devices in two of his personal vehicles.
In a damaging testimony, a Covington Police Sergeant said he traced the three devices back to the manufacturer and determined Commissioner Hall bought all three.
Under cross-examination, Hall's attorneys appeared to score points when the sergeant pointed out Brock did not turn the devices over immediately and delayed contacting police for several months.
When questioned about those tracking devices, the commissioner pleaded the fifth amendment against self-incrimination.
Calvin Brock seen walking into court where he filed an EEOC complaint against his former employer, Fulton County Commissioner Natalie Hall.
Brock's attorney said Commissioner Hall only started talking about ending Brock's employment after she listened to conversations he was having with other women. The commissioner said she "was done" with Brock after he screamed, yelled, and disrespected her in public and told her he was quitting the $125,000 chief of staff job on numerous occasions.
Attorneys for the 51-year-old man presented text messages where Commissioner Hall appeared to tell her entire staff of four to turn in their county equipment keys and IDs around the same time Brock said the commissioner was firing him.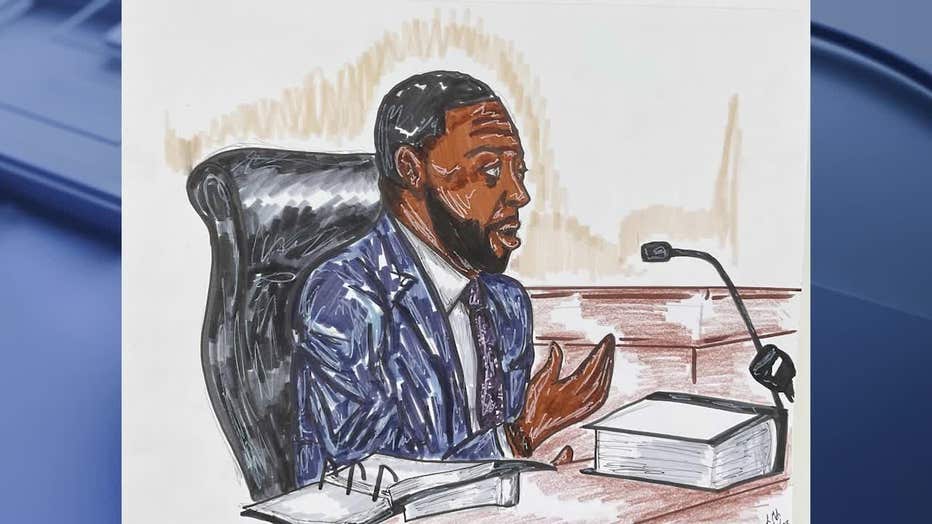 The day ended with Commissioner Hall's former Director of Administration and Communications, Robert Kelly, taking the stand.  
Kelly told the court he believed Commissioner Hall was trying to get rid of Brock and seemed to sexually harass him by making him feel uncomfortable and using demeaning tones at times.
Kelly testified that the county auditor told Commissioner Hall someone filed an anonymous complaint claiming she was having sex with her chief of staff. Kelly said the auditor told the commissioner he could make the complaint "go away."
Kelly said Commissioner Hall responded, "Do what you have to do."
Kelly's testimony was critical because he was a third party actually working in the office at the time. Many may perceive his interpretation of what went on as more objective.