Four arrested in two armed robberies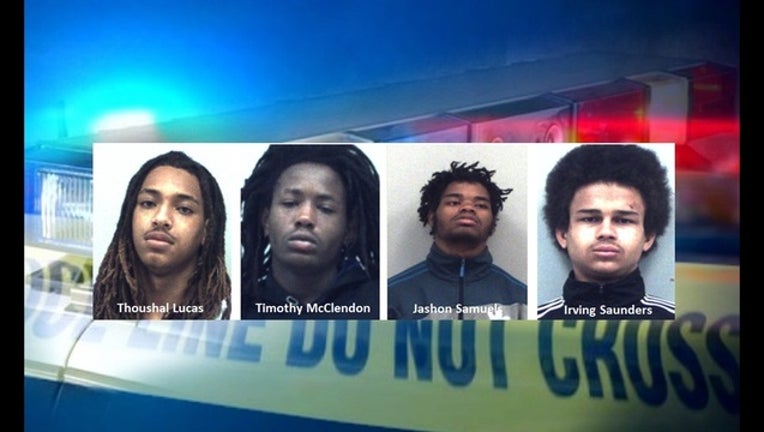 article
GWINNETT COUNTY, Ga. - Four suspects have been charged in connection to two armed robberies in unincorporated Snellville.
The robberies took place on May 6 around 3 p.m.
The first incident took place at Cash America Pawn at 3355 Stone Mountain Highway.
A dispatcher told officers that a victim was bleeding from his head and face.
Once the officers arrived, the victim said that four men had robbed him and assaulted him in the parking lot.
According to reports, one suspect pointed a gun in his face and another suspect punched him in the face.
The victim's cell phone, keys, and eyeglasses were taken. 
Shortly after the initial armed robbery call, a separate robbery took place at Cubesmart Self Storage at 3313 Stone Mountain Highway.
The victim told officers that he was at his storage unit getting some of his property when he was confronted by two men.
When the victim told the suspects that he didn't have any money, the men began to punch and kick him in the head.
According to reports, the suspects stole his cell phone, ID, and keys and four Samurai swords.
All four suspects fled the scene, but were later located after a search with K9s.
Timothy James McClendon, 17, was charged with armed robbery. Jashon Aaron Samuels, 18, was charged with armed robbery, hijacking a motor vehicle battery, and aggravated assault.
Irving Lewis Saunders, 17, and Thoushal Nakill Lucas, 19, were charged with armed robbery, battery, and obstruction of an officer.