Former Gwinnett County police officer found guilty on all 3 counts in traffic stop assault
GWINNETT COUNTY, Ga. - A jury found a former Gwinnett County police officer guilty on all three counts stemming from the assault of a suspect during a 2017 traffic stop which was caught on camera. This after three weeks of testimony and nearly two days of deliberations.
It took the jury a day and a half to return the verdict for Robert McDonald who was standing trial for battery, aggravated, assault and violating his oath for the April 12, 2017 incident. The 28-year-old former officer now faces up to 26 years.
Gwinnett County police fired McDonald a day after cellphone video of the April 12, 2017 arrest of Demetrius Hollins went viral. It's the same video the jury of five women and seven men asked to watch late Thursday afternoon.  
Jurors initially indicated they could not reach a unanimous verdict on one of the three charges against him but they convicted him minutes after another review of the video of McDonald striking Hollins with his foot.
"The sole offer that the state made was repugnant. Ten years with three to serve all because they allowed [former Gwinnett County police Sgt. Michael] Bongiovanni to sell out and testify against my client the district attorney ought to be ashamed of himself," defense attorney Walt Britt said shortly after the verdict was read in response to question as to why McDonald opted to go to trial in the face of such incriminating video instead of taking a plea deal the way fired Sergeant Michael Bongiovanni did in 2019.
FORMER OFFICER IN ASSAULT TRIAL TELLS GWINNETT COUNTY JURY HE MEANT NO HARM
The defense used closing arguments to portray former Sgt. Bongiovanni, who initiated the traffic stop, as the bad guy in this case and McDonald was simply doing as he was trained to do when he responded to a call about an officer-involved in a fight. Bongiovanni would take a plea deal and testify against McDonald during the trial. In exchange for his testimony against McDonald, Bongiovanni was given 10 years' probation, six months on house arrest and six months on a work-release program.           
The defense also took shots at Hollins' character, pointing to the number of times he's been arrested since this encounter with the officers, but the defense asked the jury of five women and seven women to focus solely on the events of April 12, 2017.
Prosecutors say McDonald willfully stomped on Hollins' head before putting a gun to his head during a traffic stop.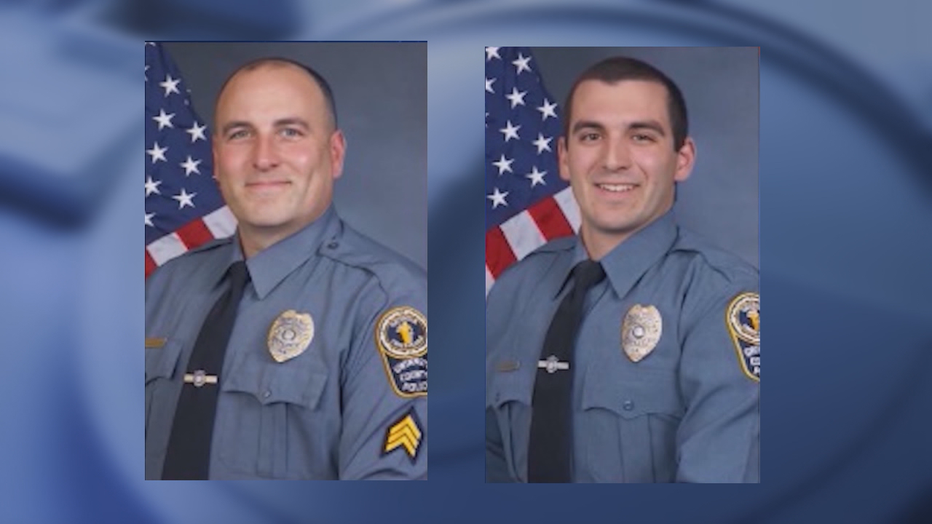 Former Sgt. Michael Bongiovanni (left) testified against Robert McDonald (right) during the trial.
VICTIM, FIRED COP TESTIFY AGAINST FORMER GWINNETT COUNTY POLICE OFFICER
"I don't think he should go to prison. Bongiovanni didn't have to go to prison," said Britt.
Britt said he planned to file an appeal and will spend the next two weeks preparing for a sentencing hearing that will be scheduled for some time in March. He hopes to keep his client out of prison.
Judge Howard Cook ruled McDonald can remain out of custody until the sentencing hearing is held.