Final goodbye for Muhammad Ali planned Friday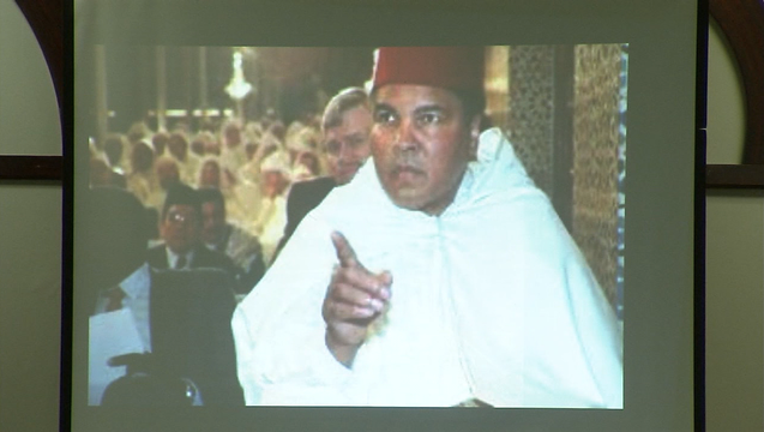 article
LOUISVILLE, Ky. (AP) — Muhammad Ali's last wish was that people from all walks of life could gather together to bid him one final goodbye.
This week has been a time to say goodbye to the legendary boxer known to the world as "the Greatest of All Time."
A 23-mile procession will take the body of Muhammad Ali through the streets of his boyhood home. The procession will begin at 9 a.m. and end up at the KFC Yum! Center where a public, interfaith memorial will take place at 2 p.m.
About 15,000 people are expected to attend the service. The body of Ali will then be taken to Cave Hill Cemetery for private burial service.
Friday's events complete a week of mourning for Ali. Surely, he would have been pleased with what took place Thursday just a few steps from where he made his pro debut more than a half century ago.
Boxing royalty mixed easily with common folks inside the convention center. Muslims prayed during the service attended by Christians, Jews and nonbelievers.
And over on one side, those with sharp eyes saw civil rights leader Rev. Jesse Jackson lean over a row of chairs to hug Louis Farrakhan, the head of the Nation of Islam.
Yes, it would have pleased Ali, probably even more than will Friday's star-studded memorial service, which features at least one president and a king. These were his people, from spiky-haired Don King waving flags to 73-year-old Barbara Hillman, a black woman from Louisville clutching the tickets she received after getting up at 3 a.m. to get in line the other morning.
All ages. All colors. All faiths.
All there for Ali.
"Who else could pass away and bring all this unity and peace?" asked Hillman, whose husband was in the same 1960 graduating class at Louisville's Central High as Ali. "He has included everybody. Young, old, black, white and all religions."
The grip that Ali has on this town was never hard to measure. There's a Muhammad Ali Boulevard and a Muhammad Ali Center, and in recent weeks his childhood home was opened for visits and figures to become yet another tourism attraction.
Hardly anyone you talked to ever saw his fights, at least in person. That was for people in bigger cities with more money.
But locals snapped up all the tickets to Friday's gala within an hour's time. They dressed up for Thursday's service and pressed toward the front, holding their phones up high to try and get a picture of Ali's casket coming by.
Mostly, though, they seemed happy just to be part of the traditional Muslim prayer service known as Jenazah.
"We're going to be prayerful, calm and loving," an early speaker told the crowd. "Muhammad would have wanted nothing more from us."
There was never any need to worry about that. This may have been the place of Ali's first fight — a six-rounder against a 186-pound journeyman named Tunney Hunsaker — but this wasn't a day for fighting, or even thinking about fights.
This was bigger than that. The man himself was bigger than boxing.
As Cassius Clay he came back to his hometown after winning the gold medal in the 1960 Olympics, only to be denied service when he tried to eat at a Louisville Woolworth lunch counter. Enraged, he would tell a story — backed up by his brother Rahman — of walking down to the Ohio River and throwing his medal into the water.
Now, as Muhammad Ali, he's the most celebrated person ever born in Louisville. Once hotly controversial he's now so beloved that his services had to be held in two different arenas.
"Like Martin Luther King, he worked for the betterment of mankind," said King, who promoted fights so epic they had names like Rumble in the Jungle and Thrilla in Manilla. "They were both on the same page with two different courses of action. I loved the man. His spirit will never die."
Jackson remembered Ali walking in with football legend Jim Brown to a hotel room in New York City on April 4, 1967, as King was preparing to give his famous anti-Vietnam war speech at the Riverside Church. It was a few weeks before Ali would refuse to step forward in the draft, and Jackson said his presence in the room both emboldened King and made him feel he had someone powerful on his side.
A year later, King would be assassinated, and the nation was wracked by racial and political strife.
"Dr. King gave up his life, Ali gave up his career," Jackson said. "Getting together that day was a big deal. The nation saw his support. He was not only a championship fighter but a human rights activist."
He was both, but a great fighter first. He might have been the greatest heavyweight ever, though even those who tried to emulate him don't spend much time talking about what Ali did in the ring.
"I'm sure everybody in this room has wonderful memories of Muhammad Ali," said former heavyweight champion Lennox Lewis. "To me he'll never die because of his heart and what he's accomplished that had nothing to do with boxing."
On a warm day in Louisville, it would have been hard to find anyone who would argue with that.
____
Tim Dahlberg is a national sports columnist for The Associated Press. Write to him at tdahlberg@ap.org or http//twitter.com/timdahlberg