Emaciated dog is being nursed back to health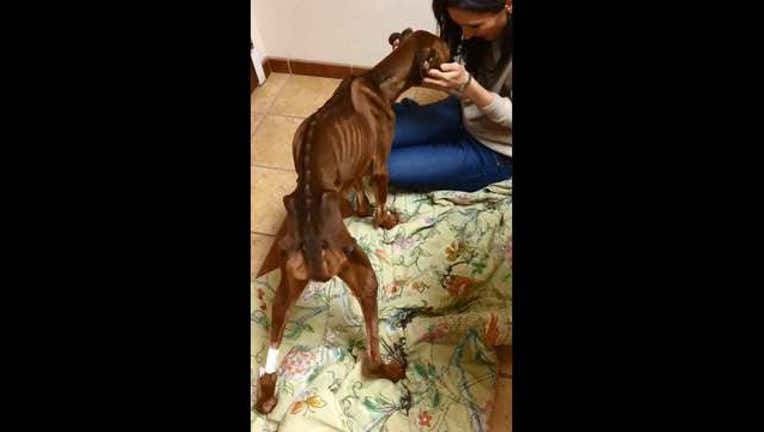 article
NEW YORK (FOX 5 NY) - Authorities say a Queens man faces charges including aggravated cruelty after arriving at an animal shelter with a starving dog that was too weak to walk. District Attorney Richard A. Brown said Thursday that Anthony Esteves faces up to four years in prison if convicted.
The boxer, renamed Brewster by rescue workers, is still recovering.  He was only 25 pounds — less than half of the normal weight — when he was brought to the shelter on Oct. 13.
"It is alleged that the emaciated animal was severely malnourished and did not have the energy to walk when the defendant brought the animal to the shelter," said District Attorney Brown. "The defendant is accused of showing a complete disregard for the well being of this helpless animal when he failed to provide the basic necessities required to maintain the animal's health. I commend the Daily News for bringing the matter to the attention of authorities."
Based on the "Purina Scale," which runs from level one (very emaciated) to level nine (very obese), with level five defined as being healthy and hale, the boxer was rated level one by an ASPCA forensic veterinarian one week after being surrendered by Esteves.
The defendant initially said he'd found the dog. Authorities say he later that admitted the dog was his, and that he did not want the animal to die in his bedroom.
Among the items allegedly recovered at Esteves' house during a search by the New York City Police Department's Animal Cruelty Investigation Squad was a dog's food dish which contained Esteves' personal items from the top of a dresser and which did not fit the dog bowl stand in the room. There were allegedly no receipts for dog food, veterinary care, dietary supplements for dogs nor was there any dog food anywhere in the house nor evidence of dog food ever having been in the house.
Esteves' attorney declined comment.
With the Associated Press