Deputies: 'Dangerous' suspects shot employee during robbery
ROCKDALE COUNTY, Ga. - Rockdale County deputies are searching for two armed and dangerous robbery suspects who were caught on cameras at two back-to-back robberies in one night.
Officials said the first robbery happened at a Starship Enterprises on the 1600 block of Georgia Highway 138 NE Sunday night around 11 p.m.
During the robbery, deputies say the suspects shot a female employee of the store twice in the leg.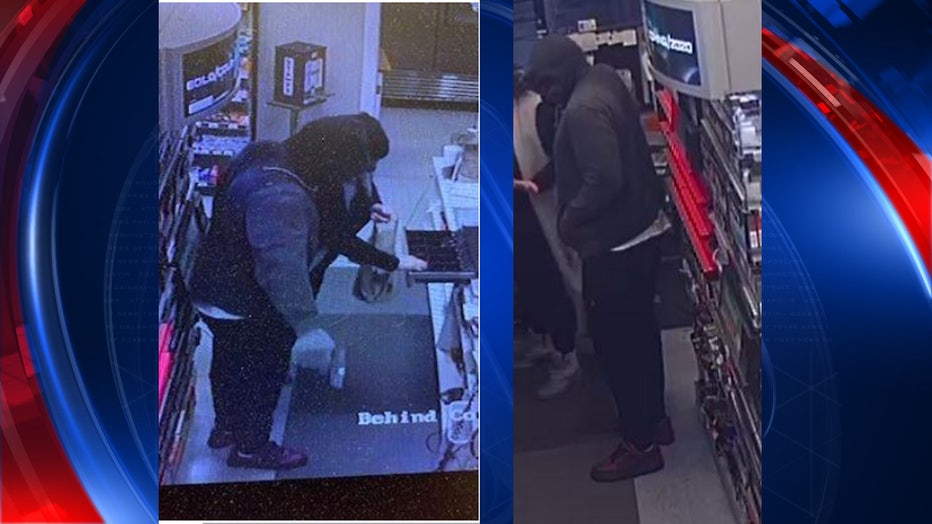 Rockdale County deputies say the two robbery suspects are armed and dangerous. (Rockdale County Sheriff's Office)
A little over an hour later, while deputies were at the scene of the first robbery, police say at least one of the suspects robbed a Quick Stop Superette on the 4600 block of Georgia Highway 20 SE.
"It's a shock to everyone," said convenience store employee Peggy Brown.
Employees at the convenience store did not take any chances Monday night after they were robbed at gunpoint shortly after midnight on Monday morning. The store closed its doors early.
"We are shutting the doors at 11, a lot earlier than we normally do," said Brown.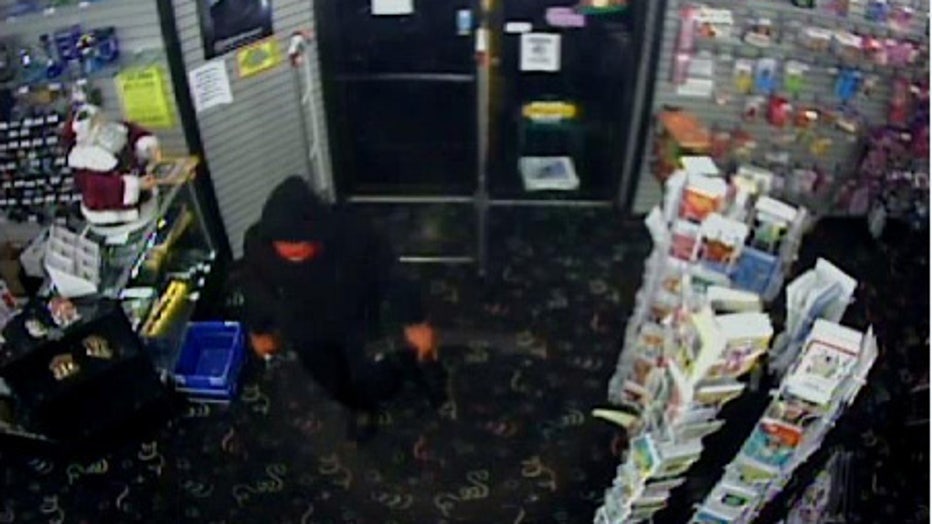 Surveillance cameras caught the first suspect in a different robbery a little more than an hour after the first. (Rockdale County Sheriff's Office)
Investigators said the armed robber allegedly threatened to shoot the employee at the convenience store the same way as the adult novelty shop.
"He said he was going to shoot her in the leg if she didn't," said Brown.
Just days before Christmas, Brown said the store lost about $600. But said it's less about the money than it is about catching these suspects making sure there aren't any more victims.
"They aren't worried about the money, they are worried about the young lady," said Brown.
The first suspect is described as a large dark-skinned man who was wearing a gray zip-style hooded sweatshirt, gray sweatpants, and red shoes.
The second suspect is described as a shorter lighter-skinned wearing dark clothing who covered his face with a red bandana.
It is unknown what kind of vehicle the suspects used to get away from the robberies.
"They are hitting these stores right before Christmas. Everyone needs to be paying attention and keeping their eyes open to what's going on," said Brown.
Both suspects should be considered armed and dangerous, the Rockdale County Sheriff's Office said.