Dadeville mass shooting: 4 killed at birthday party identified; 32 injured
DADEVILLE, Ala. - The names of those killed in a mass shooting during a Sweet 16 birthday party in eastern Alabama have been released by authorities.
Four people were killed, and 32 others, mostly teenagers, were injured when a gunman opened fire around 10:30 Saturday night in small community of Dadeville, Alabama.
Investigators say 18-year-old Phil Dowdell, 23-year-old Corbin Holston, 19-year-old Marsiah Collins, and 17-year-old KeKe Smith were killed at the Mahogany Masterpiece dance studio, where the party was being held. It is located in downtown Dadeville, just one block away from the courthouse, where a command post was established in the investigation.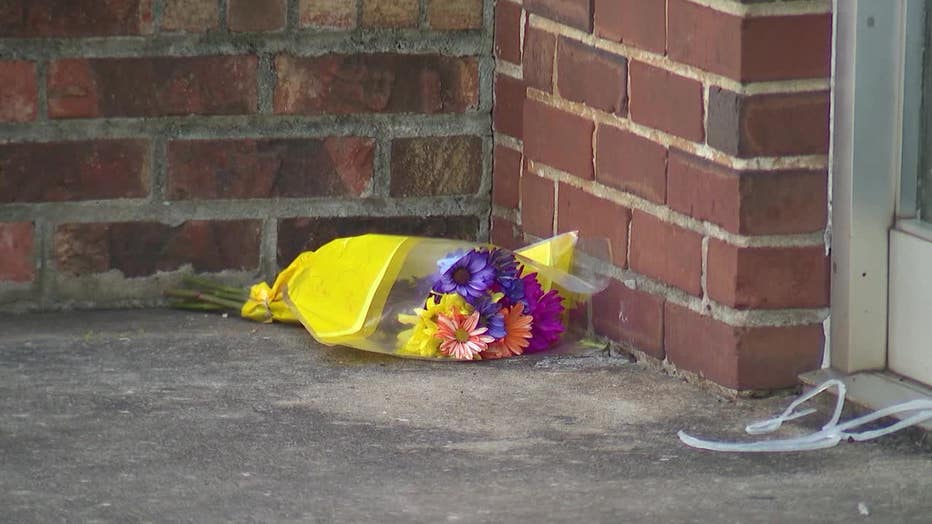 Four people were killed and 32 others were injured in a mass shooting at a Sweet 16 birthday party in Dadeville, Alabama on April 15, 2023. (FOX 5)
Sweet 16 birthday party turns into mass shooting
Investigators were still trying to piece together what happened at the party, where numerous gunshots left the dance studio's windows pocked with bullet holes. While police sought clues, others said they were tending the community's heart.
Keenan Cooper, the DJ at the party where the shootings took place, told WBMA-TV the event was stopped briefly when attendees heard someone had a gun. He said people with guns were asked to leave, but no one did.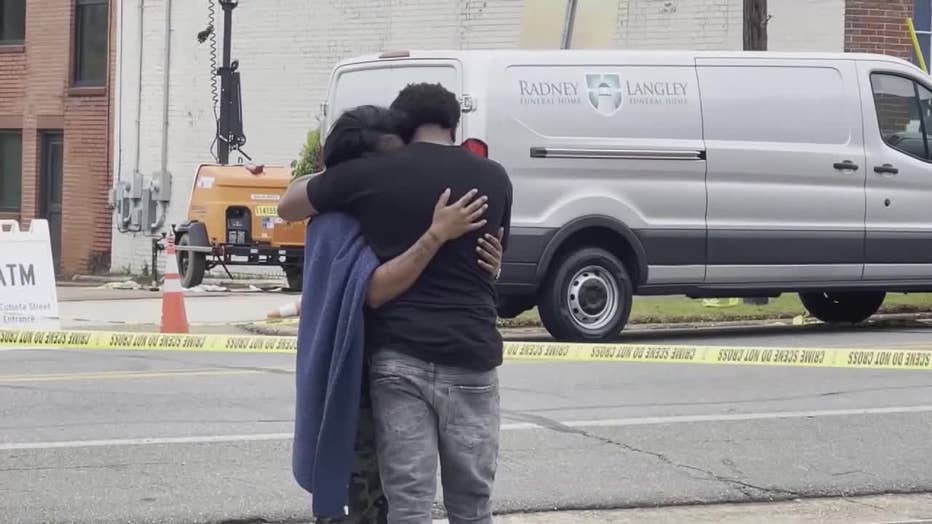 Four people were killed and 32 others were injured in a mass shooting at a Sweet 16 birthday party in Dadeville, Alabama on April 15, 2023. (FOX 5)
Investigators have not released many details about the shooting, but a local pastor says witnesses told him that the shooter fired an entire magazine and then reloaded.
"Everyone is hurting because this is such a close-knit community," said Rev. Dr. Ben Hayes, Chaplain for Dadeville Police, and the Dadeville High School football team. "Everybody knows everybody."
Investigator did reveal Monday evening that no high-powered rifle ammunition was found at the scene. They say all shell casings found were consistent with those used in handguns.
Law enforcement officials say they are still combing over the scene and interviewing potential witnesses to build a timeline of events.
Small Dadeville community shaken by deadly shooting
Two of those killed in the shooting were Dadeville High School seniors. The school, which serves 485 students grade 6 to 12, had grief counselors at the school on Monday. Flags were flying at half-staff at the "Home of the Tigers" with less than six weeks until graduation.
"We are deeply saddened to hear about the recent shooting incident that occurred. Our thoughts and prayers go out to the students, faculty, and families affected by this tragic event," a statement reads on the high school's Facebook page. "We understand that this incident may have caused fear and anxiety within our community, and we want to remind everyone that we have resources available for students, and faculty who may need support during this difficult time. Our school counselors and clergy are here to provide guidance and support to anyone who needs it."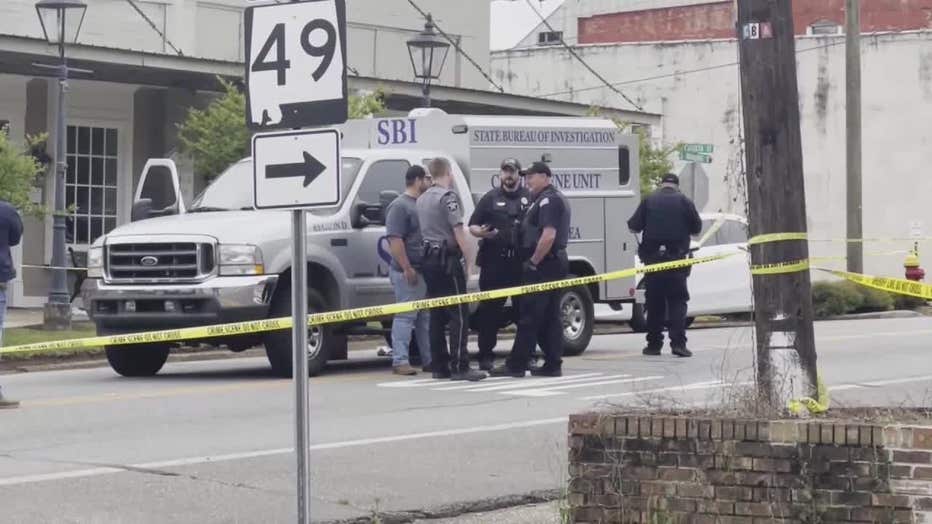 Four people were killed and 32 others were injured in a mass shooting at a Sweet 16 birthday party in Dadeville, Alabama on April 15, 2023. (FOX 5)
The shooting sparked what Mayor Frank Goodman said was a "chaotic" scene at the town's small hospital, where emergency workers, relatives and friends swarmed on Saturday. Smith said six people were treated locally and released, but others were transferred to larger hospitals in Birmingham, Montgomery and Opelika, Alabama, as well as to Columbus, Georgia.
"It's going to be a tough time for graduation and for these kids," said Heidi Smith, a spokesperson for the 46-bed Lake Martin Community Hospital, where a number of victims were treated. "We will be here for them and their families for the duration."
Who is Phil Dowdell?
One of those killed was Antreal Allen's nephew, 18-year-old Philstavious "Phil" Dowdell. 
"He always looked out for others more than he looked out for himself," Allen said.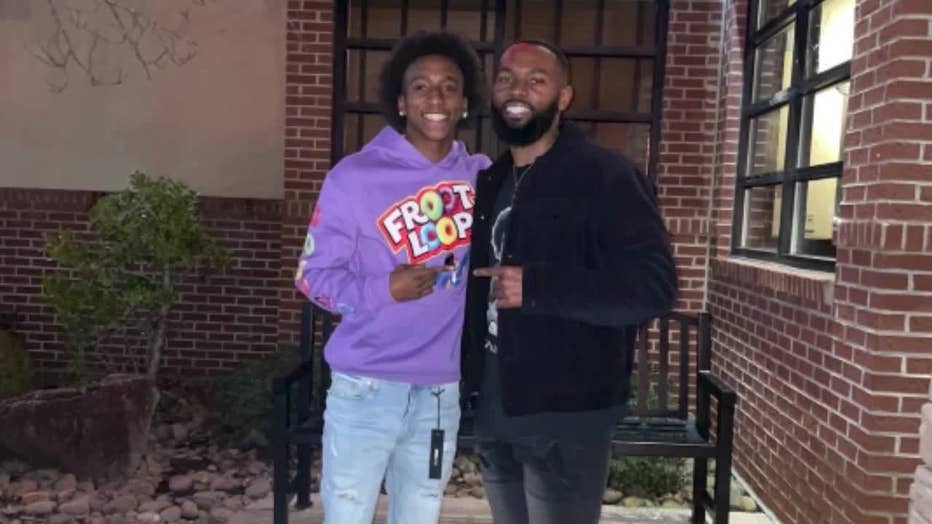 Dowdell was a star football player who was set to play at Jacksonville State University. He was just weeks away from graduating from high school. Allen says the party was for his niece, Dowdell's sister.
"We're okay, we've seen better days, but I know with family, we're going to be all right," Allen said. "We're going to get through it, we're going to be good. His name will live on forever through us and the memories that we continue to tell and share."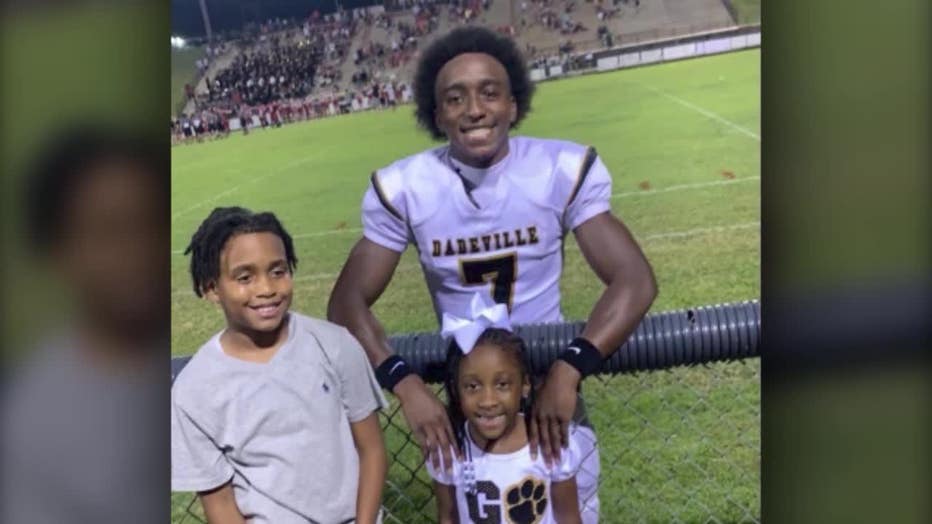 This tragedy hits home for many. Allen says he thought of Dowdell more as a brother than a nephew. He says he remains in shock but will never forget Dowdell's smile and heart of gold.
"Love your loved ones while you can be there for them," Allen said. "Check on one another, stop rushing through life."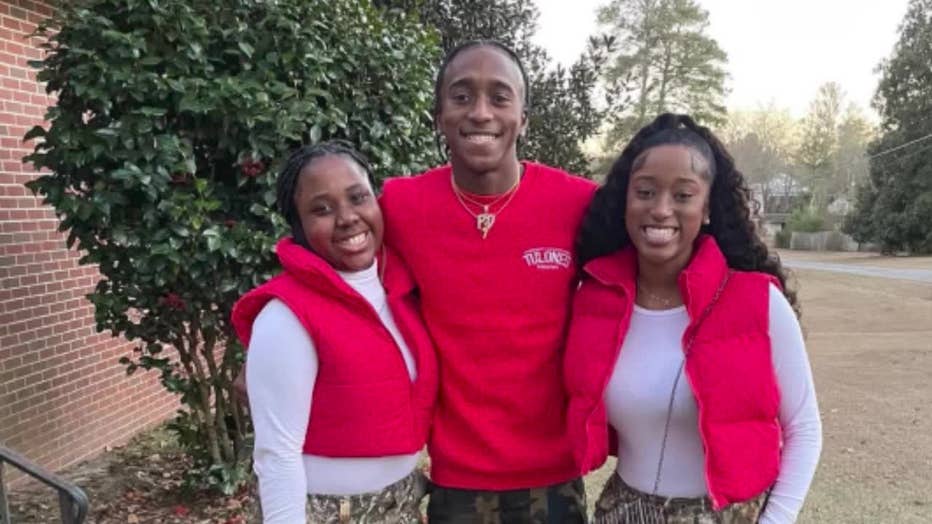 Michael Taylor, an assistant coach, said he met Dowdell when the boy was 9 and coached him in youth football. The Tigers were invited to Atlanta to play in the stadium used by the NFL's Atlanta Falcons.
"He did some amazing things there, and he never stopped doing them since then," Taylor said of Dowdell, who also played basketball and was a track standout. "He was the No. 1 athlete in the school."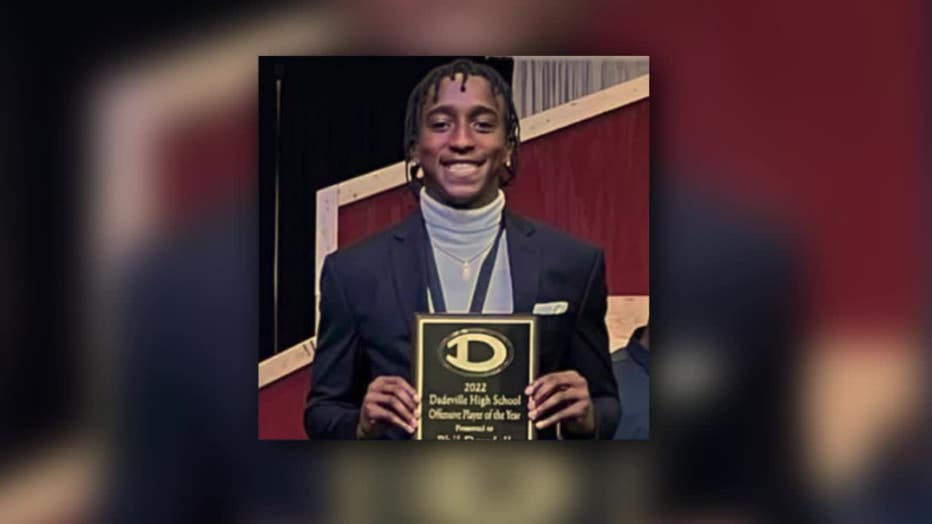 Antojuan Woody, another senior, grew up in nearby Camp Hill with Dowdell and was fellow wide receiver for the Tigers. The two were best friends all their lives.
"It hurts," Woody said as a steady stream of friends and teammates walked over to hug him during a prayer vigil Sunday. "It's unreal. I can't believe it."
Jacksonville State football coach Rich Rodriguez said in a statement Sunday: 
"Our thoughts and prayers are with the family of Philstavious Dowdell and the other victims of the senseless tragedy last night. He was a great young man with a bright future."
Who is Corbin Holston?
Corbin Dahmontrey Holston had gone to check on one of his younger family members at the party, according to AL.com. His mother, Janett Heard, had encountered the gunman. Another family member, who did not want to be identified, says Holston responded because there "was a serious concern" for one of his younger relative. 
The shooting reportedly started just after he had arrived, but Holston was able to get his younger relative to safety before succumbing to his injuries.
Holston reportedly graduated from Dadeville High School in 2018. His family says he was loving and caring.
Who is Marsiah Collins?
Marsiah Emmanuel "Siah" Collins, a former defense a former defensive end at Opelika High School before graduating in 2022, was an aspiring musician, according to AL.com. He planned to attend LSU in the fall after taking a year off of school.
His family describes him as a quiet, but "funny kid" who loved to laugh.
Who is Keke Smith?
Keke Nicole Smith has been described on social media as one of the "sweetest person ever." 
The Alexander City Outlook is reporting that Smith was manager of the basketball and track and field teams. She played volleyball and softball until her junior year when a knee injury sidelined her.
Coach Michael Taylor told the paper Smith "was full of love."
32 injured in Alabama shooting
Officials released a revised injured number on Monday afternoon, upping the total by four. The 32 victim had a "wide variety of injuries" ranging from superficial to critical. Their names have not been released. Officials say most were teens.
No arrests have been made.
It was still unclear who started the shooting or why, or whether investigators had made any arrests. Sgt. Jeremy Burkett of the Alabama Law Enforcement Agency did not take questions during news conferences Sunday. Officials repeatedly asked others to come forward with information on the shooting.
Four people were killed and 32 others were injured in a mass shooting at a Sweet 16 birthday party in Dadeville, Alabama on April 15, 2023. (FOX 5)
ALEA Secretary Hal Taylor did release a statement which reads:
Today, our hearts are heavy as we stand alongside our fellow officers with the Dadeville Police Department, the Tallapoosa County Sheriff's Office and the rest of the Dadeville community as they grieve the loss of four young individuals in a senseless tragedy. We ask that you please lift up this community in your thoughts and prayers in the coming days as they continue to cope with the loss and tragedy they have experienced. I can ensure all citizens that our Agency, along with the assistance of both local and federal partners, are working diligently to conduct a thorough and methodical investigation, to bring justice to bear to the victims and their loved ones."
ALEA has asked for anyone with information to call 800-392-8011 or email sbi.investigations@alea.gov.
Dadeville is a town of about 3,200 people located about 57 miles northeast of Montgomery, Alabama.
FOX 5's Tyler Fingert reporting from Dadeville, Alabama. The Associated Press contributed to this report.