Dad Shares Photo of Daughters with Taylor Swift in Atlanta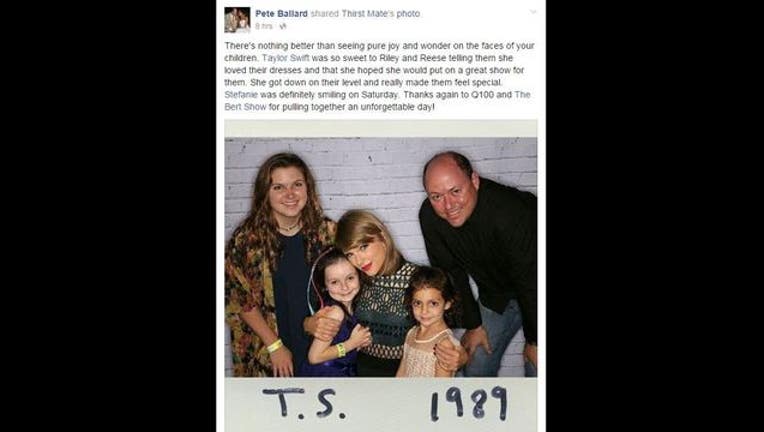 article
A father is thanking the community for helping put together an unforgettable night that allowed his young daughters to meet their idol, Taylor Swift. 
Riley and Reese Ballard recently lost their mother, Stefanie, to a mysterious illness. Stefanie fell ill after a day at the pool with the girls and soon after doctors identified her brain was swelling, but couldn't figure out what was causing it. She died on August 2 after not responding to treatment and going into cardiac arrest.
Since the Ballard's story was made public, the Atlanta community has rallied around the family, including Stefanie's husband Pete.
Last weekend, thanks to the support and a lot of help from The Bert Show on Atlanta's Q-100 radio station, the girls and their father met superstar Taylor Swift at her Atlanta concert at the Georgia Dome.
Wednesday evening, Pete Ballard shared a social media post that included a photo of the girls with the superstar.
"There's nothing better than seeing pure joy and wonder on the faces of your children," Ballard said. "Taylor Swift was so sweet to Riley and Reese telling them she loved their dresses and that she hoped she would put on a great show for them."
In the Facebook post, Ballard said Swift got down on their level and really made them feel special.
"Stefanie was definitely smiling on Saturday. Thanks again to Q-100 and The Bert Show for pulling together an unforgettable day!"