D.A. seeks death penalty in correctional officers' murders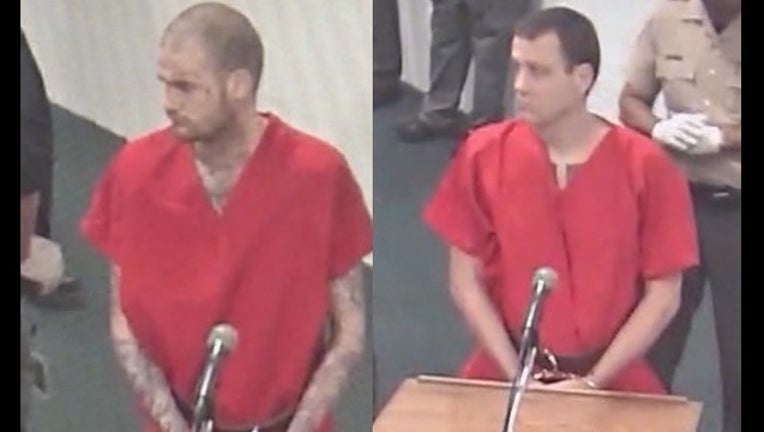 article
EATONTON, Ga. - The Putnam County District Attorney announced Tuesday he will seek the death penalty against two inmates accused of murdering two Georgia correctional officers.
Ocmulgee Judicial Circuit District Attorney Stephen Bradley filed notice with the court that he plans to seek the death penalty against both men after a grand jury indicted the inmates.
The Putnam County Grand Jury indicted Donnie Russell Rowe, 44, and Ricky Dubose, 24, in connection with the June 13 murders.
Each man faces two counts of murder, two counts of felony murder, one count of escape and one count of hijacking a motor vehicle.
The indictment accuses Rowe and Dubose of disarming and killing Sgts. Christopher Monica 42, and Curtis Billue, 58, while escaping from the prison transfer bus in Putnam County, southeast of Atlanta.
Investigators say the pair then carjacked a motorist to get away.
Authorities in Tennessee arrested the inmates two days later after an intense manhunt.
A review of the escape determined the two inmates were able to easily free themselves from their handcuffs and then used an improvised tool to open an unlocked gate that separated the inmates from the guards around 6:40 a.m. They then attacked and overpowered the guards, using the guards' own guns to kill them, authorities have said.
Rowe and Dubose then carjacked the first driver to pull up behind the bus and drove off in his green Honda Civic to Madison, about 25 miles (40 kilometers) to the north, where they burglarized a house and stole a white Ford pickup truck from a quarry, authorities have said.
Two days later, they held a couple hostage during a violent home invasion in Shelbyville, Tennessee, and then fled in the couple's Jeep and fired on sheriff's deputies chasing them on Interstate 24 about 50 miles (80 kilometers) southeast of Nashville, authorities have said. The chase ended when the pair crashed the SUV, ran through some trees, climbed over a fence and surrendered to a homeowner.
A review by representatives from several state law enforcement agencies found that numerous security policy violations had been committed in the lead-up to the escape. The most egregious error was the failure to secure the gate to the inmate compartment in the bus, the review found
Monica and Billue also kept their guns in storage boxes rather than wearing them and failed to wear ballistic vests, among other errors, the review found.
The Associated Press contributed to this report.