Video reportedly shows mother walking child towards pond in Sandy Springs
SANDY SPRINGS, Ga. - The mother of a 1-year-old girl who died Thursday night after she was pulled from a pond in Sandy Springs is being charged with her murder, according to Sandy Springs Police Department.
During a press briefing, police said that the mother is being charged with felony murder and cruelty to children. She has been identified as Asia Calabrese-Lewis. She is being held in the Fulton County Jail. 
The child has been identified as Nirvana Oliver. 
"They live in the area, the father showed up… found her there with us and asked where the child is. She responded with something like—she' in the bottom of the pool. We don't think it's an accidental at this time," Sandy Springs Sgt. McGinnis said. 
An arrest warrant obtained by FOX 5 News indicates security cameras captured Calabrese-Lewis walking the child towards the pond. The family lives diagonally across the street at The Bishop Apartments.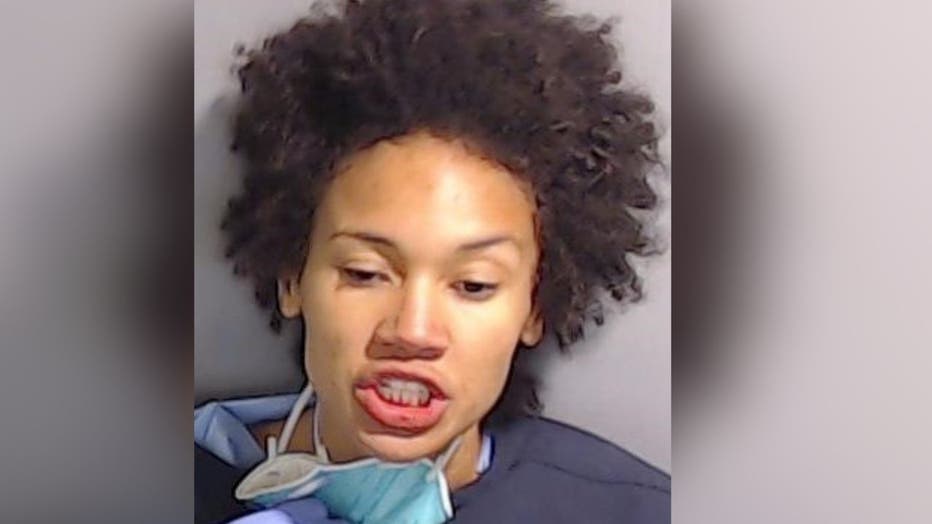 The arrest warrant says after Calabrese-Lewis walked little Nirvana Oliver into the pond, they were off camera for 6 minutes. Then security cameras show the 24-year-old mother calmly walk back into frame with no clothes on.
Police say the father was completely distraught and has not been charged.
Sandy Springs Police investigate after a one-year-old girl was pulled from a pond on May 11, 2023. (FOX 5)
The Sandy Springs Police Department responded to a 911 call around 6:30 p.m. reporting a disturbance near the King and Queen towers off Concourse Parkway, according to Sgt. Matt McGinnis.
Upon arrival, they located the mother in the parking deck of 2 Concourse Parkway. Police say she was having some type of episode. When the child's father arrived, he asked where the baby was. At that time, the mother reportedly stated that the baby was deceased in a pool. 
First responders began searching the area.
"This is a big [business] park, it is not normally somewhere where children run and play," said Sgt. McGinnis. "There are several different ponds."
The young girl was eventually found in one of those ponds
"She was rushed immediately to Children's Healthcare of Atlanta at Scottish Rite right here in Sandy Springs," Sgt. McGinnis said 
Despite attempts to save the young girl, she died at the hospital, police say.
Sgt. McGinnis says the investigation into the incident continues.
The pond is located in the Concourse Corporate Center located in the northeast corner of the Interstate 285 and Georgia 400 junction in Sandy Springs.