Fabuloso recall: Colgate-Palmolive recalls 4.9M cleaners over bacteria risk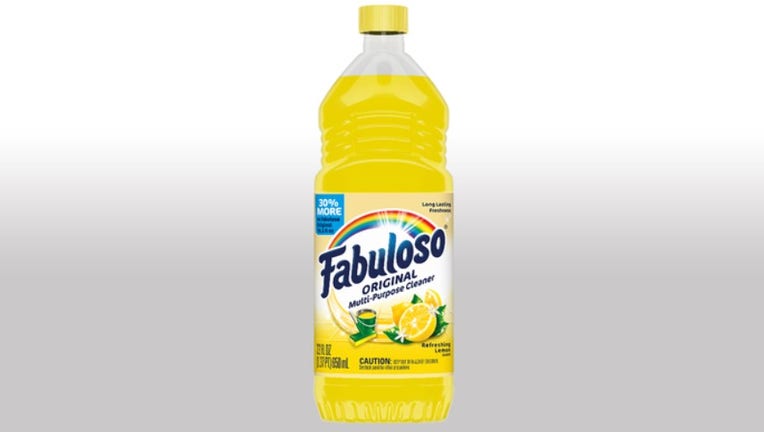 article
Colgate-Palmolive recalled 4.9 million bottles of its multipurpose cleaners over a bacteria exposure risk, according to the Consumer Product Safety Commission (CPSC). 
In a warning notice, posted Wednesday, the federal regulatory agency said consumers should "immediately" stop using the recalled Fabuloso Multi-Purpose Cleaner products. 
The agency warned that the recalled products "can contain Pseudomonas species bacteria, including Pseudomonas aeruginosa and Pseudomonas fluoresceins."  
These are environmental organisms found widely in soil and water that can enter the body if inhaled, through the eyes or through a break in the skin, according to the warning notice. 
Healthy individuals are usually not affected by the bacteria. 
CLOROX RECALLING CERTAIN PINE-SOL CLEANING PRODUCTS BECAUSE OF BACTERIA EXPOSURE RISK
However, certain individuals, including people with weakened immune systems, external medical devices, or underlying lung conditions, are at "risk of serious infection that may require medical treatment" if exposed, the warning notice continued.  
The multipurpose cleaner, which is designed to clean most residential hard surfaces, was sold online at Amazon and at various retailers nationwide including Dollar General, Family Dollar, The Home Depot, Sam's Club, Walmart since December 2022. 
DOVE, SUAVE, TRESEMME, OTHER DRY SHAMPOO PRODUCTS RECALLED DUE TO HIGH LEVELS OF BENZENE
The affected cleaners come in different scents and bottle sizes. They can be identified by the first eight digits of their lot codes: 2348US78 through 2365US78 and 30001US78 through 3023US78. 
No other Fabuloso products are included in this recall, the notice said. 
Consumers are instructed to contact Colgate-Palmolive Company for a full refund or a free replacement product and take a picture of the product's UPC and lot code before throwing it out. 
GET FOX BUSINESS ON THE GO BY CLICKING HERE
Read more of this story from FOX Business.