Ruptured sewage line dumps over 150K gallons of waste into Sewell Mill Creek
COBB COUNTY, Ga. - Cobb County leaders are warning people living in East Cobb to stay out of Sewell Mill Creek after a ruptured sewage line dumped more than 150,000 gallons of sewage into the creek.
The part of Sewell Mill Creek that runs through East Cobb Park is a popular spot for kids to play in the water.
"Oh, yes. We see a lot of kids come in here," said Elisa Rodriguez.
She comes to the park several times a week to walk.
On Friday, she brought her daughter and her one-and-a-half-year-old granddaughter to come play in the creek at the park.
"She got into the creek down there, and we thought it was going to be safe because we didn't know anything about it," Rodriguez said.
She had no idea about the large sewage spill into Sewell Mill Creek that had just happened that afternoon.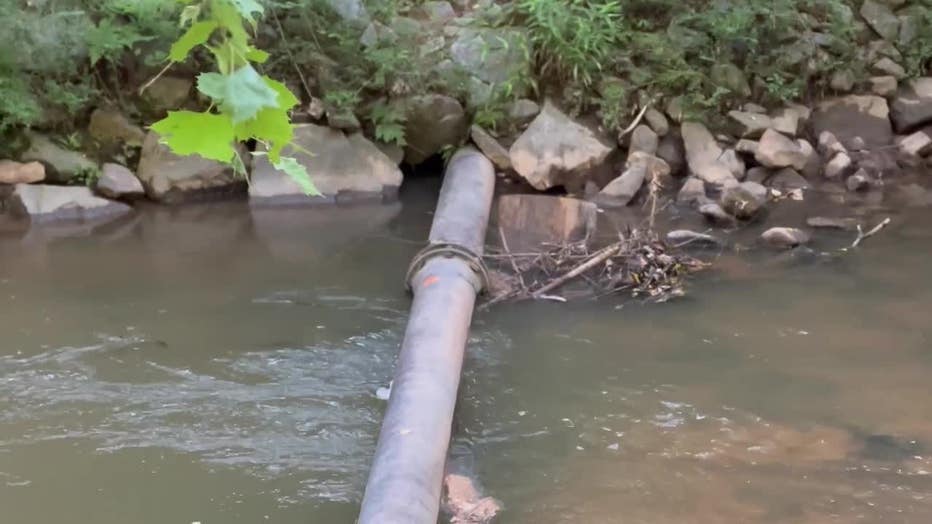 "Cobb water crews went out to clear what they thought was a clogged sewer line north of East Cobb Park, right on Sewell Mill Creek. When they got there, they found that actually a section had failed and sewage was spilling into the creek," said Cobb County Director of Communications Ross Cavitt.
Cavitt went on to say crews worked quickly to set up a bypass for the ruptured sewer line.
"We don't really know the cause yet, but like anything else in the metro area, some of these lines are getting old," Cavitt said.
But before crews were able to get the bypass up and running, the County estimates that around 152,750 gallons of sewage spilled into the creek.
 "When we tested the water on Saturday, it did show elevated bacteria in the water. That number was down considerably on Sunday," Cavitt said.
He said they're still waiting to get Monday's test results back, but they expect the bacteria levels to be back to normal then.
"That creek flows pretty briskly. And after last night's rains, a lot of the problematic material is probably washed well downstream," Cavitt said.
Sewage Mill Creek sewage spill signs
Nevertheless, Cobb County wants people to stay out of the water until they know for sure it's safe. Crews put up signs at the park to warn of the spill, but some families at the park told us they took their kids in the creek Saturday because they didn't see any signs.
FOX 5 did notice that there were no signs at one of the most popular spots to get in the water—a trail by the bridge over Sewell Mill Creek.
Cavitt says crews will be back out to put out more.
Rodriguez says her granddaughter thankfully isn't showing any symptoms and is still healthy.
But now she's going to make doubly sure the water's safe before bringing her back.
 "We thought that it was safe for the kids. But now we know we have to be very careful. [We] have to be attentive to any signs," Rodriguez said.
Cobb County is already working on a plan to make long term repairs to the sewer line.
"We're working with a contractor, getting some emergency repairs underway. It looks like we're going to have to replace completely a 150-foot section of pipe in that area. So they met this afternoon to formulate a plan to do work which will likely take some time. But until it's done, the temporary pumps will remain in place," Cavitt said.