Chipotle tests the 'autocado,' a robot to help make guacamole faster
Chipotle is testing out a "cobot" that can cut guacamole prep time in half.
According to the fast food chain, the Autocado is a prototype that "cuts, cores and peels avocados before they are hand mashed." It's being tested at the Chipotle Cultivate Center in Irvine, California.
This year, the company is expected to use about 4.5 million cases of avocados – more than 100 million pounds of fruit – at its 3,200-plus restaurants in the U.S., Canada and Europe.
READ MORE: Subway is revamping itself by going old-school with deli slicers
Currently, it takes Chiptole teams about 50 minutes to manually make guac. The cobot, or collaborative robot made for human interaction, could ultimately reduce prep time by 50%, the company said.
READ MORE: DoorDash unveils hourly pay option for delivery drivers
It was made in collaboration with Vebu, an automation, robotics and intelligence company that works with the food industry. 
How the 'autocado' works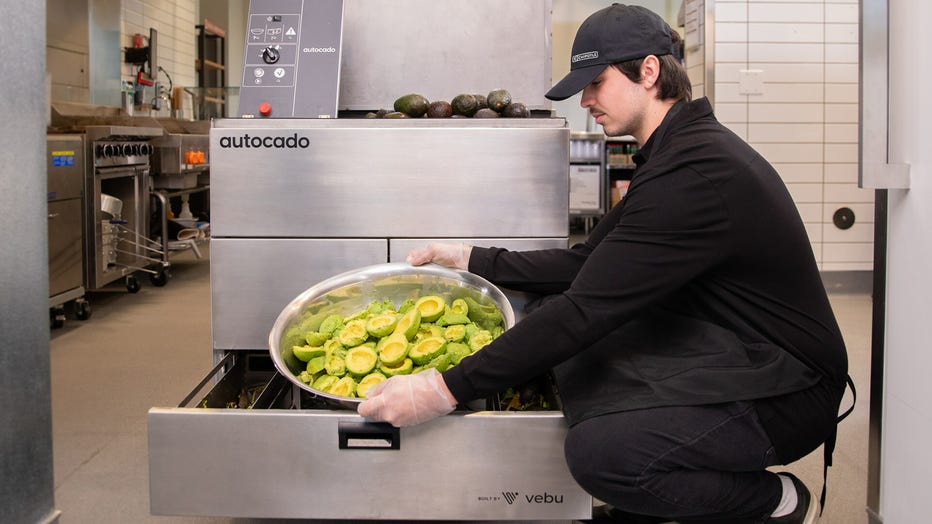 Autocado is a collaborative robot prototype that cuts, cores, and peels avocados before they are hand mashed to create Chipotles guacamole. (Chipotle)
According to Chipotle, here's how the autocado works:
A team member loads Autocado with a full case of ripe avocados and selects the size setting. Autocado can hold up to 25 lbs. of avocados at once.
One at a time, avocados are vertically oriented, then transferred to the processing device.
The avocados are sliced in half. Their cores and skin are automatically removed, and the waste is discarded. 
The fruit is collected in a stainless-steel bowl at the bottom of the device. 
A team member removes the bowl of avocado fruit and moves it to the counter where they add additional ingredients and hand mash the avocados to make Chipotle guacamole.