15-year-old hit, killed near Frisco school on first day of classes
FRISCO, Texas - A 15-year-old was struck by a vehicle and killed in front of a school in Frisco early Wednesday morning.
Heritage High School 10th grader Landon Bourque was riding his bicycle on the first day of school around 5 a.m., possibly on the way to an early morning workout or football practice.
"I noticed there was a white truck coming pretty fast, they all do," said a witness who talked to FOX 4, but who asked to stay anonymous.
Bourque never made it to practice.
He was struck and killed by a vehicle traveling on Independence Parkway, in front of Roach Middle School and less than a mile from his school.
Police said Landon was crossing at the intersection with George Washington Drive, but did not indicate who had the right of way.
"When I was already leaving, going south about 100 feet, I heard a loud bang," said the witness.
"There were several folks from the neighborhood out here with kids that walk to school very, very upset, crying and just feeling terrible for the family," said Christine Jefferis.
Jefferis said her husband was leaving for work when it happened and arrived at the intersection just after the impact.
"He was really shaken up to see what happened and was kind of one of the first folks seeing it and waited for the officer to arrive. Somebody was giving CPR to the young man on the street, but apparently he didn't make it which was very sad," she said.
Jefferis says her husband used his vehicle and flashing hazard lights to block traffic until first responders arrived.
Police said the driver remained at the scene and rendered aid to Bourque.
McKinney police are investigating the incident and thus far have not issued any charges. The scene was cleared just after 9:30 a.m.
The department did not release information on who was responsible, if speed may have been a factor, or any additional information it has learned as part of its investigation.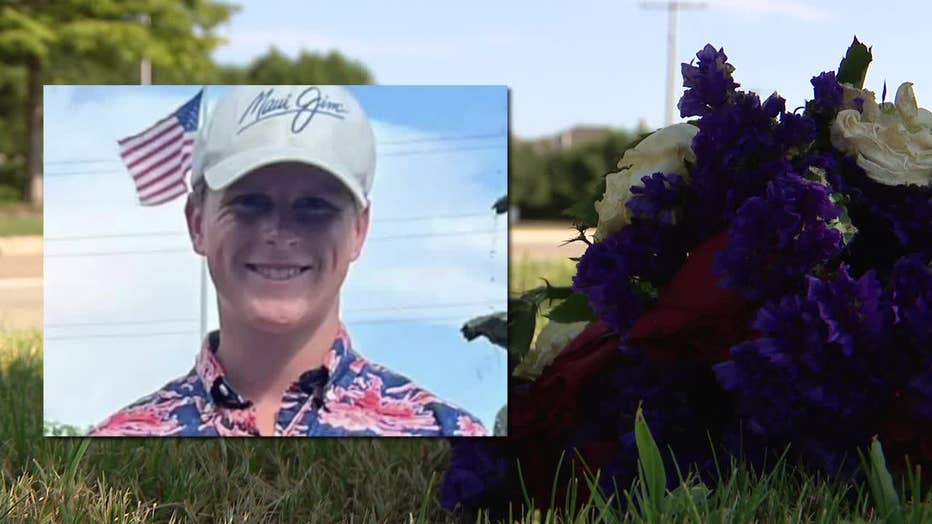 "[Borque] rode his bike everywhere, to our house," said Sabrina Elrod.
Elrod said Borque was with her son on Tuesday.
Elrod's son, Cohen Knapton, and his friend, Nolan Swyers, said Borque was the type of kid who was friends with everyone.
"He was always trying to be happy. Always trying to lighten the mood," Swyers said.
Tearful community members sat at Independence Parkway Wednesday to remember Borque. 
"We all just chatted and talked about our favorite memories of him and put the flowers down for him," friend Hayven Clark said. "Amazing personality. He always enjoyed making jokes and we made jokes out of him all the time and he never took it offensively."
Some of his friends learned what happened as they went to school and passed his broken bike.
"Everybody knows that he does ride his bike often," Swyers said.
"Didn't feel real," Knapton said.
"It's horrible. Very, very horrible," Elrod added.
Additional counselors were sent to Heritage High on Wednesday.
"It's a tragedy, and we still don't have all the details," said Frisco ISD Superintendent MIke Waldrip. "But everybody feels this, certainly the family is dealing with such a tragic loss, so certainly our hearts and our thoughts and prayers go out to them."
In a letter to parents obtained by FOX 4, the district informed students of the fatal accident and loss of their classmate.
"Landon has been a part of our Coyote community and also a member of our football team. His loss will be felt by our Coyote family and our thoughts go out to the Bourque family and loved ones at this time as well," Heritage High School principal Michelle Zurek said in the letter. 
Wednesday was the first day of school in the Frisco Independent School District.
In the meantime, the accident has underscored what some say has been a problem in the area for a while.
"We need to have more patrolling, more presence of the police so people will slow down," said the witness.
"We've made multiple comments, reached out to the HOA about a speed bump and things, and just having to see it happen, knowing there's constantly speeding coming down the street without regard for these kids," said Jefferis.
The district urged parents to talk with their students and encourage them to express their feelings about the accident that claimed their fellow student's life. 
The grief counselors at Heritage High will continue to be on hand for those in need.