Bruce Willis, Tom Hanks turned down major film offers, changing Hollywood history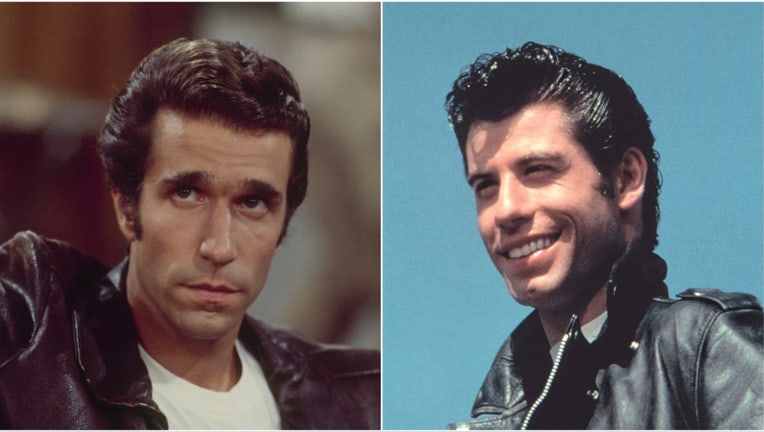 article
For every beloved movie starring an actor in an iconic, career-defining role, there's almost always a story about how it could have gone very differently.
For instance, "Titanic," one of the most successful movies of all time, nearly starred Matthew McConaughey and Gwyneth Paltrow instead of Leonardo DiCaprio and Kate Winslet.
Actors constantly turn down roles for one reason or another, and while sometimes that's just business as usual, there are other times when the stars experience major regret.
Jon Hamm just revealed that he nearly took a role that ended up changing the trajectory of Ben Affleck's career.
SALLY FIELD REVEALS BELOVED MOVIE ROLE SHE TURNED DOWN: 'WOULDN'T BE THE SAME'
Jon Hamm – "Gone Girl"
Gillian Flynn's novel "Gone Girl" was published in 2012, and it soon became a massive bestseller. So massive, in fact, that filmmakers quickly rallied to create a film adaptation, which was released in 2014.
The movie starred Ben Affleck as Nick and Rosamund Pike as Amy, a married couple with significant problems, to say the least. Amy went missing and Nick was the prime suspect – at least before that massive plot twist.
The film was well received, and many believe it greatly helped Affleck's reputation as an actor which had been suffering for years after some very notable flops in the early 2000s.
He almost didn't get the chance for the comeback, however, because Jon Hamm would have taken the role of Nick if it hadn't been for scheduling conflicts with his hit show "Mad Men."
In an appearance on "Watch What Happens Live with Andy Cohen" last week, Hamm was asked about the movie, and admitted, "Yeah. I was down to the very end of that."
JON HAMM REMEMBERS TOM CRUISE ON SET OF 'TOP GUN: MAVERICK': 'I FEEL LIKE I'M AT HOME'
"It was meant to be me," he revealed, "but we had to film the continuing adventures of Mr. Draper."
He didn't share any other details about why he couldn't take the job, but he did joke that he would have done a better job than Affleck because he's from St. Louis, the same city where the character of Nick was born and raised.
"Poor Ben, a Boston guy, had to wear a Cardinals hat," he said. "He was not very happy about it."
Tom Hanks – "When Harry Met Sally"
Ever since "When Harry Met Sally" was released in 1989, it's been a fan favorite. The Nora Ephron-written romcom stars Billy Crystal as Harry and Meg Ryan as Sally, and in the beginning of the movie, we see the two arguing about whether a man and a woman can be strictly friends without sex entering the picture.
As viewers eventually learn, the answer to that question, for Harry and Sally anyway, is an emphatic "no."
With Crystal bringing his trademark comedic delivery to the role, it's hard to imagine anyone else playing Harry, but it nearly happened – Tom Hanks was originally offered the part.
Rita Wilson, Hanks' wife of 35 years, recently revealed this shocker on the Table for Two with Bruce Bozzi podcast, saying, "People probably don't know this, but Tom was offered 'When Harry Met Sally' … and he turned it down because he was going through a divorce and he was very happy to be not married." 
She explained, "And so he could not understand that a person going through a divorce would have anything other than just like, 'I'm so happy.'" (The character of Harry goes through a divorce in the film).
The world didn't have to wait too long for a romance featuring Hanks and Ryan – in 1993, "Sleepless in Seattle" was released, and five years later "You've Got Mail" came along.
Rachel McAdams – "The Devil Wears Prada"
In the early 2000s, Rachel McAdams and Anne Hathaway both played iconic teen characters. McAdams starred in "Mean Girls" as villain Regina George, and Hathaway had done two "Princess Diaries" movies.
By 2006, they were taking on more and more adult roles, so it makes sense that they were both considered for "The Devil Wears Prada."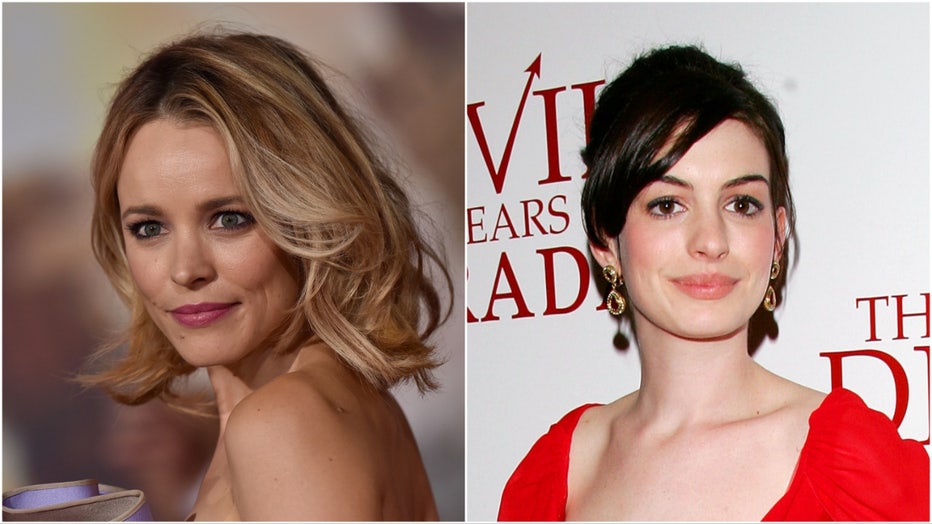 LEFT: Actress Rachel McAdams (Credit: Axelle/Bauer-Griffin/FilmMagic) RIGHT: Actress Anne Hathaway attends the 20th Century Fox premiere of The Devil Wears Prada (Credit: Evan Agostini/Getty Images)
At a 15-year anniversary event for the popular movie about a young woman taking on a job as an assistant to the high-strung editor-in-chief of a fashion magazine (a role played by Meryl Streep), director David Frankel revealed that McAdams was one of their original choices for the starring role.
"We offered it to Rachel McAdams three times," he recalled. "The studio was determined to have her, and she was determined not to do it."
McAdams discussed this in an interview with Bustle earlier this year, explaining that the movie was cast and filmed in a time when she was moving back to Canada to be closer to her family.
"I felt guilty for not capitalizing on the opportunity that I was being given, because I knew I was in such a lucky spot," she said. "But I also knew it wasn't quite jiving with my personality and what I needed to stay sane. There were definitely some anxious moments of wondering if I was just throwing it all away, and why was I doing that? It's taken years to understand what I intuitively was doing."
Al Pacino – "Star Wars"
Al Pacino has a number of classic films under his belt, but if things had been just a little different back in the '70s, he could have had a few more.
In April, Pacino spoke at an event and casually revealed, "Well, I turned down 'Star Wars.'"
RELATED: Al Pacino, 83, is a father for fourth time, welcoming son Roman with Noor Alfallah
He explained, "When I first came up, I was the new kid on the block, you know what happens when you first become famous. It's like, 'Give it to Al.' They'd give me Queen Elizabeth to play. They gave me a script called 'Star Wars.'… They offered me so much money. I don't understand it. I read it.… So I said I couldn't do it."
It seems that he was offered the part of Han Solo, because he then said, "I gave Harrison Ford a career."
While Ford had several acting credits by the time he was cast in the first "Star Wars" film, it's undeniable that the sci-fi classic put him on the map. Since the release of "Star Wars: Episode IV – A New Hope," he played the character several times, with a final appearance in 2019's 'The Rise of Skywalker.'
Henry Winkler – "Grease"
From 1974 to 1984, "Happy Days" was a TV phenomenon, launching multiple popular spinoffs like "Laverne and Shirley" and "Joanie Loves Chachie." It also kicked off Henry Winkler's career in a major way – which was quite impressive, considering it was only the second role he landed after moving to Hollywood.
He played Arthur "The Fonz" Fonzarelli, a motorcycle-riding, leather jacket-wearing ladies' man. Looking at Winkler in his "Happy Days" costume, it doesn't take much to understand why he was offered the role of Danny in "Grease."
'HAPPY DAYS' STARS: WHERE ARE THEY NOW?
In a 2022 interview with CNN, he explained that after the show took off, he was unable to get many other job offers.
"It was so bad that not only could I not find work, but I was sitting at my desk at Paramount and I literally thought, 'Am I ever going to find anything with as much impact as the Fonz?'" he recalled. "How will I know? Will anybody ever ask me? I'm not getting any offers."
That's when he was offered the male lead in "Grease," but despite his lack of opportunities at the time, he thought the character was too similar to his "Happy Days" character, so he turned down the offer. The role later went to John Travolta.
When he was asked if he thought he was a fool for not doing the movie, he responded, "Yesc, I am. I only realized years afterward… I thought, 'I've played the Fonz. I don't wanna do it again, but it's already happened, I'm already typecast.'
"I should've just shut up and had a really good time making that movie. Now, I go home, I say no, and I have a Diet Coke. John Travolta goes home, and has done the movie, and buys a plane."
Halle Berry – "Speed"
In 1994, Halle Berry was already a star, having appeared alongside Eddie Murphy in 1992's "Boomerang." But that year she could have taken her career to the next level if she'd accepted an offer to star in "Speed."
The memorable action flick is about a police officer, played by Keanu Reeves, who has to drive a city bus over 50 mph to prevent a bomb from going off. Sandra Bullock also stars as a passenger who assists Reeves' character, and that's the role that could have been Berry's.
In 2019, she was promoting "John Wick: Chapter 3 – Parabellum" with Reeves when she told "Entertainment Tonight," "I don't know if you know this, but I was offered 'Speed' before Sandra Bullock. I stupidly said no. But in my defense, when I read the script the bus didn't leave the parking lot. I was like no, no, no, no. Then I see the movie and I'm like, 'Arrrrghh.'"
"I was in it well before these fine people," she said, gesturing toward Reeves. "They were offering me the parking lot version."
CLICK HERE TO SIGN UP FOR THE ENTERTAINMENT NEWSLETTER
Bruce Willis – "Ghost"
At this point, it's difficult to picture anyone besides Patrick Swayze starring alongside Demi Moore in 1990's "Ghost." The two actors had amazing chemistry, and if there's any question of that, just look to the famous pottery scene that's stood the test of time these past 33 years.
Another actor who could have had similar chemistry with Moore was her husband at the time, Bruce Willis – and he was the film's original choice for the role of Swayze's Sam.
Speaking with the New York Times in 1996, Willis explained that he'd turned down the part, calling himself a "knucklehead" for doing so.
"I just didn't get it," he admitted. "I said, 'Hey, the guy's dead. How are you gonna have a romance?' Famous last words."