Officials planning now for the Braves postseason
ATLANTA - Cobb County leaders are optimistic about the Atlanta Braves, and they're already planning for the postseason.
While the fans are focused on the game, county officials are focused on their safety. They say when there are tens of thousands of people all packed into one area, it's never too early to start planning.
Cobb County Public Safety held their first postseason planning meeting. The room was filled with county employees from the fire and police departments, as well as the sheriff's office, the department of transportation, public health, and others.
"We've tried to bring everyone together to get one plan, share resources," said Cobb County Fire Deputy Chief Carl Crumbley.
Chief Crumbley says they're building on their experience in 2021 when the Braves played in the World Series at Truist Park.
"We had no idea how many fans would show up to the Battery and how big of an impact it would have on the area," said Chief Crumbley.
Chief Crumbley says they're taking a close look at what worked and what could have worked better. They're making sure all their bases are covered when it comes to traffic flow, crowd management and safety.
MORTON STRIKES OUT 10, LEAVES YANKEES WITH LOSING RECORD AS BRAVES CAP SWEEP WITH 2-0 WIN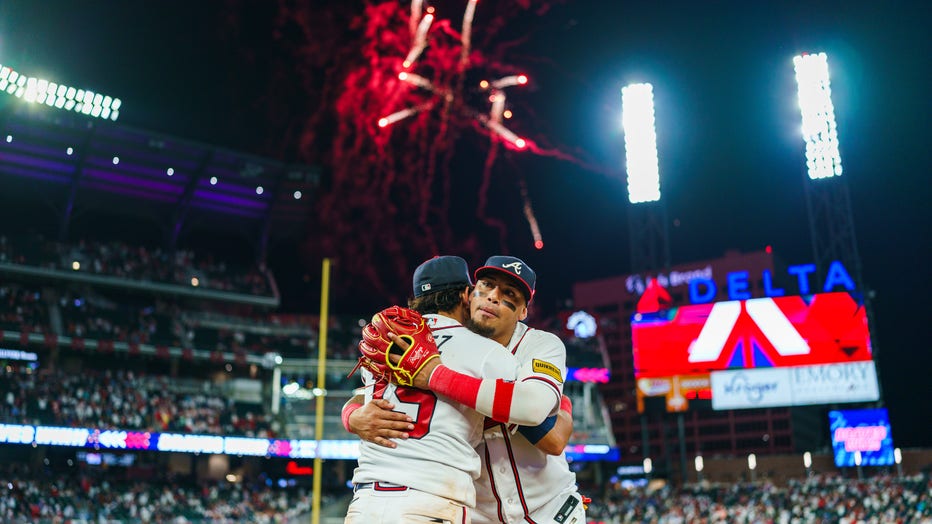 ATLANTA, GA - August 14: Nicky Lopez #15 of the Atlanta Braves hugs Orlando Arcia #11 of the Atlanta Braves after winning the 11-3 game against the New York Yankees at Truist Park on August 14, 2023 in Atlanta, Georgia. (Photo by Matthew Grimes Jr./A
They're also planning for a parade, which he estimates brought out close to 100,000 fans last time.
"We want to be well-prepared and make sure there's a safe experience for all our fans and visitors to Cobb County," said Chief Crumbley.
The MLB postseason starts on Oct. 3 with the wild card games. That's two days after the Braves close out their regular season.
The National League Division Series are scheduled to begin on Oct. 7 and the NL Championship Series start on Oct 15. This season's World Series is scheduled to begin on Oct. 27.
As of Wednesday, the Braves are leading the NL East by more than 12 games over the Phillies.