Fight outside Atlanta's Blue Flame Lounge ends with deadly shooting, police say
ATLANTA - Police are investigating a deadly shooting in the parking lot of a northwest Atlanta lounge early Wednesday morning.
Officials say they were called to the Blue Flame Lounge on the 1000 block of Harwell Road at around 1 a.m. Wednesday after reports of shots fired.
When officers got to the scene, they found one man dead from a gunshot wound.
Investigators discovered some sort of fight led up to the deadly shooting.
"We have learned that there was some type of conflict that spewed over into the outside parking lot where shots were fired. We do have one individual that is deceased here on scene," the Atlanta Police Department's Lt. Ralph Woolfolk said.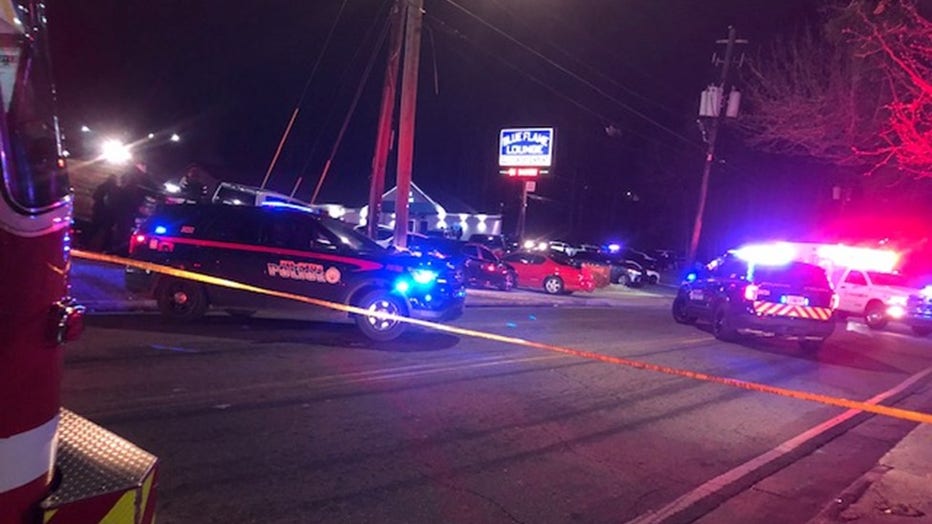 The parking lot outside the lounge was still full of cars and people after the shooting.
It's not clear if any cars were shot or if there may be more victims.
At this time, investigators say they are assessing all the electronic evidence, examining ballistic evidence, and interviewing potential witnesses.
The victim has not been identified, but officials described him as being approximately 25 years old. 
Investigators have not released any information about a possible suspect in the shooting.
Late Wednesday afternoon, Atlanta City Council member for District 9 Dustin Hillis released a statement regarding the shooting that reads:
"Early this morning, I was awoken by notification of another murder in our city. An innocent bystander was killed, and two others were shot outside the Blue Flame Lounge on Harwell Road in the Collier Heights neighborhood. While this violence is unacceptable in any part of our city and must be addressed, clubs and lounges see an inordinate amount of gun-related crime and must be addressed using the tools our city already has at its disposal. I have requested that the Atlanta Police Department investigate potential due cause actions regarding the establishment's liquor license and, additionally, requested the City Solicitor open an investigation into the possibility of a nuisance action given the multiple murders, aggravated assaults, and other crimes that have occurred at this establishment within the past two years. I look forward to their work, as we seek to make Atlanta, including its nightlife, safer for all."
If you have any information that could help investigators, please call the Atlanta Police Department.
WATCH: FOX 5 NEWS LIVE COVERAGE