$600 weekly unemployment benefit ends, but will it be extended? Here's what you need to know
WASHINGTON - Since early in the coronavirus pandemic, the federal government has added $600 to unemployment checks. The weekly boost in aid that millions of people have received is set to expire July 31 — but due to the way states process unemployment payments, the cutoff was effectively on July 25.
The weekly $600 payments were the last major source of economic help from the $2 trillion CARES Act that Congress passed in March. A one-time $1,200 payment and a small business lending program were also part of the relief package.
RELATED: Federal eviction relief expires July 24 as Congress debates extension — here's what you need to know
The outbreak of COVID-19 led to record unemployment levels, with millions of people benefiting from jobless aid and $600 boost.
More than 1.4 million more people applied for jobless benefits the week of June 13 — the first increase since March and 18th straight week that it has topped 1 million, according to the most recent Labor Department statistics. Before the pandemic, applications had never exceeded 700,000.
In addition to the federal boost to unemployment benefits ending, eviction relief passed in March to protect renters and homeowners with mortgages is also due to expire — putting many Americans at risk of facing eviction or losing their home.
As it stands, Congress is still haggling over the next steps, and most states which send the unemployment checks will not be able to offer nearly as much.
What unemployment benefits do states offer?
Every state offers assistance for at least some unemployed workers based on a portion of their previous earnings.
The maximum amounts vary widely, from $235 a week in Mississippi to $1,234 in Massachusetts. Benefits are available for as few as six weeks in Georgia and up to 28 weeks in Montana. Most states normally cut people off after 26 weeks.
And there are some new aspects of the coverage that will not end — including a 13-week extension of regular benefits that the federal government promised to help states pay, according to the Associated Press.
Will there be more unemployment benefits from the federal government?
Congress is negotiating another aid package that could extend the extra unemployment benefits, though likely at less than $600.
With the extra $600 a week, research has shown that roughly two-thirds of the unemployed are actually receiving more than they earned at their former jobs. Republicans have argued that it's discouraging people from returning to work and perpetuating the unemployment issue in America.
Senate Republicans were set to unveil a $1 trillion coronavirus relief plan on Monday afternoon that would replace the $600 to about $200 a week and ensures no more than 70% of an employee's pre-pandemic wages, according to a GOP aide briefed on the bill.
The GOP plan was originally set to be released July 23 by Senate Majority Leader Mitch McConnell, R-Ky., but was delayed until Monday afternoon amid infighting with the White House.
The administration's top negotiators — White House chief of staff Mark Meadows and Treasury Secretary Steven Mnuchin — spent the weekend on Capitol Hill to put what Meadows described as "final touches" on the Senate package as they also proposed a more modest approach.
They cited unemployment benefits, money to help schools reopen, tax credits to keep people from losing their jobs, and lawsuit protections for schools and businesses as priorities for quick relief.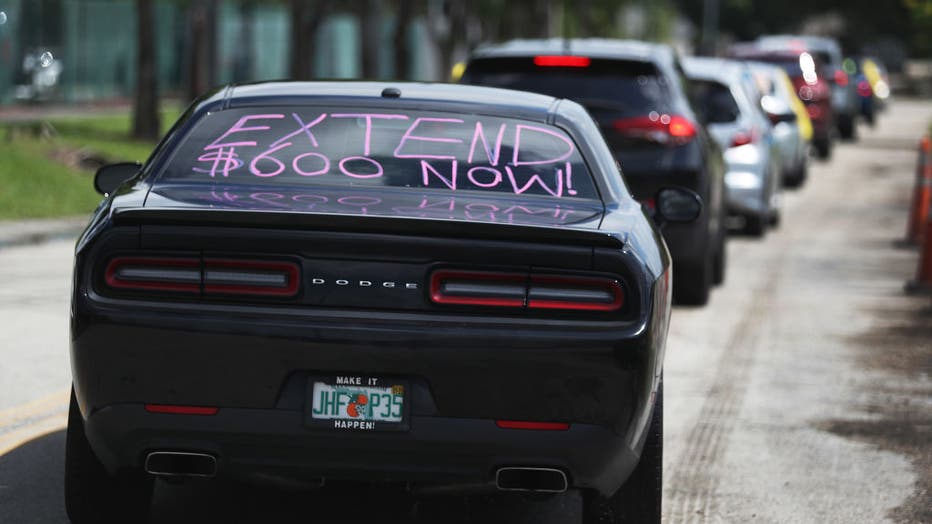 A car with "extend $600 now!" written on the rear window participates in a caravan protest on July 16, 2020 in Miami Springs, Florida. The caravan was driving to the Coral Gables office of Sen. Rick Scott to ask him and other senators to support the
Meanwhile, Democrats in the House approved a $3 trillion package in May that would extend the $600 through January 2021. Democrats have said the GOP plan is not enough to stem the health crisis, reopen schools and extend aid to jobless Americans.
On Monday, House Speaker Nancy Pelosi, D-Calif., invited GOP leaders and White House negotiators to her office after McConnell's planned release of the proposal to negotiate.
"We have stood ready to negotiate for more than two months," Pelosi said. "If Republicans care about working families, this won't take long."
Another $1,200 stimulus check
Both parties have agreed on another round of $1,200 checks to most American adults.
Mnuchin said that new $1,200 direct payments would be based on the same formula from the earlier aid bill, in which people making $75,000 or less received the full amount. Those making more than $75,000 received less, depending on their income. People earning above $100,000 did not qualify for the payment.
Back and forth in Congress comes as outbreaks worsen, particularly in the South and West.
President Donald Trump canceled plans last week for the Republican National Convention in Florida amid a record of new daily cases in the state. Trump's National Security Adviser Robert O'Brien also tested positive for the virus — making him the highest-ranking official to test positive so far.
RELATED: CoronavirusNOW.com, FOX launches national hub for COVID-19 news and updates
This story was reported from Cincinnati.