5 years after slaying, reporters recall killer, heartbreak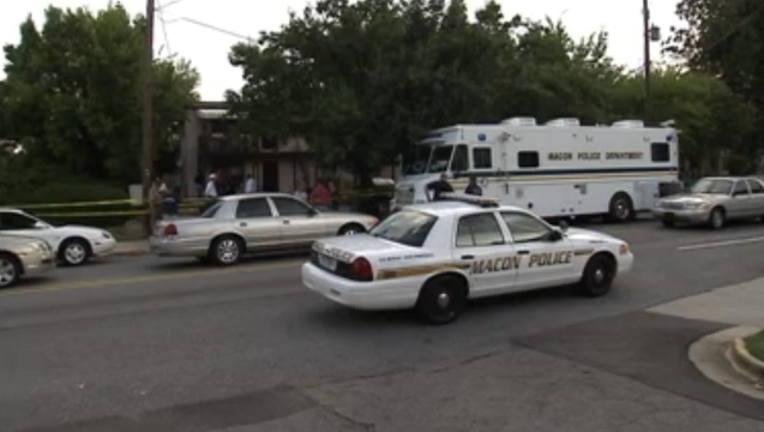 article
MACON, Ga. (AP) — A little more than a decade ago in his senior yearbook, Stephen McDaniel, a suburban Atlanta kid, was named most likely to be famous.
Five years ago this week in June 2011, McDaniel, long obsessed with his neighbor, Lauren Giddings, killed her after slipping into her Georgia Avenue apartment across the street from Mercer University's law school. The two had graduated from the school a month earlier.
June 30 marked the fifth anniversary of Giddings' torso being found in a roll-away trash can, steps from her door.
On June 25, 2011, McDaniel had stalked her second-floor apartment, the one right next to his, with a video camera on a wooden stick before sneaking in sometime after midnight. He later confessed that he strangled her after pouncing on her in bed. In the days that followed, he covered his tracks, dismembering Giddings' body and disposing of her head, arms and legs in trash bins. The remains were never found.
Her torso was minutes from being carted off by a garbage truck and likely lost forever, but the truck's access was blocked by investigators' cars when authorities arrived on the morning of June 30 to investigate Giddings' disappearance. Her friends and family hadn't heard from her in more than four days.
For much of the next two years, until McDaniel pleaded guilty and was sentenced to life, the Telegraph's coverage of McDaniel's crime portrayed a troubled soul with a macabre fascination: how to get away with murder.
Acquaintances recalled him fixating on a fictional zombie apocalypse and "the perfect murder," quizzing them on how they would, hypothetically speaking, kill and cover their tracks.
He was, as it turned out, that rarest of murderers — a killer with a plan.
We as reporters had a front-row seat for that plan's unraveling.
In a few instances, we interviewed people with ties to the case before the police did. We were the first to independently verify that internet posts McDaniel wrote under the screen name "SoL" about violence and gore — some of them sociopathic rants — were indeed his own writings.
We talked to his mother, his father, his grandfather. We searched for other relatives in and around Atlanta. At his sister's house, we were mistaken for Jehovah's Witnesses.
McDaniel's grandfather was watching "The Price Is Right" the day we knocked on his door northeast of Warm Springs in Molena.
Hollis Browning gave us perhaps the most heartfelt account of his grandson's incarceration in the months after McDaniel's arrest. Browning, 83, had visited McDaniel in jail. What he saw — a young man who'd just graduated law school listless and defeated — left him shaken.
"If all this that (the police) have got is true, then I guess I'm a brokenhearted grandfather," said Browning, who died seven months later.
"You come in and he's just sitting there quiet and you can't get nothing out of him. You feel like picking him up and taking him to the doctor, but you don't know why. But he's grown. He's not a little boy. So it just breaks your heart. You just have to accept what is in front of you whether you like it or not. . I did what I thought was right at the time, to get him a lawyer immediately. ... I thought he'd go over there and pay his bail and they'd take him home. But, my God, when I saw him he just looked ... different."
In lengthy telephone conversations early on, Glenda McDaniel defended her son. She seemed certain of his innocence.
"I have a big hug for him when he gets out," she said, "and he has one for me."
She had visions of him becoming a Supreme Court justice.
McDaniel had met Clarence Thomas on a trip to Washington and posed for a group picture with the Georgia-born justice.
After he was charged with murder, Glenda McDaniel answered our calls but declined comment.
"Have a blessed day," she'd say before hanging up.
As for the Giddingses, not enough can be said about their kindness and patience.
Back home in Lauren's native Maryland, her parents, Karen and Billy, and her middle sister, Kaitlyn, were more than gracious. They, along with her best friend Kristin S. Miller and boyfriend David Vandiver, both in Atlanta, always took our calls.
In the wake of horrific loss, their strength, resolve and spirit were nothing short of remarkable. They shared stories of Lauren's childhood and her legal aspirations, and on occasion wondered what may become of her then-accused killer.
"Life in prison, in a penitentiary in Georgia," Billy Giddings told us, "I've got a pretty good idea it may be as bad as hell."
In recent years, he and Karen have become grandparents.
McDaniel, whose crime captured the attention of The Washington Post and other national news outlets, has since gained notoriety on at least one cable television crime show. Archived stories in The Telegraph about the Giddings case continue to attract readers.
And that should come as no surprise. You had a pair of young law graduates, aspiring attorneys preparing for the bar exam. You had such promise — stolen — replaced by tears, grief, loss and, for McDaniel, life in prison. (Though he could be eligible for parole as early as 2041, the year he turns 56.)
The killing left many locals aghast. The slaying struck at the halls of institutional power, there atop historic Coleman Hill in the shadow of Walter F. George School of Law. Macon's mayor went to the crime scene. CNN covered press briefings. Fox News legal analysts opined on it.
None of that appears to have been factored into McDaniel's elaborate, murderous plan: to make Lauren Giddings, a pretty, popular, on-her-way young woman, vanish from the face of the earth. She was supposed to disappear without a trace, not turn up in a garbage bin 40 feet from his apartment.
McDaniel hadn't been at the top of his graduating class. He was, according to his transcript, an average student at best. It is not inconceivable that he would never have worked as a lawyer. His people skills lacked. He may have, at age 25 and facing the end of his academic days, very likely been about to move back in with his parents. He may well have lashed out at everything he was not.
But in all his book learning he hadn't counted on the real-world heat that police investigators and prosecutors can unleash. Crime labs and interrogation rooms are, more often than not, where murder plots go to die.
Though he was voted most like to be famous in high school, he will go down as a Macon murderer among the frightful likes of black widow Anjette Lyles.
Famous, maybe.
But he didn't amount to much.
___
Information from: The Macon Telegraph, http://www.macontelegraph.com