3 killed in 'random' Yakima, Washington convenience store shooting; suspect dead
YAKIMA, Wash. - A suspect believed to have been involved in a triple deadly shooting at a convenience store in Yakima has died of apparent self-inflicted gunshot wounds, according to police. 
Before the suspect took his own life, officers were called to a Circle K store around 3:30 a.m. Tuesday for reports that a man had shot several people near 18th Street and Nob Hill Boulevard.
When police arrived at the scene, they found three people dead inside the Circle K store-- two men and a woman.
On Friday, the Yakima County Coroner identified the names and ages of the victims:
40-year-old Nikki Godfrey
65-year-old Roy Knoeb, Jr. 
54-year-old Jeffrey Howlett
Yakima Police Chief Matt Murray said there was an apparent second shooting across the street at the ARCO/AMPM convenience store, however, it turns out that the suspect shot his own car windows out because he locked himself out of the vehicle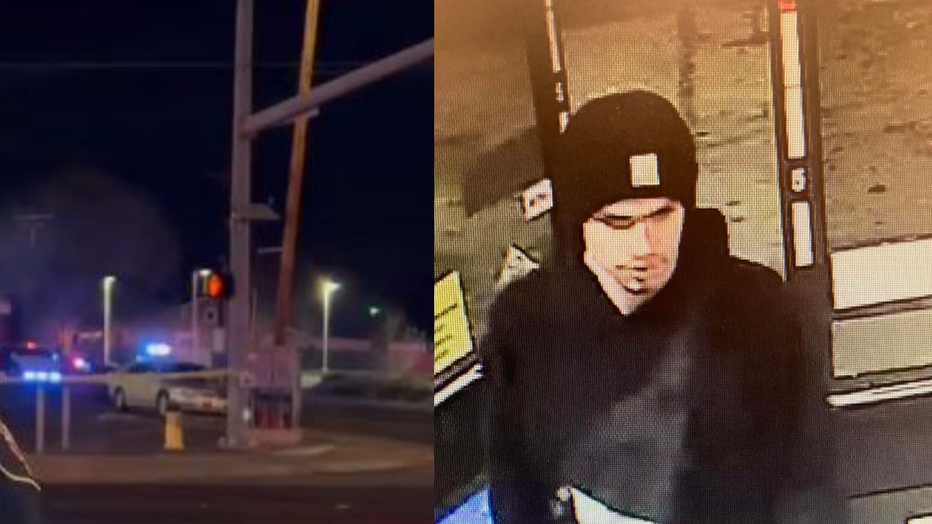 Yakima shooting scene (left) and Yakima shooting suspect (right) (Yakima Police Department)
The suspect drove away from the scene and was identified as 21-year-old Jarid Haddock, who is a Yakima County resident. 
Murray said police have security video from the store and eyewitnesses have provided information.
"It appears to be a random situation," Murray said. "There was no apparent conflict between the parties. The male just walked in and started shooting."
READ ALSO: President Biden pushes assault weapons ban following Half Moon Bay mass shooting
A SWAT call went out around 2:16 p.m. and a home was surrounded-- police believed the suspect was inside, but he was not. 
The suspect borrowed a woman's phone near the Target in Yakima and called his mother, telling her "several incriminating statements, like 'I killed those people,'" Murray said during a press conference. 
The suspect also told the woman he was going to kill himself. 
The woman was able to get her phone back and distance herself from the suspect. She then called 911 and relayed what the suspect told her and told his mother on the phone.
Police said the suspect left and wound up near the Pizza Hut, which was diagonal from the Target. Officers arrived to that scene and heard gunshots.
When they followed the gunshots, they saw the man they believed to have been involved in the Circle K murders with apparent self-inflicted gunshot wounds. 
Medics attempted to save the man but he was pronounced dead at the scene. 
The suspect had a large amount of ammunition and weapons on him when officers found him on the ground, Murray said. Murray said he wasn't sure how much ammo he had on him, but it was "more than a normal person would carry." 
Murray said police do not yet know of a motive, if there was one. He also said they may never know, since Haddock died.
An autopsy will be done to confirm the identity of the man, but police firmly believe it was Haddock.