Cobb County students create robotic arm for 6-year-old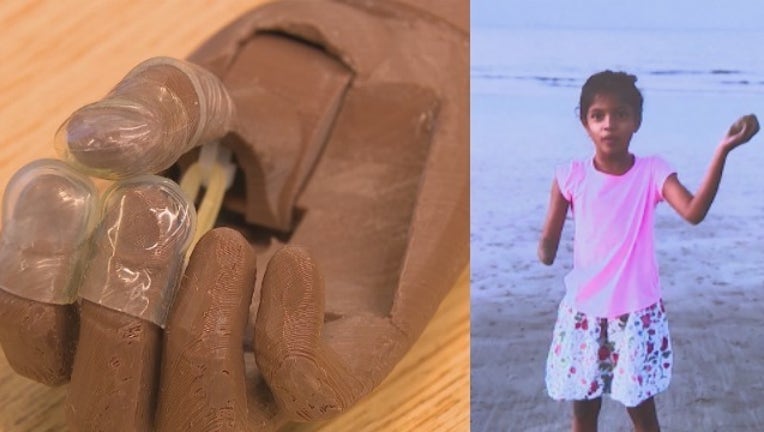 COBB COUNTY, Ga. (FOX 5 Atlanta) - Some Cobb County fifth graders have launched a community service project that reaches all the way to the country of Oman. They're helping make the life of a little girl much easier. ​
Blackwell Elementary School's Robotics and Coding Club students have studied basic and advanced coding language to program robots, but what they are learning to do to help humans is even more impressive: Creating a prosthetic arm for 6-year-old Aayna. ​
"She was born without her arm so me, my friends and Dr. Tom made a hand for her," ​explained Alan Rodriguez. 
The group used a 3D printer to create and assemble the small limb. This, says instructor Dr. Tom Brown, was a lesson in the engineering process.
"We started out with a basic hand. We learned how to scan, get everything together, working right," he detailed.  ​
They met with Aayna, in Atlanta with her family, in August.  
"She tried it on and we talked about if she liked it. If she wanted anything changed, things like that," Rodriguez remembered. ​​
The students have the ability, the technology - and most importantly, the desire to help: 
"I learned tons of things about the 3D printing. And also about helping people in our community. About being more open to the world. ​
If you ever want to go ahead and do something for the world, go ahead and do it," smiled Audriana Vaughn.  ​
The school plans to mail the completed arm to Aayna in two weeks. The goal is for her to use the student-built arm until she's ready to try one made by professional prosthetic doctors.  ​