Burgers with Buck: Three Blind Mice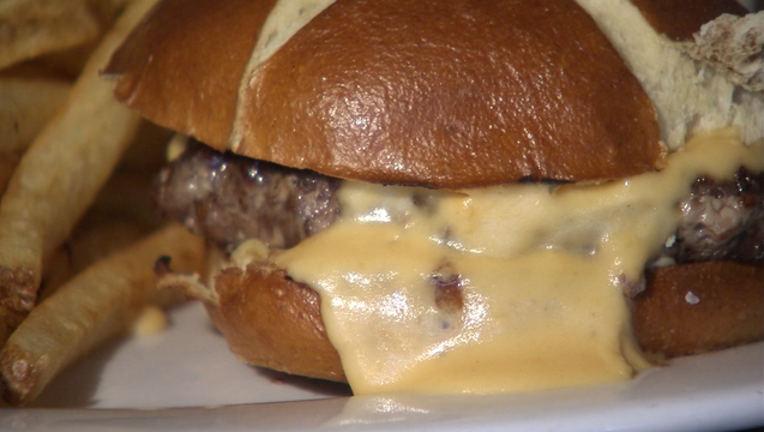 Sadly, the first annual Explore Gwinnett #BurgersAndBrewsWeek is winding down quickly.  
Think about it, for seven days, 12 Gwinnett County restaurants, each featuring a delicious burger for only seven dollars.  If you missed out on this wonderful week, you have no one to blame but yourself.
In fact, the #BWB staff has pulled double duty this week featuring Pub Ten's California Burger live on Good Day Atlanta on Tuesday, and following up with the Pretzel Burger from Three Blind Mice on Friday.  
The Pretzel Burger from TBM, starts with a patty topped with beer cheese (made with Creature Comforts Bibo, American, cheddar and white cheddar cheeses).  Add and a honey mustard mayonnaise and serve it on a pretzel style bun and the results do not disappoint.  The Pretzel Burger is served a la carte, but it is Burgers and Brews Week in Gwinnett, and Executive Chef Matthew Murphy recommends Creature Comforts Bibo, as the perfect beer to pair with the Pretzel Burger (if you're so inclined).
For more information about Three Blind Mice, including menu, location, specials, and more, go to their website http://www.tbmrestaurant.com/.  And for more information on the first (and hopefully annual) Burgers & Brews, go to https://www.exploregwinnett.org/burgers-and-brews.
And, as always, if you have a favorite burger that you would like to see featured on, tell me about it on https://www.facebook.com/BuckFOX5 or https://twitter.com/BuckFOX5, and don't forget to use the hash tag #BurgersWithBuck and/or #BWB.