Tornado threat over for metro Atlanta, north Georgia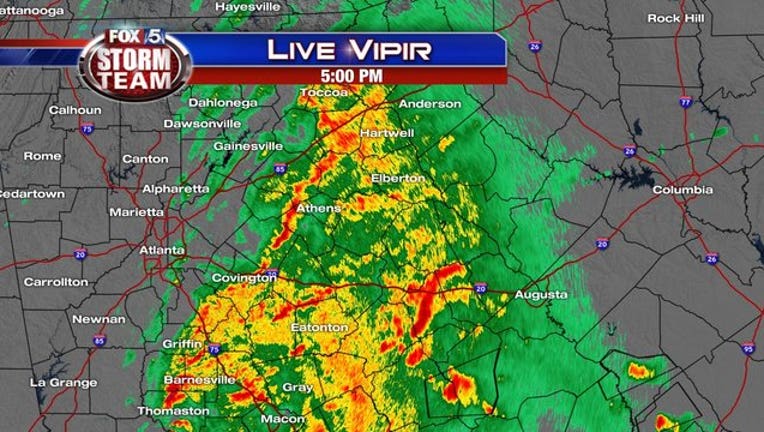 ATLANTA (FOX 5 Atlanta) - A Tornado Watch remains in effect through 11 p.m. Sunday night for parts of central and south Georgia, but the threat of severe weather has ended in metro Atlanta and north Georgia.
Strong storms moved into the state early Sunday afternoon. Damage was reported in and around Macon, as well as in the Columbus area. Many trees were downed, and houses were damaged or destroyed. A number of roads were blocked in those areas.
In metro Atlanta, Gwinnett County authorities reported at least two fires apparently started by lightning strikes. 
The same storm system hit even harder in Alabama before moving into Georgia. Authorities said two people were killed and a number of others were injured in Lee County, Alabama, where it appears a large tornado touched down. The worst damage appeared to be in the community of Beauregard, Alabama.
MORE: Tornado damage, deaths across Alabama, Georgia
A number of Tornado Warnings were issued in Georgia through the afternoon hours Sunday. 
As the severe weather moves out, colder weather is moving in for the week ahead. Monday will be a transition day from the warm and unsettled days to a much drier and colder weather pattern. Due to the significant change in weather, we will have windy conditions Monday through Wednesday.
By Tuesday and Wednesday, lows will drop well below freezing and into the 20s. And high temperatures will likely only reach the 40s. Winter isn't over yet!
-----
Keep up with the latest by downloading the FREE FOX 5 Storm Team app and following @FOX5StormTeam on Twitter.
DOWNLOAD the FREE FOX 5 Storm Team app to keep up with this extreme weather