Military couple's wedding under eclipse captured in breathtaking photo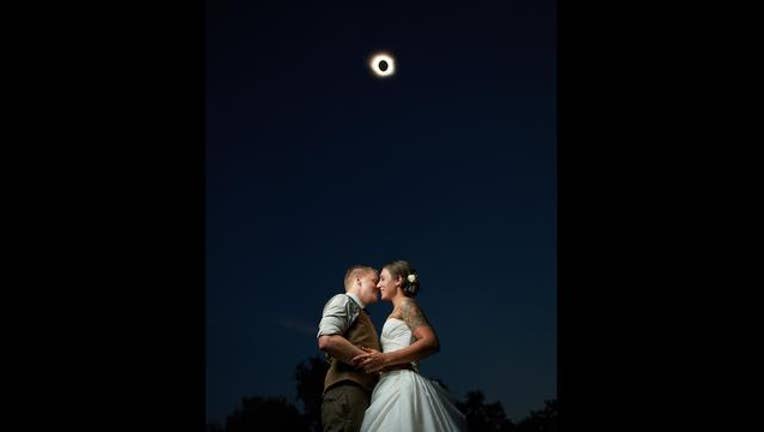 article
CHARLESTON, SC (FOX 46 WJZY) -  It's not every day you hear about a couple getting married during a solar eclipse. For Alexis 'Lexi' Greenleaf and Terran Travis, it's a feat they can not only boast about, they have proof. App users click here for embedded content.
The couple were wed at the historic Borough House Plantation, with the Great American Solar Eclipse in totality overhead.
A National Historic Landmark, the Borough House Plantation has been in Lexi's family for generations and while she had always dreamed of getting married there, it was a conversation with her father that planted the eclipse in her head.
You see, Lexi's dad is a big astronomy buff who, years ago, told his daughter about how the coming eclipse would pass right over their home. "You can just get married under the eclipse," Lexi recalled him saying. 
Being single at the time, Lexi took it as a joke. That was before she met Terran.
The newlyweds tell FOX 46 that they met while both serving in the Navy. According to Terran, the two were both separately deployed to Guam when they ended up working on the same small base. He was part of a Commander Task Force on active duty. She detailed for a Naval Mobile Construction Battalion. 
"We started as friends for a while and it gradually progressed into something more," Lexi said.
Fast forward a couple years and a proposal, Lexi's father reminded her that she had been "planning to get married during the eclipse for years." Terran was all for the idea.
Wedding photographs are difficult enough and for an event like this the couple knew they needed someone who could deliver.
"We consulted my sister, a professional photographer, and she told us we needed someone who was exceptional with lighting," Terran said. 
So they hired Nicholas Gore Weddings to capture their special day. The result: a stunning photo of the couple embracing under the corona of the solar eclipse. Here it is again, because one time just isn't enough!
"This was absolutely insane! Not only was this one of the best weddings I've ever photographed at one of the most beautiful new venues I've seen, but it all happened with a backdrop of the most amazing natural phenomenon I've ever seen," Gore wrote in a Facebook post.
Right now the newlyweds are spending their honeymoon in Montana.To say they're happy with how things turned out would be an understatement.
"It's pretty incredible that not only were we able to get married at [Lexi's] house, but also with this amazing event happening at the same time."
Congratulations Lexi and Terran!