Unbeaten Falcons Have Early Chance to Bury Rival Saints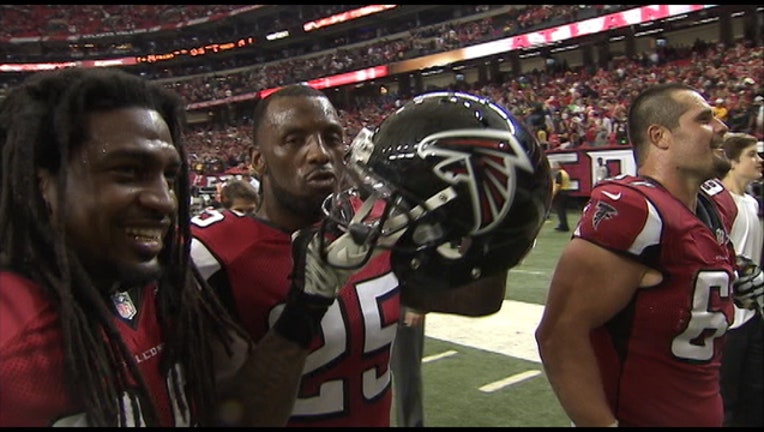 article
NEW ORLEANS (AP) - For the first time in a decade, the Atlanta Falcons have an opportunity to relegate their longtime rivals in New Orleans to early-season irrelevance.
The Saints have enjoyed a decisive edge in this matchup since Sean Payton and Drew Brees joined New Orleans in 2006, particularly in the Superdome, where Brees has a 7-2 record against Atlanta.
Even in 2012, when the Saints were muddling through a non-playoff season overshadowed by the bounty scandal and Payton's related suspension, New Orleans managed to drop the Falcons, who had started 8-0, to their first loss that season.
On Thursday night, Atlanta invades the Superdome with an opportunity to improve to 6-0 under new coach Dan Quinn. If they do, they'll sink the Saints to 1-5, which would be New Orleans' worst start in the Payton-Brees era.
That doesn't sit well with the Saints' all-time passer, who has struggled to maintain his usual standards while confronted with several significant challenges: a bruised rotator cuff in his right (throwing shoulder), and decline in protection, receivers' inability to get open consistently, and an anemic running game.
Brees, who usually projects an air of optimism, said this week that he's "not really happy with the way things are going thus far." Yet he apparently couldn't help himself from adding he intends to make his discontent work in his favor.
"You could say I'm a little bit angry, disappointed, frustrated, chip on the shoulder," Brees said. "I am harnessing that into something positive."
Quinn won't underestimate Brees, or the Saints' offense, which despite its relative struggles ranks seventh in the NFL. But Quinn also has enjoyed success against Brees and Co., beating them twice in 2013 — once in the playoffs — when he was Seattle's defensive coordinator. Back then, the New Orleans offense featured star tight end Jimmy Graham, but Quinn said current Saints, namely running back C.J. Spiller and second-year receiver Brandin Cooks, present challenges as well.
"One of the hardest things about going against the offensive scheme they've had in place is that they have so many unique ways to attack," Quinn said. "It gets to: How do they use the guys to feature them best? That is one of the things that their staff does so well."
Some things to know about Falcons-Saints:
CONTAINING FREEMAN: The Saints rank 30th against the run, and now they have to figure out how to stop second-year running back Devonta Freeman, who leads the league with eight rushing touchdowns and is tied for second in yards rushing with 405. "This guy loves contact. He's tremendous," said embattled Saints defensive coordinator Rob Ryan. "He's got vision. He's got eyes all over him. So if there's any kind of seal in there or little opening, he's going to find it, whether it's inside or all the way outside around your defense."
PROTECTION PROBLEMS: In addition to the Week 2 hit that hurt Brees' shoulder, he's been battered all season behind a line forced to rotate in young players because of injuries. He already has been sacked 14 times. He has also lost two fumbles and thrown three interceptions. However, right guard Jahri Evans says he'll play this week after a three-game absence with a knee injury, while starting left tackle Terron Armstead has returned to practice on a limited basis to provide hope he'll return this week.
HOPEFUL ABOUT JULIO: Quinn sounded optimistic that star receiver Julio Jones, who has not practiced this week because of a hamstring injury that appeared to affect his production the past two weeks, would nonetheless play in New Orleans. "He seemed to be feeling good heading in," Quinn said of Jones, who was listed as probable. "We're not anticipating any setbacks." Jones already has 43 receptions for 545 yards and four TDs.
DEFENSIVE DOLDRUMS: Ryan was the toast of New Orleans in 2013, his first season as defensive coordinator, when his unit ranked fourth in the NFL and the Saints made the playoffs. Last season, however, his unit dropped to 31st. Now the defense ranks last, giving up a league-worst 409 yards per game. "Stats don't mean anything to us," Ryan said. "Just keep blaming me and that will be great because I know this thing's going to be great here, too. Our guys are working enough that I know it is getting turned around. It will be fixed."
NEW ORLEANS NIGHTS: The Saints' only victory this season came at home, at night, albeit over an injury-decimated Dallas team. Nonetheless, the result continued a trend of Saints dominance in the dome in prime time. The Saints have won 18 of their last 20 night home games.
___
AP NFL website: www.pro32.ap.org and www.twitter.com/AP_NFL