Tony Stewart wins at Sonoma to snap 84-race drought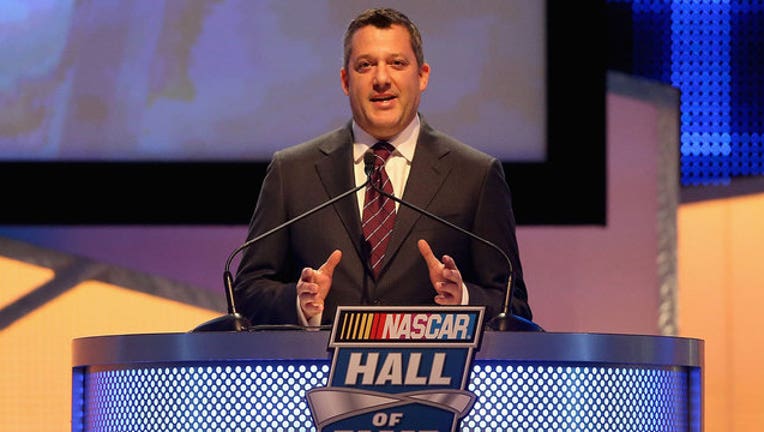 article
SONOMA, Calif. (AP) - For at least one weekend, Smoke was back.
Tony Stewart returned to victory lane for the first time in three years in vintage fashion — refusing to let Denny Hamlin steal a win at Sonoma Raceway away from him on the final lap Sunday.
Now he's probably got a shot to run for a fourth NASCAR championship in his final season before retirement.
Stewart, mired in an 84-race losing streak dating to 2013, finally won to stop a slide of poor performances, injuries and personal turmoil that has tarnished the end of his career. He missed the first eight races of this season, his last as a NASCAR driver, with a back injury suffered in an off-road vehicle accident one week before the season opened.
It meant Stewart would have to win a race and crack the top 30 in points to have one last shot at glory before he stepped out of the No. 14 Chevrolet for good. It was a long shot considered the way he has run the last three years, but those who know Stewart knew not to count him out.
"My guys have been through this whole disastrous roller-coaster the last three or four years and never backed down. They've never quit on me. There's days I've quit on myself," Stewart said. "In this day of social media where everybody is a cricket ... on social media, they sit there and chirp, chirp, chirp, chirp until they are in front of you and then they don't say a damned word. (So) I and listened to people say I'm old and washed up — I know how old I am, I know I haven't ran good for the last three years. But I've felt like if we got things right, that it was still there."
Anyone who has followed his career knows that Stewart is best when he's in a bad mood, and Smoke was ornery all weekend in the picturesque wine country.
He complained about young drivers, snarked that NASCAR will be without any tough guys once he retires and grumbled he has no fun driving a Cup car anymore.
Well, he sure had fun on Sunday.
The 45-year-old took the lead on fuel strategy during a caution with 24 laps to go, and had to hold on after another yellow flag stalled the race. The final restart came with 14 laps remaining — the same number as Stewart's car — and he held off a trio of Toyota drivers for his third career victory at Sonoma.
Hamlin made it interesting by pouncing on a Stewart mistake to snatch the lead away from Stewart in the seventh turn of the final lap. Stewart grabbed it back in tricky Turn 11, where he dove to the inside of Hamlin and as the two raced side-by-side, Stewart pushed Hamlin toward the wall.
Stewart got past Hamlin and charged to the checkered flag with the entire side of his car crumpled and his tires slightly smoking from the contact with Hamlin.
"I made mistakes the last two laps, I had just a little bit too much rear brake for Turn 7, and wheel-hopped it two laps in a row," Stewart said. "I felt a nudge when I got down there and he knew where it was and he did the right thing doing it there, but if I could get to him, he knew what was coming."
It was Stewart's 49th career Cup win and eighth on a road course, one shy of Jeff Gordon's record. Gordon, who retired at the end of last year, made his way to victory lane from the broadcast booth to congratulate his longtime rival.
Dozens of drivers then pumped their fists out their window to salute Stewart on his victory lap while his father, Nelson, wiped away tears. Crew members lined the wall to slap his hand, and teammates Kevin Harvick and Kurt Busch were among the drivers to rush to speak to Stewart while he was still inside his car.
So did Hamlin, a former teammate of Stewart's who has become somewhat of a protector to his one-time mentor. As leader of the Driver Council, Hamlin got the council to split the cost of a $35,000 fine Stewart received this year for criticizing NASCAR.
"He told me he was proud of me, he knows what it means," an exhausted and emotional Stewart said in victory lane. After chugging a Coca-Cola, he slumped to the ground and sat alongside his car.
"We were teammates for a long time and we respect each other a lot."
Hamlin, meanwhile, didn't indicate he gave the win to Stewart but chalked it up to his own mistake to allow Stewart to snatch the lead away from him.
"Looking in the rearview more than looking out front," Hamlin said. "I just slid up a little bit in the middle and allowed him to get inside me. I knew he was going to put me in the wall. All is fair in love and war."
Hamlin finished second in a Toyota and was followed by Joey Logano in a Ford, pole-sitter Carl Edwards and Martin Truex Jr. as Toyota drivers took three of the top-five spots.
Harvick was sixth, Kyle Busch seventh, while Ryan Newman, Kasey Kahne and Kurt Busch rounded out the top 10.
Other Notes of Interest from Sunday's race:
ALL HAIL SMOKE: The reception for Stewart by his peers was similar to the reaction the late Dale Earnhardt received when Earnhardt finally won the Daytona 500. As drivers decompressed after their own day, many offered words about Stewart's win.
"To have three cars in the Chase, to have Tony's confidence up, to have him battle Denny Hamlin like that this is the best way for a champion like him to go out," teammate Kurt Busch said. "He deserves this now."
Added six-time champion Jimmie Johnson: "Just stoked for him. He is a great friend and has been through so much. I hope there is a big smile on his face right now."
___
ALLMENDINGER ERROR: AJ Allmendinger was a contender, as usual, on the road course until a mistake by his pit crew cost him a shot to race for the win.
Allmendinger exited pit road after his final stop and lined up sixth, but NASCAR penalized his team for losing control of a tire during the stop. It dropped him deep into the field but he powered back to a 14th-place finish.
"It's racing, you know you are not guaranteed anything until the checkered flag," Allmendinger said. "It is part of life we win and lose as a team. We have to get our stuff straight if we actually want to be a Chase team and consider ourselves a Chase team. Another fast race car that is all I can ask for."
___
UP NEXT: Saturday night's race at Daytona International Speedway, an event that ended last year with a frightening accident that sent Austin Dillon airborne into the fence. He was not hurt.